'DARK DAY': Sheriff's deputy killed, 2 deputies injured in Colorado shootout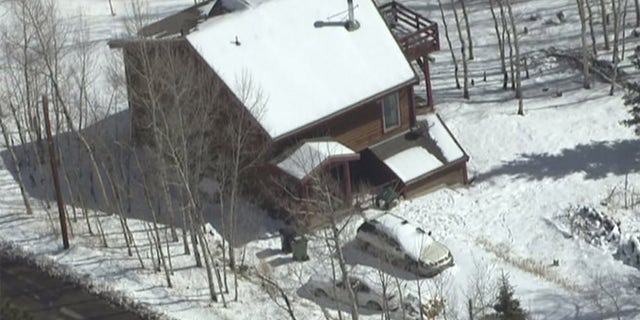 A sheriff's deputy was killed and two others were injured Wednesday in a shootout shortly after serving an eviction notice in a rural area about 45 miles southwest of Denver, Colorado.
The suspect, who was reportedly identified as 58-year-old Martin Wirth, was pronounced dead at the scene. It was unclear if he was killed in the gunfire or if he took his own life, Jefferson County Sheriff's Office spokesperson Jacki Kelley told the Denver Post.
The notice was served at around 9:30 a.m. local time. The three deputies approached the home when the suspect fired a rifle at them.
The shooting killed Corporal Nate Carrigan, a 13-year veteran of the sheriff's office. One of the wounded officers underwent surgery for life-threatening injuries and was in critical condition at a Denver hospital.
The injured deputies were identifed as an 11-year veteran who suffered life-threatening injuries and the other was a 21-year veteran. He suffered nonlife-threatening injures.
The incident occurred in the Park County mountain town of Bailey. Law enforcement officers are investigating the property with the assistance of a bomb squad that was dispatched out of an "abundance of caution."
"It's a dark day," Susan Medina, a police spokeswoman said.
Wirth owned the home until March 2014, when Fannie Mae took ownership, according to the Park County Assessor's Office.
After Wirth lost a court battle over his foreclosure, he sued Colorado Gov. John Hickenlooper, the state attorney general and a judge in 2013. The federal lawsuit claimed that state foreclosure laws were unconstitutional and that Wirth and his unnamed guests were "in imminent danger of being wrongfully deprived of home and property while also being threatened with an armed and forcible entry onto the property and into the home."
He asked a federal judge to block Park County from selling his home, evicting him or forcibly entering the house and to strike down several state laws. A federal judge dismissed the lawsuit last September.
A website by a group called the Colorado Foreclosure Resistance Coalition includes undated posts that called for supporters to join Wirth in "non-violent eviction resistance." The website includes a video of a man identified as Wirth railing against mortgage companies as criminals.
A call to the group, whose website says it is part of the Occupy movement, was not immediately returned to the Associated Press.
Wirth ran for the state Senate in 2014 as a Green Party candidate but lost to an incumbent Republican. In a questionnaire to candidates by The Denver Post, Wirth wrote of corruption in the political system, his support for Colorado's marijuana laws and the plight of the poor.
When asked whether he supported the death penalty, Wirth wrote, "Killing people to show that killing people is wrong is a piece of idiotic hypocrisy."
He wrote disparagingly of police, the federal government and corporations on his candidate page on Facebook and praised former National Security Agency contractor Edward Snowden, who leaked millions of documents about government surveillance. He made regular posts criticizing leading presidential candidates from both parties.
Neighbor Terry Rogers, a counselor and pastor at Platte Canyon Community Church, told the AP he did not know Wirth well and believes no one in the area did.
"He was pretty reclusive," said Rogers, who could see law enforcement vehicles responding to the shooting across a snow-covered pasture from his driveway.
Park County is a smaller, largely rural county and sometimes gets assistance from larger outside agencies. Neither the circumstances of the shooting nor the conditions of the wounded deputies were immediately clear.
The picturesque town is where a gunman took several girls hostage in a high school classroom a decade ago, killing one of them before himself. Duane Morrison, a 53-year-old drifter, held the girls for nearly four hours and sexually assaulted them in September 2006.
He fatally shot 16-year-old Emily Keyes and then killed himself as SWAT team members stormed the classroom at Platte Canyon High School.
One cafe owner in town told the Post that the town in typically quiet. "I usually hear horses making noise and livestock," he said. "Certainly not gunshots other than people doing target practice."
The Associated Press contributed to this report.