Crazy face-tattoo guy causes more of a scene than usual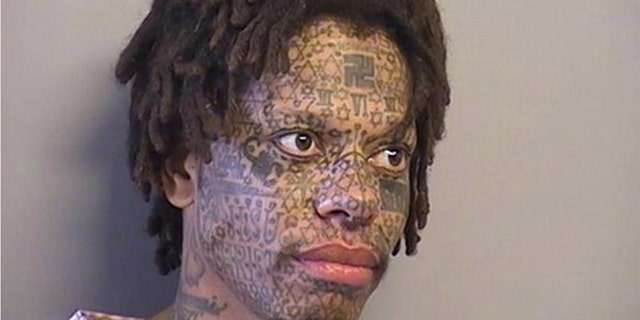 NEWYou can now listen to Fox News articles!
He should have kept the mask on his face.
Michael Carter, 26, whose confused facial tattoos include a swastika, Stars of David, and the words "Jesus Christ," was busted after donning a cape and a mask and causing a disturbance at an Oklahoma convenience store, The Smoking Gun reported.
Red flags first went up when Carter strolled into a Whataburger in Broken Arrow on Wednesday, wearing a crude all-crimson get-up, including cape, sweatpants, and gloves, along with a Colombina-style half-mask, gold chains and a toy gun tucked into his waistband.
The DIY devil then went to a Kum & Go store — where he locked himself in the bathroom and wouldn't come out.
Carter was arrested and charged with obstructing or interfering with police, a misdemeanor, according to the site.
He was locked up on $500 bond, the site reported.
Click for more from the New York Post.