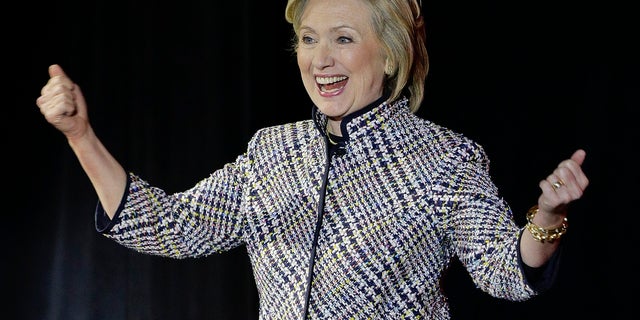 More Clinton Foundation developments.
The Foundation for the first time admitting it made mistakes in tax filings, and disclosures. The statement may be a sign that the allegations in a new book are starting to sting. "Clinton Cash," author Peter Schweizer has suggested Hillary Clinton may have been influenced by donations to the Clinton Foundation while she was secretary of state. The Clinton's have strenuously denied those charges. Schweizer was on a Sunday show yesterday and admitted that he had no direct evidence of any quid pro quo.
Still the book has dominated the Clinton campaign so far.

John Roberts is reporting on the Clinton competition today. Virginia Senator Jim Webb is making his second trip to Iowa, and offers a challenge to Hillary Clinton for the Democratic nomination.
Howard Kurtz reports on the lack of media access to Hillary Clinton.
And we're asking our media panel today if the coverage of the Clintons has been fair so far. Tammy Bruce and Alan Colmes weigh in on that.
Meantime, the GOP field is a bit of a free-for-all. There was a conservative gathering over the weekend that brought out nine of the GOP candidates including Ted Cruz, Mike Huckabee and others. They're all competing for evangelical voters and may split those votes diluting evangelicals influence. Frontrunner Jeb Bush didn't attend.
Aid is finally reaching Nepal after a 7.8 earthquake hit near the capital of Kathmandu on Saturday. More than 3,600 are dead, and another 6,500 injured. At least 3 Americans were killed. Avalanches near Mount Everest killed at least 18. Much of the city was destroyed. Dozens of villages, so far unreachable, are thought to be destroyed.
The murder trial of Colorado Massacre suspect James Holmes gets underway today in Colorado nearly three years after 12 died and 70 were injured in the mass shooting. Alicia Acuna reporting.
We're also watching the jury in the Etan Patz murder trial.. deliberations now underway for some 8 days. David Lee Miller standing by for a verdict.
We're also covering the penalty phase in the trial of convicted Boston Marathon bomber Dzhokhar Tsarnaev. Molly Line reporting.
Today is the funeral for Freddie Gray in Baltimore. Thousands are expected to attend the funeral for the 25 year old who died April 19th after an incident with police several days earlier. Protests over the weekend saw sporadic violence and pleas from Gray's family to keep the peace. Doug McKelway reporting.
The Supreme Court will hear arguments this week on the constitutionality of same sex marriage, and could make a final decision on the issue this year.