Cop who didn't enter Florida school during shooting apparently lied about thinking gunshots outside
The former school resource deputy who stayed outside a Florida high school during a mass shooting appeared to know the shots were coming from inside the building, despite stating he thought they were outside.
The Broward County Sheriff's Department released internal radio dispatches from the Feb. 14 shooting at Marjory Stoneman Douglas High School in Parkland that revealed former Deputy Scot Peterson saying the gunfire was coming from "inside," the Miami Herald reported.
"Do not approach the 12 or 1300 building, stay at least 500 feet away," Peterson was heard saying over the radio.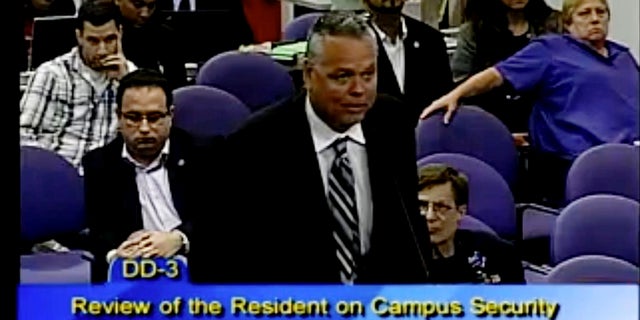 Peterson previously stated he believed the gunshots were coming from outside the school, the South Florida Sun-Sentinel reported.
"Be advised we have possible, could be firecrackers, I think we have shots fired, possible shots fired," Peterson told dispatchers.
911 CALLS REVEAL PANIC AS FLORIDA HIGH SCHOOL MASSACRE UNFOLDED
Investigators said later he took up a position near the building and remained there for several minutes.  His subsequent transmissions focus on getting nearby streets and the school shut down and keeping deputies away from the building.
Broward County Sheriff Scott Israel has said Peterson should have charged into the building and killed Cruz. Peterson, who has denied wrongdoing, retired rather than accept a suspension and investigation.  
The sheriff's office calls on deputies to "engage an active shooter and eliminate the threat."
When it became known that Peterson had not entered the school during the shooting, President Trump slammed him as a "coward."
"When it came time to get in there and do something, he didn't have the courage, or something happened," Trump said of Peterson. "He certainly did a poor job. That's the case where somebody was outside, they are trained, they didn't react properly under pressure or they were a coward."
Jeff Bell, Broward County Sheriff's Office president, said the audio confirms Peterson never went inside the school.
"It certainly backs up that he never went into the school," Bell said of Peterson. "At one point, he says to keep back 500 feet. Why would he say that?"
The sheriff's office also released a timeline Thursday of the incident and excerpts of 911 calls that were placed that day.
COP WHO DIDN'T ENTER SCHOOL DURING FLORIDA SHOOTING RESIGNS, HAS HOME GUARDED, IS SLAMMED AS 'COWARD' BY TRUMP
Several of the calls were transfers from other 911 operators, including one from a parent who said her son said he "heard noises and pops and he thinks there's a shooting going on at the school."
An emotional woman also called in saying she was talking with her son who said, "'Shots! Shots! Shots! Mom! God.'"
Dispatchers spoke with a woman whose daughter told her that shots were fired nearby and she was hiding behind a desk. As information trickled in, the girl, who was texting her father, said that police had arrived.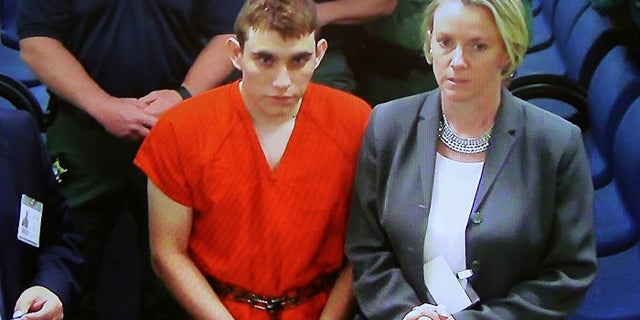 The alleged gunman, Nikolas Cruz, was formally charged Wednesday with 17 counts each of premeditated murder and attempted murder. The Broward County grand jury announced the 34-count indictment for Cruz, who police said opened fire inside the high school in Parkland. The attempted murder charges were for the 17 other people injured in the mass shooting.
Fox News' Elizabeth Zwirz and Shira Bush contributed to this report.