Confederate statue toppled in North Carolina during protest
A crowd of protesters in Durham, N.C., tied a cord to a Confederate statue and toppled it to the ground Monday night to loud cheers, a symbolic response to the violence at the rally of white nationalists in Charlottesville, Va.
WARNING: VIDEO CONTAINS PROFANITY
A man used a ladder to attach the cord to the statue -- which officers had coated with cooking spray to make it tougher to climb, WRAL reported.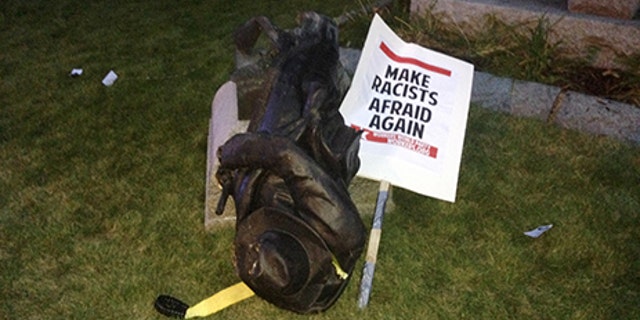 "No cops! No KKK! No fascists! USA!" many protesters chanted as the statue came down.
The monument, dedicated in 1924, showed a Confederate soldier with "The Confederate States of America" engraved on the front, WNCN added.
The protesters kicked and spat on the toppled statue before carrying it from the old Durham County Courthouse to a police station, according to reports.
The destructive demonstrations were not limited to North Carolina. In Louisville, Kentucky, a statue of a Confederate officer was splattered with orange paint. Police said no suspects have been identified. Louisville Mayor Greg Fischer announced Monday that a panel would review the city's public art and make a list of places linked to bigotry, racism or slavery.
Protesters gathered in the Tennessee Capitol on Monday renewing calls to remove a bust of Nathan Bedford Forrest, a Confederate cavalry general and an early leader of the Ku Klux Klan. Protesters draped a black jacket over the head of the bust while cheering, "Tear it down!"
In Memphis, city attorney Bruce McMullen said Monday that he plans to file a petition to remove a statue of Forrest from a park. The Memphis City Council voted in 2015 to relocate the statue, but the state historical commission blocked the move under the Heritage Protection Act.
In Florida, sounds of a jackhammer echoed in downtown Gainesville as workers tore out the foundation of a Confederate statue known as "Old Joe" in front of the Alachua County Administration Building, The Gainesville Sun reported Monday. The monument is set to return to a chapter of the United Daughters of the Confederacy -- the same group that built it in 1904.
North Carolina Gov. Roy Cooper denounced the toppling. "The racism and deadly violence in Charlottesville is unacceptable but there is a better way to remove these monuments," he tweeted.
Investigators said 20-year-old James Fields Jr. drove his car into a crowd of counter-protesters on Saturday in Charlottesville. One woman was killed and some 19 other people were hurt.
The Associated Press contributed to this report.