Common sense important when dealing with shark threat, experts say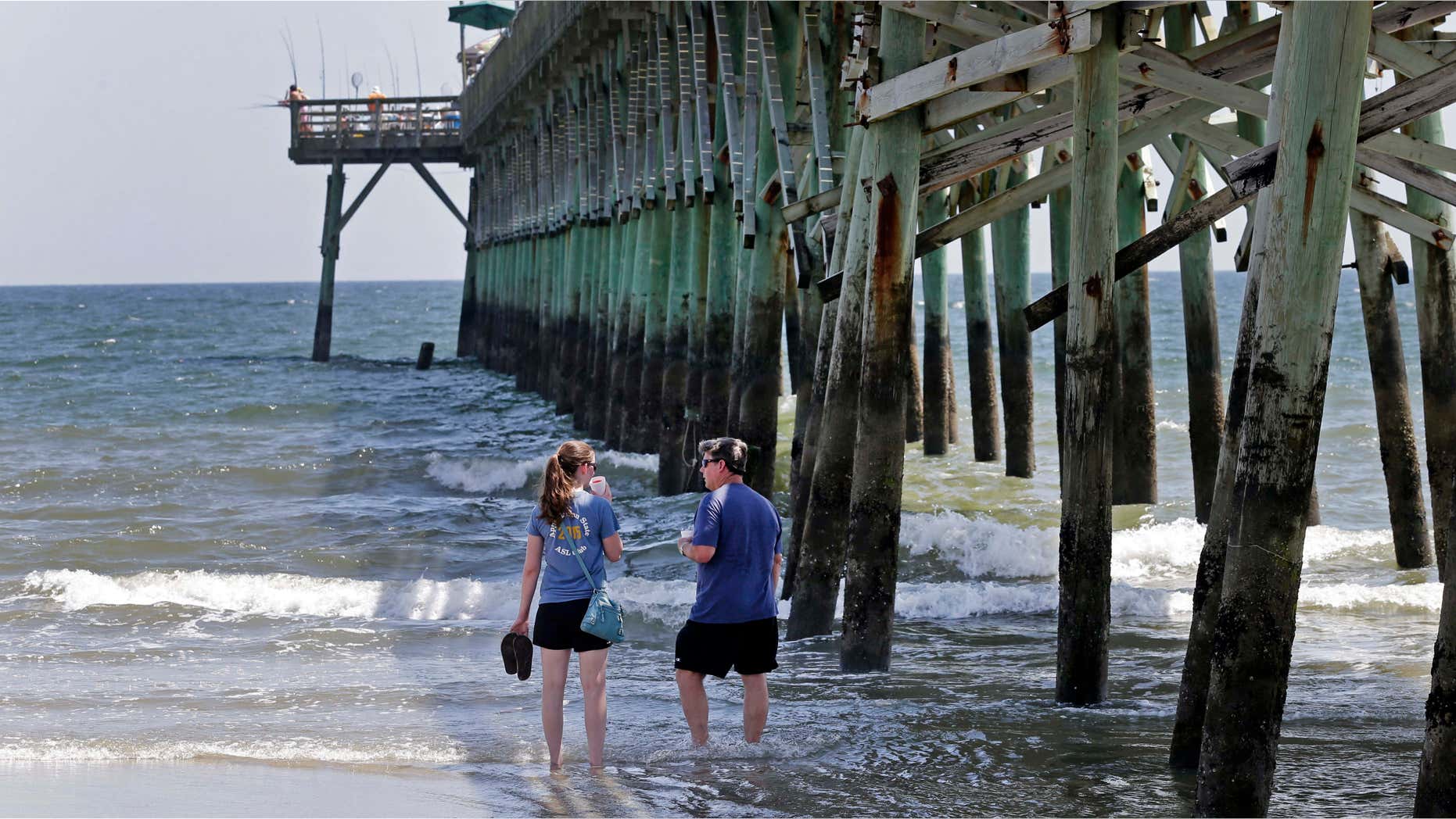 Beach towns across the nation are examining how to keep beachgoers safe after a string of shark attacks off the North Carolina coast.
North Carolina officials have been reluctant to warn swimmers and keep people off the beaches. Town leaders in Surf City, North Carolina, where the latest attack occurred, said they did not believe the threat warranted such actions.
Chris Brewster, chairman of the California-based United States Lifesaving Association, said the decision to close beaches or issue warning comes down to the behavior of the sharks. If the sharks are congregating close to shore or showing up in unusual spots, then closing a beach and issuing warnings would be a good idea, he said.
"It is all pretty logical stuff. Everyone needs to accept the reality that it is the ocean and sharks live in the ocean. Your chance of actually getting bitten by a shark is infinitesimal. It is reasonable to be prudent, but it is not reasonable to be so anxious that you stay out of the water," Brewster said.
George Burgess, director of the International Shark Attack File at the Florida Museum of Natural History, agreed with Brewster. His advice to North Carolina is to close the beach after a shark attack, giving the shark time to move elsewhere.
"In the case where two very nasty bites occur in close proximity to each other, the prudent thing to do is to close the beach," he said.
In the past two weeks, four people have been bitten by sharks off the North Carolina coast. On June 11, a 13-year-old girl suffered small cuts on her foot from a shark bite at Ocean Isle Beach. Three days later, two separate shark attacks occurred within 90 minutes of each other at Oak Island. Both victims, ages 12 and 16, had an arm amputated after the attacks.
Wednesday, an 8-year-old boy suffered minor injuries to his lower leg, heel and ankle after he was bitten by a shark.
Burgess said the bites were most likely from bull sharks hunting for sea turtles.
"A sea turtle is like a potato chip for a bull shark. They love them, and they follow them," he said.
New Smyrna Beach, Florida is known as the state's shark bite capital.
Tammy Marris, a spokeswoman for Volusia County Beach Safety and Ocean Rescue, where New Smyrna Beach is located, said most shark bites there are not a big deal.
"Over 90 percent of our shark bites in Volusia County are so minor that we treat at the scene," she said.
In most cases, the bites are from small sharks feeding on bait fish, she said. The county has had four reports of shark bites this year, none serious or life threatening.
"We don't close the beach for shark bites, but we have 47 miles of beach, and it is fully guarded by lifeguards. If we happen to see a shark close to shore, we call people out of the water," she said.
The county also has restrictions on shark fishing near the shoreline. Marris said fishermen must yield beach areas to swimmers or snorkelers. Because of this, there is less of risk of sharks being lured close to shore by bait.
Brewster, who spent 13 years as San Diego's chief lifeguard, said a sign alerting swimmers to sharks in the water is often the best public safety option.
San Diego lifeguards also depend on helicopters to track shark activity. The town of Seal Beach, California, made headlines recently by using drones to monitor sharks.
Brewster said both ideas work and help lifeguards know when big sharks are coming close to swimmers.
Marris, Brewster and other experts said the most important thing is for beachgoers to use common sense, pay attention to lifeguards and understand that when they enter the ocean they are in a strange environment.
"Many people do not think of going into the ocean as a wilderness experience. They think going into the ocean is like jumping in the backyard pool," Burgess said. "The ocean is the wilderness, and we are not guaranteed 100 percent safety when we enter. It is up to us to modify our behavior and avoid having a negative encounter."
The Associated Press contributed to this report.