Colin Kaepernick receives civil rights award from National Education Association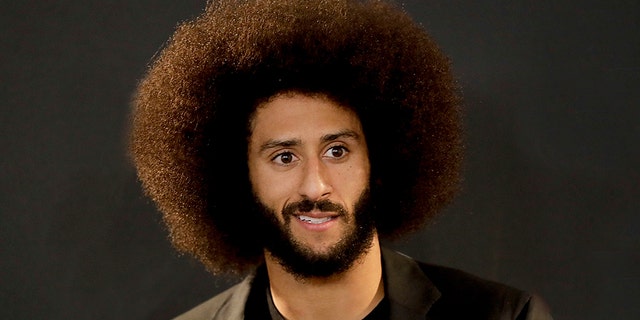 Colin Kaepernick was among a dozen honorees who received a human and civil rights award from the National Education Association.
Kaepernick was given the NEA's President's Award to recognize his work "to fight racial oppression through education and social justice activism" through the Know Your Rights Camp, a campaign that is fully funded by the footballer.
The youth camp aims "to raise awareness on higher education, self empowerment, and instruction to properly interact with law enforcement in various scenarios," according to its website.
COLIN KAEPERNICK'S LEGAL TEAM EXPECTED TO PURSUE TRUMP TESTIMONY IN GRIEVANCE CASE, REPORT SAYS
"The human and civil rights champions we honor tonight are the epitome of the fierce urgency of now that Dr. Martin Luther King, Jr., spoke about in his 'I Have a Dream speech,'" NEA President Lily Eskelsen García said Sunday. "Through their deeds and actions, they have demonstrated remarkable courage and conviction to stand up for racial and social justice. They have shown an unrelenting resolve and ferocity to make a real difference for public education, students and our nation's future. They are shining examples of social justice activism, fighting against injustices every day, and making sure that our great nation lives up to its promise."
Kaepernick gained national attention after he kneeled during the national anthem while he was the quarterback for the San Francisco 49ers in the 2016 preseason. The move, he said, was to protest police brutality.
"To me, this is bigger than football and it would be selfish on my part to look the other way. There are bodies in the streets," Kaepernick said, according to a NEA release.
His protest rippled throughout the league as other players also began to take a knee.
HOW NFL NATIONAL ANTHEM PROTESTS HAVE EVOLVED SINCE KAEPERNICK
The movement eventually led to NFL owners approving a policy in May that called for players and personnel standing for the national anthem or face a fine.
Kaepernick was also given Amnesty International's Ambassador of Conscience Award in April for his social activism and "refusal to ignore or accept racial discrimination" as an athlete.
Kaepernick opted out of his contract with the 49ers in 2017 and has been a free agent since then.
Other recipients of the National Education Association's Human and Civil Rights Awards included former first lady Michelle Obama, LGBTQ activist Chris Sgro and L.G. Bunch III, the founding director of the Smithsonian National Museum of African American History and Culture.