California man steps in front of machete to save woman at Starbucks: report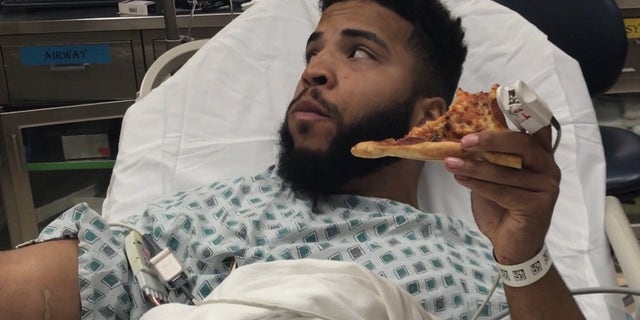 NEWYou can now listen to Fox News articles!
A California man is being credited for heroism after he reportedly jumped in front of a woman who was allegedly being attacked by a machete-wielding man.
Blaine Hodge, 27, was at a Starbucks in Bakersfield on Sunday when a woman ran into the store, convinced someone was trying to kill her, KGET-TV reported.
"She was panicked. She was saying 'help me' and then at one point she said, 'This guy's going to kill me,'" Hodge's friend, Joe Harris, told the news station.
Harris said a man walked into the store while "holding something in his hand."
That's when Hodge stepped in.
"Everyone else was running away and he was the first person to run straight to the action," Harris told KGET. "He was like: 'I'm going to stop this guy, regardless if I get stabbed or not. I can't let this woman die.'"
Hodge was reportedly stabbed "many times" during the encounter, and required nearly 200 stitches.
The woman also suffered injuries in the attack, and remains in critical condition, KBAK reported.
A GoFundMe page created for Hodge said he may lose use of his right hand, and that he has upward of six weeks of recovery.
Hodge's girlfriend, Tori Toney, told the station that she wasn't surprised by her boyfriend's actions and that she "believe[s] that he took a machete to the hands for someone else."
"He would do it again. He could lose an arm and he would still do it again. And that's just Blaine," she said.
The man who allegedly had the machete was identified as 31-year-old Robert Daniel Rivas. He was reportedly charged with attempted murder, assault with a deadly weapon and resisting arrest.