California avalanche rescue caught in dramatic video as winter storm leaves 2 dead
A strong winter storm that rolled through California during the first part of the weekend spawned heavy snow and several avalanches that left two people dead and several injured.
Five skiers and snowboarders were rescued Friday at the Squaw Valley Ski Resort near Lake Tahoe after an avalanche left them buried in snow in a dramatic rescue caught on video.
Squaw Valley Ski Resort said in a news release the avalanche happened just before 2 p.m. on Friday, and injured two people, one seriously.  Three others escaped without being hurt from the slide that sparked a response from 100 police officers, firefighters and ski patrol members from Squaw Valley and nearby communities.
Heather Turning, 39, told the Associated Press she was snowboarding with her boyfriend when she heard someone scream "avalanche!" and then saw a "cloud of snow coming down."
Turning said a woman then screamed her husband was missing as someone spotted a snowboard poking out of the snow.
"That's what saved his life," Turning told the AP.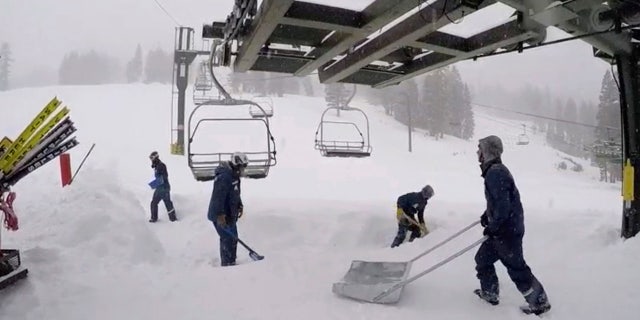 She then helped dig the man out, as other rescuers worked with shovels and bare hands to clear an area around the man's face so he could breathe.
"I took my gloves off and I helped dig him out," she said. "When he got uncovered, a ski patroller said, 'You were under for 6 minutes.'"
After clearing snow from around the man's face, rescuers were able to dig out the man's body. Even after getting buried by an avalanche, Turning said the man wasn't seriously hurt and was able to snowboard back down the mountain.
SNOWBOARDER KILLED IN CALIFORNIA; SKIERS KILLED IN FRANCE
The avalanche on Friday occurred hours after the body of a missing snowboarder was found at the same resort.
Wenyu Zhang, 42, vanished Thursday as the region was hit by a blizzard packing winds gusting to nearly 150 mph over the ridge tops and dumping 3 feet of snow in the mountains.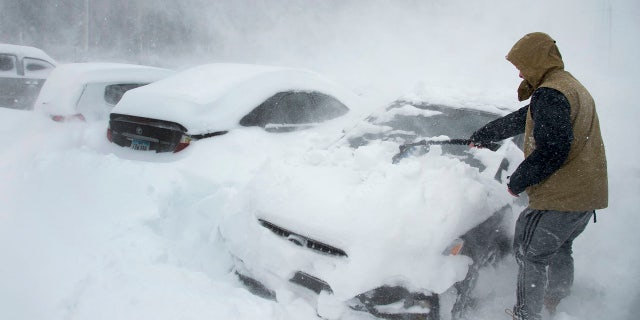 A Squaw Valley spokeswoman told the AP that skiers and snowboarders were within areas open to skiing at the time and the guests had been warned of the potential danger. The resort used explosives and other tools to try to prevent avalanches throughout the day, but the snowfall was heavy.
"We had assessed the area to be safe to open to the public and unfortunately an avalanche did occur after that assessment was made," Liesl Hepburn said.
Another man died on Friday at a separate resort in California's Sierra Nevada Mountains after he was killed in what friends described as a freak accident.
Blake Smith was snowboarding with his friends at China Peak Mountain Resort in Mammoth Lakes when he fell headfirst into a 5-foot embankment of fresh snow and suffocated when he couldn't free himself, Tim Cohee, China Peak's managing partner and general manager, told the Fresno Bee.
The resort had re-opened just hours earlier after weeks of being shut down due to a lack of snow.
AVALANCHES KILL 3, INCLUDING 2 TEENAGERS, IN WASHINGTON STATE
On Saturday, several people were partially buried after an avalanche was reported at Mammoth Mountain, located about 140 miles from Fresno.
The resort said in a Facebook post that ski patrol was performing avalanche mitigation work around 10:15 a.m. when an avalanche was released on the upper part of the mountain traveling toward the High Five Express area.
Two guests and six employees were partially buried, but were able to free themselves quickly after, according to the resort.
"Ski Patrol was on scene with initial rescue efforts within moments, and search operations began immediately," the resort said. "Ski Patrol led a 6-hour search, which included the use of transceivers, RECCO, avalanche rescue dogs and a manual probe search, all with no results reported. Nearly 200 employees, first responders and guests contributed to the effort on-hill."
The resort said they are not aware of any missing people, and plan to resume normal operations on Sunday.
The Associated Press contributed to this report.