Authorities search for dead bodies in massive garbage chunks left at protest site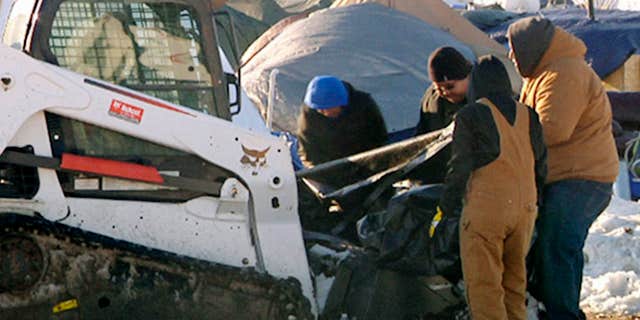 Authorities in North Dakota said Monday that cleanup crews at the site of the Dakota Access oil pipeline protest were scouring the mountains of trash to find anyone that might've died during the demonstrations.
Morton County Sheriff's Office Capt. Jay Gruebele told KFYR-TV that authorities were searching for "anything illegal, anything that might be used to, I guess, harm our officers during a protest."
"As bad as it sounds, we're looking for people that may have died and could be wrapped up in a canvas or a tarp or tent," Gruebele added.
Sanitation workers were seen cleaning up the mountains of debris that piled up over the six month period. They are hoping to get the mess cleared by spring. According to the station, at least 250 trucks will be needed to clear the space. All the garbage that was left behind was frozen into chunks.
"Standing Rock Environmental Protection Agency and Dakota Sanitation are working together to try and advert an environmental tragedy," Morton County Emergency Manager Tom Doering said.
At least 23 loads of garbage had been dumped at the Bismarck Landfill in the last week.