Authorities investigate 'anthrax' and Obama threat aimed at Arizona Sheriff Arpaio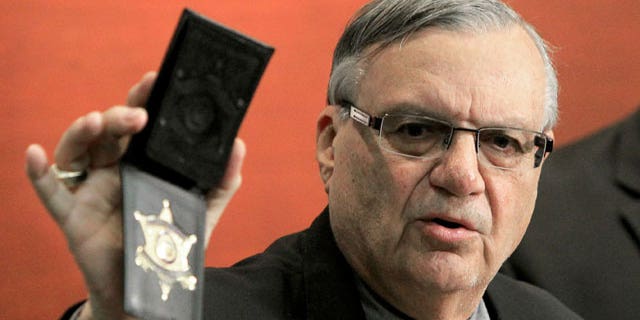 PHOENIX – A bomb squad was called out to the downtown offices of controversial Arizona Sheriff Joe Arpaio in Phoenix Monday, after a suspicious envelope was found to contain an unidentified white powdery substance.
Arpaio said the letter, which he found at his home over the weekend, was addressed to the White House with his home address as the return address, The Arizona Republic reported.
The man who bills himself as "America's Toughest Sheriff" said he was immediately suspicious because he had never sent anything to the White House.
When deputies opened the envelope at their offices Monday morning, they found a white powder inside and a note purporting to be from Arpaio to President Barack Obama.
The note said, "Resign or die. Sincerely, Joe Arpaio," and, "Here's some anthrax for you," Arpaio told reporters.
The 19th floor of the Sheriff's Office was temporarily evacuated after the powder was found, but Arpaio said the Phoenix Fire Department was 98 percent sure that the white powder was not toxic.
While the envelope is not believed to ever have been delivered to the White House, the Secret Service told FOX News Channel they were aware of incident and are taking the appropriate investigative steps.
Arpaio is never far from the headlines, especially over his office's handling of immigration matters.
His Maricopa County jail officers were barred last month by the federal government from checking whether inmates were in the county illegally after the release of a scathing Department of Justice report.
The report said Arpaio's office has a pattern of racially profiling Latinos, basing immigration enforcement on racially charged citizen complaints and punishing Hispanic jail inmates for speaking Spanish.