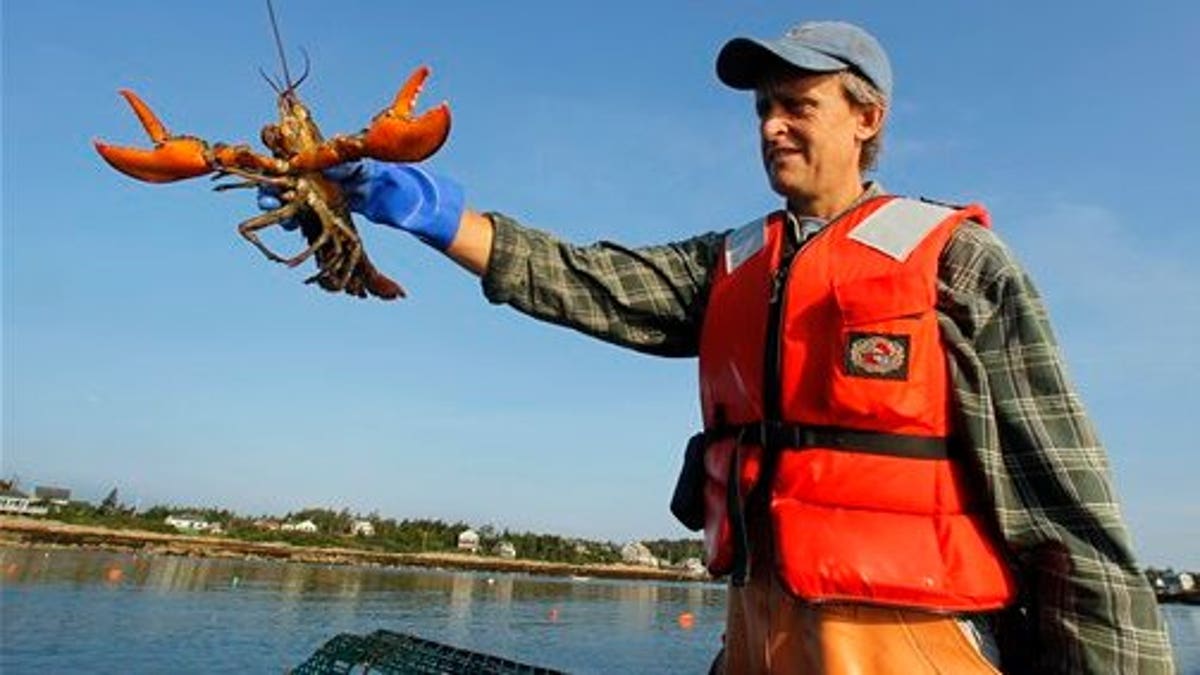 MATINICUS ISLAND, Maine (AP) -- It's muscle power -- not a diesel engine's horsepower -- that propels Nat Hussey's lobster boat as he tends to his lobster traps.
In a throwback to the past -- with a nod to the environment -- Hussey pulls his traps by hand from the cold ocean waters around this island 23 miles out to sea. Rather than use a diesel-powered boat to reach his 150 traps, he has a 15-foot wooden vessel that he rhythmically coaxes forward with two long oars.
Other lobstermen roar about, pulling traps with power winches, their engines growling and radios blaring rock 'n' roll and country music. Hussey works in solitude, waves lapping gently against his boat, a bell buoy clanging gently in the background.
It's been decades since anybody's seen a working lobsterman on Matinicus -- and perhaps in Maine -- earn a day's pay rowing to his traps and hauling them by hand. Hussey's boat looks like a toy moored in Matinicus Harbor amid the island's other vessels.
"Yes, I'm crazy," Hussey said one recent summer day. "But I feel like I'm crazy with some kind of purpose, which is to show that it's possible to go smaller and go slower and still make somewhat of a living, while helping with some of the energy and food problems we have."
Hussey, 47, is relative newcomer to the lobster industry. He worked as a sternman aboard boats the past four years after coming to Matinicus in 2006 with his wife and three children. He previously worked on the mainland as a trial lawyer and later in an office job with the Maine Department of Corrections, but prefers lobstering to either.
This summer, he put out on his own boat, "Sweet Pea," for his "zero-carbon lobster harvesting project." He hopes to prove he and perhaps others can earn a livelihood the old-fashioned way.
Hussey wants to cut his fuel use and his efforts to lessen his environmental impact are evident: He uses recycled gear -- bait bags, rope, bungee cords -- that he's found washed up on shore.
"This isn't a novelty act or a protest," he said. "It's supposed to be a small freestanding business."
Before the gasoline engine, lobster boats were powered by oar and wind.
By the early 1900s, power boats slowly replaced sailboats and rowboats, allowing fishermen to travel farther offshore and extend their season. With engines supplying power to trap haulers, lobstermen no longer had to pull their traps by hand.
Nowadays, virtually all of Maine's nearly 6,000 licensed lobstermen work aboard power boats with the latest sonar, radar and GPS and engines that can top out at 1000 horsepower or more.
Hussey's cedar-and-oak "peapod," newly built at a boatbuilding shop on the mainland, has none of that.
Wearing orange oilskins, he stands in the middle of his boat, one foot slightly in front of the other and pushes his 8 1/2-foot-long oars in a circular motion forward and back, forward and back -- over and over and over -- to row out to his traps. When it's blowing, he pulls up a small sail on a 12-foot mast in the bow to capture the wind.
Most days, he'll work his oars thousands of times as pulls his traps close to shore. His spindly body belies the strength he has built up, but his aching arms, back and legs are testament to the hard labor.
"Just bringing the traps over the side of the boat is brutal," he said as he reeled in a lobster line hand over hand, straining under the dead weight of a wire trap holding three lobsters.
Hussey's harvest and income will fall -- sharply -- fishing this way. He'll be happy to make half the money he did working on a power vessel, but he'll fall short this year. Through July, he had caught just over 1,400 pounds -- good for only a few thousand dollars with today's low lobster prices.
"I'm not going to Aruba on this money this winter," he said.
To supplement his income, he does odd jobs, carpentry and a little legal work; he's also the island tax collector. His wife is the town administrator and runs a tiny food store out of their barn that's open seasonally three hours a day.
But his costs also will fall. He doesn't have the overhead of boat payments and engine maintenance, and he doesn't have to worry about his engine breaking down.
By fishing this way and writing a blog, Hussey's trying to show that people can live comfortably melding today's technology with the business practices of the past. He compares what he's doing to small-scale organic farmers who have carved a niche during this age of corporate farming.
"I don't want to come across as saying people need to get rid of their diesel boats and big engines," he said. "I'm just saying there's a niche for the others."
Lobstermen on Matinicus, the most remote of Maine's 15 year-round island communities, are known to be protective of their rich fishing grounds. The island drew national attention last summer when a lobsterman shot a fellow lobsterman in a territorial dispute.
But they say they're supportive of Hussey, while chuckling quietly at the whimsy of his venture. Many still have the peapods they used as teenagers, pulling their first traps decades ago. The peapod -- so named because its double-ended and round-sided shape resembles a pea pod -- is thought to have originated in the 1870s in Penobscot Bay and was the boat of choice on Matinicus for decades.
Ronnie Ames, 67, a lifelong Matinicus lobsterman, said Hussey's no threat to anybody on the island. With a laugh, he said Hussey has a lot to learn -- he could use different oarlocks, for instance -- but that he should be able to make do.
"You can make a living," he said. "Nobody's ever gone cold or hungry on this island."