7 Tennessee bounty hunters charged with murder after shooting at wrong car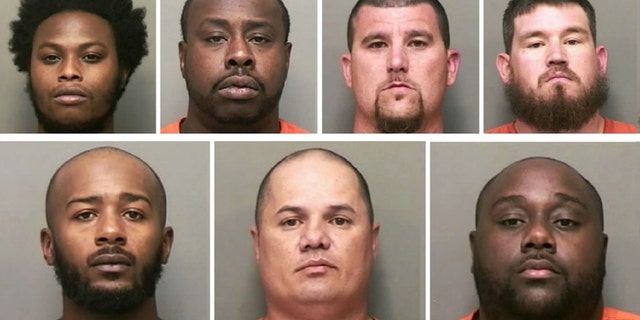 Seven bounty hunters who descended on the wrong car outside a WalMart have been indicted on first-degree murder charges in the killing of an unarmed man and the wounding of another, Tennessee police announced Wednesday.
The charges come after a chaotic scene in Clarksville on April 23, where police said the bounty hunters shot at the four people in the sedan and chased them for seven miles.
Not one of the men in the sedan was wanted on outstanding charges.
US AIR FORCE JETS INTERCEPT RUSSIAN BOMBERS, FIGHTER JETS NEAR ALASKA
In fact, the Clarksville bounty hunters were looking for someone else, and there is no indication that any of the victims fired at the defendants or were even armed, police spokesman Jim Knoll said in an email.
Bail bondsmen are empowered to hire or act as bounty hunters to bring in people who violate the terms of jail bonds, but they can't use deadly force unless it's self-defense.
Killed was 24-year-old Jalen Johnson, a father of three from Clarksville. His family called him an innocent man who died in an act of terrorizing violence.
WOMAN SHOT DURING CONFRONTATION OVER HANDICAPPED PARKING
Johnson's uncle, Toni Jenkins, told The Associated Press that his nephew and the three men in the car with him had no idea why people would suddenly block their car in the Wal-Mart parking lot. Fearing an attack by gang members, they tried to flee.
The bounty hunters, Jenkins said, started shooting in the parking lot and continued to fire on them during the chase, even ramming the Nissan along the way.
Clarksville police would not confirm or deny these details, but authorities have said they are troubled by how the bounty hunters put people at risk.