4 adults, 1 child killed after out-of-control car veers off Southern California freeway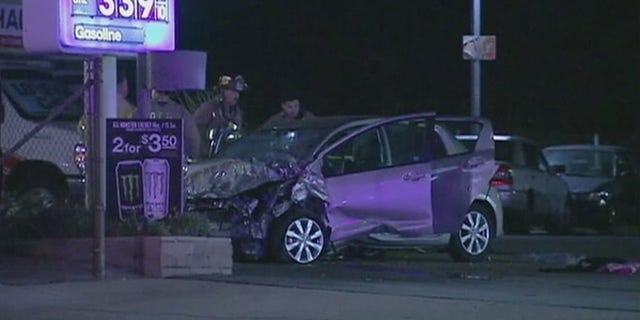 NEWYou can now listen to Fox News articles!
A 7-year-old boy and four adults were killed when an out-of-control car veered off a Southern California freeway and slammed into another vehicle in a horrific New Year's Eve crash, officials said Friday.
At around 7 p.m. Thursday, a silver Toyota Yaris carrying the boy and three other people careened off the I-10 in Ontario and broadsided a red Toyota sedan that was heading north on Vineyard Avenue with four occupants, the Riverside Press-Enterprise reported.
All four people in the sedan were pronounced dead at the scene, the newspaper reported. They were identified Anthony Andrew Flores, 30, from Hemet; Monica Marie Flores, 37, from Arcadia; Matthew Joseph Pusateri, 29, from Mission Viejo; and Jeffrey Albert Willey, 29, from Huntington Beach.
The Yaris was driven by a 51-year-old woman and carried a girl, 12, and two boys 16 and 7, officials said. They were all from Van Nuys but it was unknown whether they were related.
They were all taken to Loma Linda University Medical Center where the 7-year-old boy died, according to the San Bernardino County Coronor's office. He was identified as Joel Michael Pineda. Authorities originally said he was 6.
The cause of the crash appeared to be a problem with the Yaris, the coroner's office said in a news release, according to the Press-Enterprise.
The Yaris was eastbound on the freeway "when it began to accelerate uncontrollably," the release said. It added that the car was "unable to stop or slow" and the driver drove onto the Vineyard Avenue off ramp.
The investigation is ongoing but no alcohol or drug use was apparent early in the investigation, a spokeswoman for California Highway Patrol told the Press-Enterprise.
Fox 11 reported that the car that was hit was a mangled mess.
The station spoke to a bystander at the scene who described the crash as "just terrible."
"End of the year, start of the new year, 2016, just hours from it, now everybody is dead," the person said.
Click here to read more from Fox 11.
The Associated Press contributed to this report.