2nd video of Texas police shooting gives 'very clear view' of incident, prosecutor says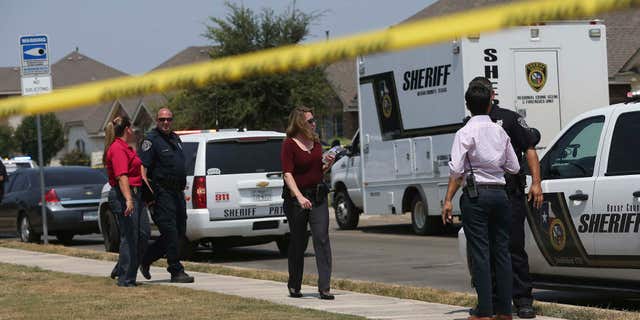 NEWYou can now listen to Fox News articles!
A Texas prosecutor says a second video that has emerged of a confrontation between deputies and a man who had his hands raised before he was shot and killed gives authorities a "very clear view" of the incident that transpired.
Bexar County District Attorney Nico LaHood described the new footage and one broadcast earlier as "disturbing," but cautioned against a rush to judgment as authorities investigate the shooting that killed Gilbert Flores, 41, of northwest San Antonio.
A motorist initially recorded a video that was some distance away from the incident. It was posted online by a San Antonio TV station and purportedly shows Flores outside a residence Friday facing two deputies with his hands raised – one arm obscured by a utility pole. The deputies fired multiple times at the man.
Sheriff's officials say Flores was armed, though didn't specify what he was armed with, and that nonlethal measures to subdue him were unsuccessful. Lahood declined to say Tuesday whether Flores' arm motion was surrender.
"I don't know what his intent was," he said. "All I can tell you is the video is disturbing. But my encouragement to everyone is to press the pause button."
Thomas J. Henry, a San Antonio attorney representing the family, said in an interview Tues that the initial video appears to show deadly force was unnecessary but he's seeking more evidence.
"From a lay perspective, seeing the video, it does appear the immediate danger is gone because he had both hands in the air," Henry said. "Now there are other videos and other pieces of evidence that we want to gather." He said the family is considering filing a lawsuit to compel authorities to turn over more evidence.
Flores' death is the latest officer-involved shooting to draw heavy scrutiny for using deadly force in a situation where it may have not been necessary. Law enforcement officials in the U.S. have expressed concern that the deadly confrontations have spawned retaliatory shootings of officers, including last week's death of a suburban Houston deputy at a gas station.
The second video was recorded by a witness closer to the scene, Lahood said. An investigation is underway to determine whether the deputies will face criminal charges or whether the danger was imminent, Lahood said.
Deputies Greg Vasquez and Robert Sanchez were not equipped with body cameras at time of the encounter. The deputies were placed on administrative leave. Sanchez has worked more than 20 years with the sheriff's office and Vasquez has been with the agency for more than 10 years, according to records with the Texas Commission on Law Enforcement. Both had received training in use of force and nonlethal devices.
Michelle Lee, a special agent for the San Antonio FBI bureau, confirmed Tuesday that "experience civil rights investigators," are monitoring the investigation.
The deputies had responded to a domestic disturbance, authorities have said, and found a woman at the residence with a cut on her head and a baby who appeared to be injured. Sheriff's officials have not indicated whether they believe Flores harmed the two.
Attempts to contact members of Flores' family were unsuccessful Tuesday, but Henry said that Flores' wife is devastated. The couple have a child who is just 21 days old, he said.
Bexar County court records show Flores was convicted in 2003 of aggravated robbery, and the San Antonio Express-News reports he also has a conviction for assault with a deadly weapon.
U.S. Rep. Joaquin Castro, who represents part of the San Antonio area, said in a statement that Friday's shooting was "extremely disturbing."
"This incident is further evidence that police officers and deputies should wear body cameras," he said. "The widely supported technology brings transparency and accountability that protects law enforcement and civilians alike."
Bexar County commissioners approved a county budget Tuesday that includes more than $630,000 to provide deputies with body cameras and also cameras for patrol vehicles.
The Associated Press contributed to this report.