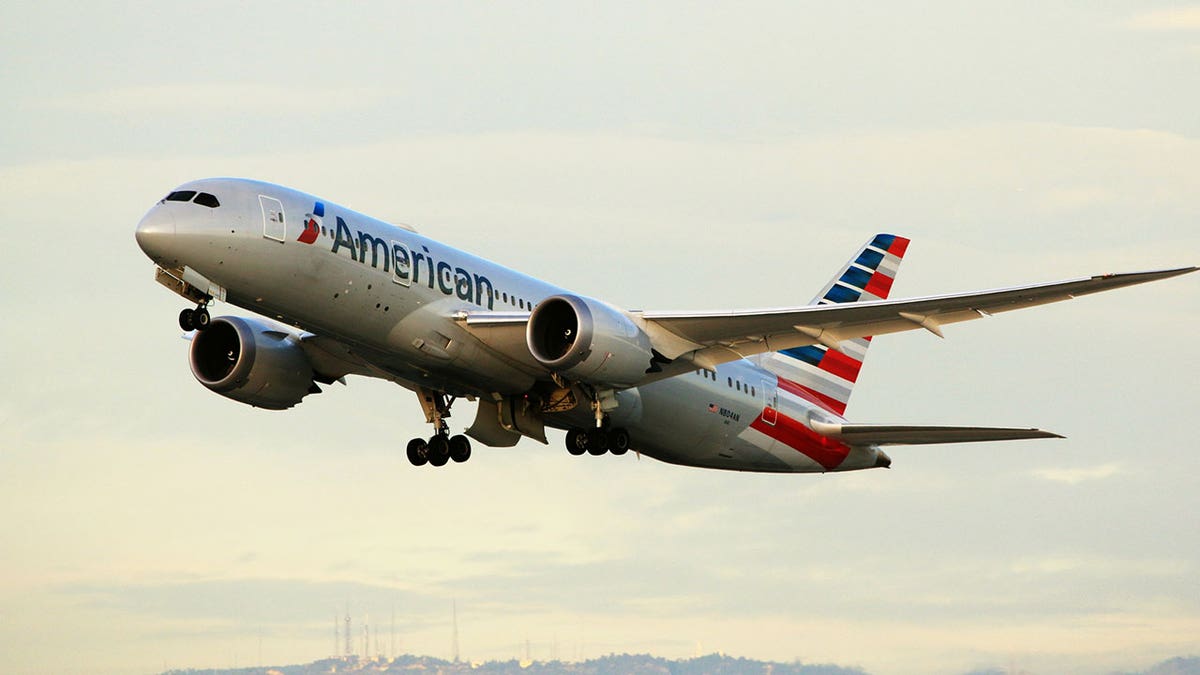 A Colorado woman who claims she was raped last summer during an American Airlines flight is suing the carrier after it offered her $5,000 to settle.
On June 16, 2017, Aubrey Lane boarded the red-eye American Airlines Flight 1280 at Phoenix Sky Harbor International Airport en route to New York's JFK International Airport to see her family, The Dallas Morning News reports.
When she got up to use the restroom several hours into the flight, the 31-year-old real estate professional claims she was followed and soon trapped in the lavatory and assaulted by an intoxicated male passenger who had been sitting next to her.
ALASKA AIRLINES PILOT ACCUSED OF RAPE GROUNDED AS SHOCKING DETAILS EMERGE, OUTCRY GROWS
"I was feeling overwhelmed ... all of a sudden, I was thrown in a middle seat, bawling. On top of being sad and hurt and scared, I was also embarrassed," Lane told the outlet of the traumatic experience.
After informing cabin crew of the attack, the Colorado Springs resident says she was moved to the back of the plane for the duration of the flight. Police officers met her at JFK and she was treated at a local hospital.
She said the alleged rapist was not detained.
Lane now intends to sue American Airlines, as she is not satisfied with the $5,000 the airline offered when her lawyers contacted the airline in December 2017, the New York Post reports.
"I would like to see some sort of human response. I would like them to acknowledge this is a problem," Lane said.
WOMAN FILES COMPLAINT AGAINST UNIVERSAL ORLANDO RESORT SAYING SHE WAS FAT-SHAMED BY STAFF
The Post reports that FBI officials are investigating Lane's allegations, but did not return their request for comment. Lane's attorneys say that she had offered to meet with representatives for the airline to discuss the incident, but American Airlines declined the offer in part due to the FBI investigation.
The Dallas Morning News adds that Lane was interviewed by FBI investigators at the hospital after the incident, but the man who reportedly raped her was not stopped at the gate after deplaning.
"American's ultimate responsibility is the safety of their passengers," said Lane's attorney, James McDonough, to The Dallas Morning News. "Based on the actions of American Airlines' flight crew, the safety of Aubrey was not their No. 1 priority."
On March 16, American Airlines spokesman Ross Feinstein confirmed to Fox News via phone interview that they are "deeply troubled" by the alleged incident, adding that it is still an ongoing investigation and that no one has yet been charged with any crime.
"We want all of our customers to have a safe, positive travel experience with us and we are deeply troubled by any allegation of misconduct onboard our aircraft or at any of our facilities. Our crew contacted law enforcement, who met the aircraft upon arrival at New York's John F. Kennedy International Airport. As this is still an ongoing investigation, you will have to contact the FBI or the U.S. attorney for the Eastern District of New York for any additional details on their investigation," Feinstein said.
"Our corporate security team will always provide any investigative assistance we can to federal, state and/or local law enforcement, as we want those who commit crimes on our aircraft to be held accountable for their actions."
FOLLOW US ON FACEBOOK FOR MORE FOX LIFESTYLE NEWS
However, he did say that airline officials failed to contact Lane when she reached out with her claim, and they should have, given the severity of her allegations.
"We should have followed up immediately afterward with Ms. Lane to assure her how seriously we were taking her claims. It is important to note that the way we work with our customers after an incident like Ms. Lane's has changed over the past few months," he said.
"If this incident happened today, Ms. Lane would have received a call from our customer relations team making sure that we were providing her with the best possible care during this difficult time. We're continually focused on improving our customers' experience and this is a positive change we have made in the last few months," he added.
The FBI did not respond to an email for comment.
Commercial carriers have been in the headlines a lot recently, including stories about a two-year-old girl being kicked off of a Southwest flight, a French bulldog's tragic death in a United overhead bin, and an Alaska Airlines first officer's allegations of rape against a senior pilot during an overnight work trip.