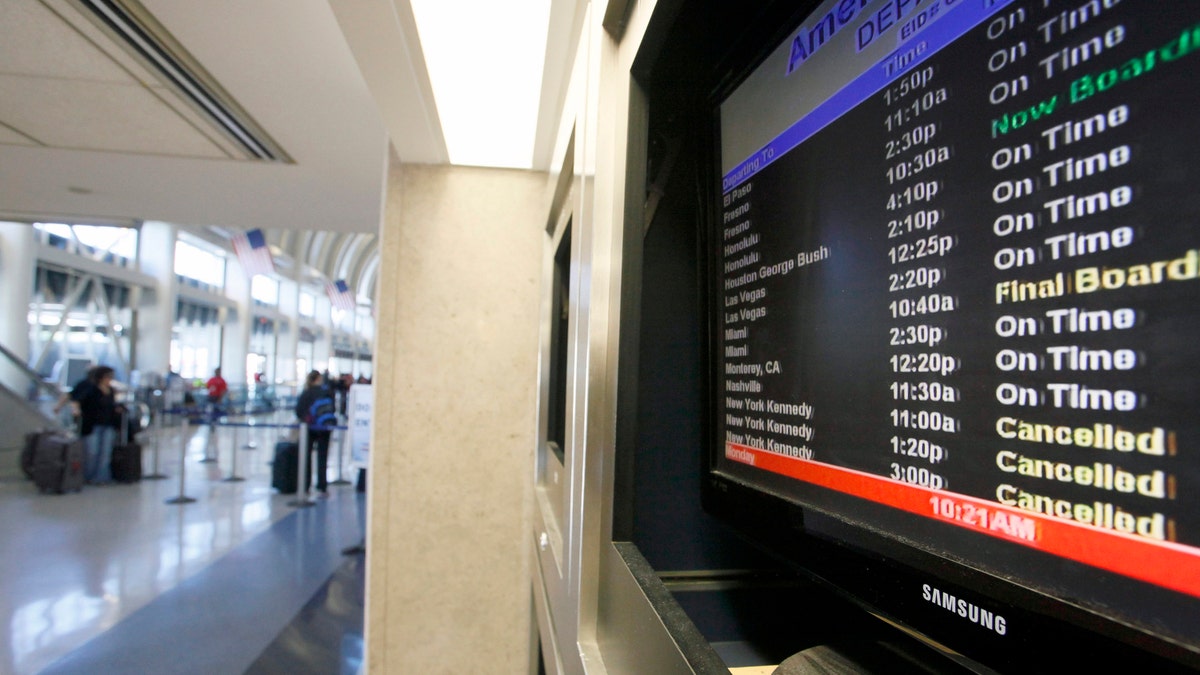 NEW YORK – Major airlines are scrapping flights in and out of the New York area ahead of the second significant storm in little more than a week.
United and American plan to suspend operations in the region this afternoon. Other airlines are encouraging passengers to reschedule — without a fee.
Airlines are quick to cancel flights ahead of major storms to avoid stranding aircraft and crews. Doing so also lessens storm-related financial losses. As of 8:45 a.m. EST, about 360 flights had been canceled at the three New York airports, according to flight tracker FlightAware. About half of those are at Newark Liberty International.
Superstorm Sandy last week led to more than 20,000 flight cancellations. The latest storm is weaker than Sandy, but still brings high winds, a mix of rain and snow and the potential for more flooding. Sandy flooded some airport runways when it hit last Monday.
United, the world's largest airline, is suspending most service in New York starting at noon Wednesday. It warns that the bad weather will likely cause more delays and cancellations throughout the Northeast.
American Airlines is shutting down in New York at 3 p.m. It's also stopping flights to and from Philadelphia at noon.
Most other airlines, including Delta Air Lines Inc. and JetBlue Airways Corp., are asking passengers to reschedule their Northeast flights for a later date. They're waiving the usual change fees of up to $150.
JetBlue, which is the biggest domestic airline at New York's John F. Kennedy Airport, said its operations had just gotten back to normal Monday.
There's a dollars and cents reason that airlines cancel big swaths of their schedules well ahead of bad weather. Cancellations aren't as expensive for airlines as one might think.
Most passengers eventually reschedule, so the airline still collects the fare. And if flights are canceled, the airline doesn't have to pay the crew or the cost of burning fuel. Many passengers on canceled flights are also often squeezed onto another flight, which improves the airline's efficiency.
Airlines also are not required to pay for hotel rooms, food or other expenses for passengers stuck overnight due to the weather, as many stranded by Sandy learned the hard way.
As the current storm moves up the Atlantic coast from Florida, it now is expected to veer farther offshore than earlier projections had indicated.
Storm surges along the coasts of New Jersey and New York are expected to reach perhaps 3 feet, only half to a third of what Sandy caused last week. High winds, which could reach 65 mph, could extend inland throughout the day, potentially stalling power restoration efforts or causing further outages.