Tundra, NYC's only polar bear, euthanized due to kidney issues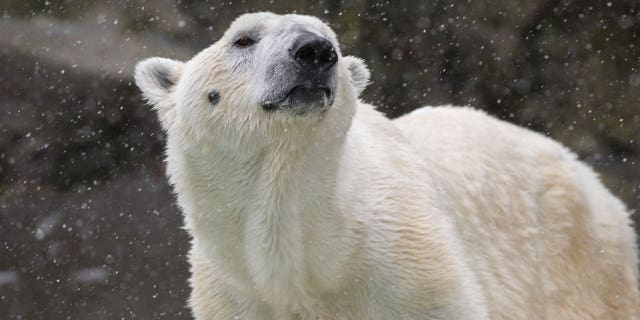 The Bronx Zoo has confirmed that officials at the facility have put down Tundra, a 26-year-old polar bear that lived its entire life at the New York City zoo.
"We euthanized our polar bear 'Tundra' due to advanced kidney disease among other geriatric issues associated with advanced age," tweeted Jim Breheny, the director of the Bronx Zoo, on Wednesday evening. "Tundra was born @BronxZoo 26 years ago. He was NYC's last polar bear. I tried to stop by & see him everyday [sic], he was a great animal & will be missed."
POLAR BEARS SPOTTED RUNNING ONTO ALASKAN AIRPORT RUNWAY
The Wildlife Conservation Society further confirmed that Tundra had been suffering from acute kidney failure, chronic kidney disease and progressive arthritis — none of which had shown improvement despite treatment.
"He lived a long life under the dedicated care of our keeper and veterinary staffs," Breheny added in a press release issued by the WCS. "Despite his age he remained extremely active and playful until just before his death."
Concerns about Tundra's well-being were voiced as recently as July 2016, though none specifically targeted his level of care of kidney health. Rather, the WCS had to respond to concerns over his overall happiness during the park's summer months, after footage of Tundra restricting himself to a shady area of his enclosure hit the internet.
HEARTBREAKING VIDEO OF STARVING POLAR BEAR STIRS CONTROVERSY
The WSC responded by stating that Tundra had "never had any heat-related health issues" and that he was subsequently photographed sleeping in the sun, even when presented with the option of relaxing in the shade.

Tundra became the city's sole polar bear when 27-year-old Gus was euthanized at the Central Park Zoo in 2013, the Associated Press reports.
The WCS reports that the Bronx Zoo has no plans to acquire another polar bear for the facility in the wake of Tundra's passing.
FOLLOW US ON FACEBOOK FOR MORE FOX LIFESTYLE NEWS
But while the Bronx Zoo said it won't be displaying a polar bear in the near future, that's not the only place animal-lovers might get an up-close-and-personal peek at the furry mammals: Earlier this month, an airport worker at the Will Rogers-Wiley Post Memorial Airport in Alaska spotted two polar bears scampering across the runway, presumably looking for food.
The Associated Press contributed to this story.