Trump resort criticized for suggesting Irma victims relieve 'stress' with meal at club's restaurant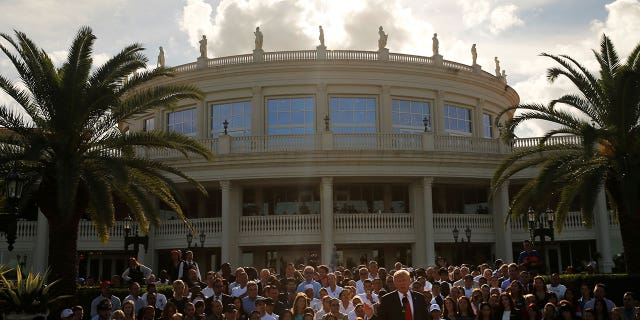 The Trump National Doral resort in Miami, Fla., has recently come under fire for suggesting that victims of Hurricane Irma relieve their "post-hurricane stress" with a meal at one of the hotel's restaurants.
On Friday, Sept. 15, the hotel's official Twitter account shared a post reading, "Nothing relieves post-hurricane stress like great food! Our restaurants are open to the public."
"#MiamiSpice menus avail. At BLTPrimeMiami," added the Trump National Doral.
FAKE TIME MAGAZINE COVERS FEATURING DONALD TRUMP FOUND HANGING IN SEVERAL TRUMP GOLF CLUBS
The tweet also featured a photo of what appeared to be shrimp fra diavolo, a wedge salad, a dish of bacon-wrapped chicken roulade, and a guava-filled empanada, Newsweek deduced.
The Trump National Doral deleted the tweet from its official Twitter account the same day it was posted, but not before several users posted critical responses.
Another user used the opportunity to turn the resort's own words against them, making it sound as if the Trump Doral was offering its "great food" for free.
Prior to the offending tweet, the Trump National Doral had posted two updates after Hurricane Irma blew through Florida, both of which included messages of support for those affected.
A representative for the Trump Doral was not immediately available to comment.
FOLLOW US ON FACEBOOK FOR MORE FOX LIFESTYLE NEWS
The Trump National Doral is one of several golf resorts owned and operated by the Trump Organization throughout the United States, Dubai, Scotland and Ireland. The Trump Organization reportedly purchased the resort in 2012 for $150 million.