Travel etiquette: flying with the flu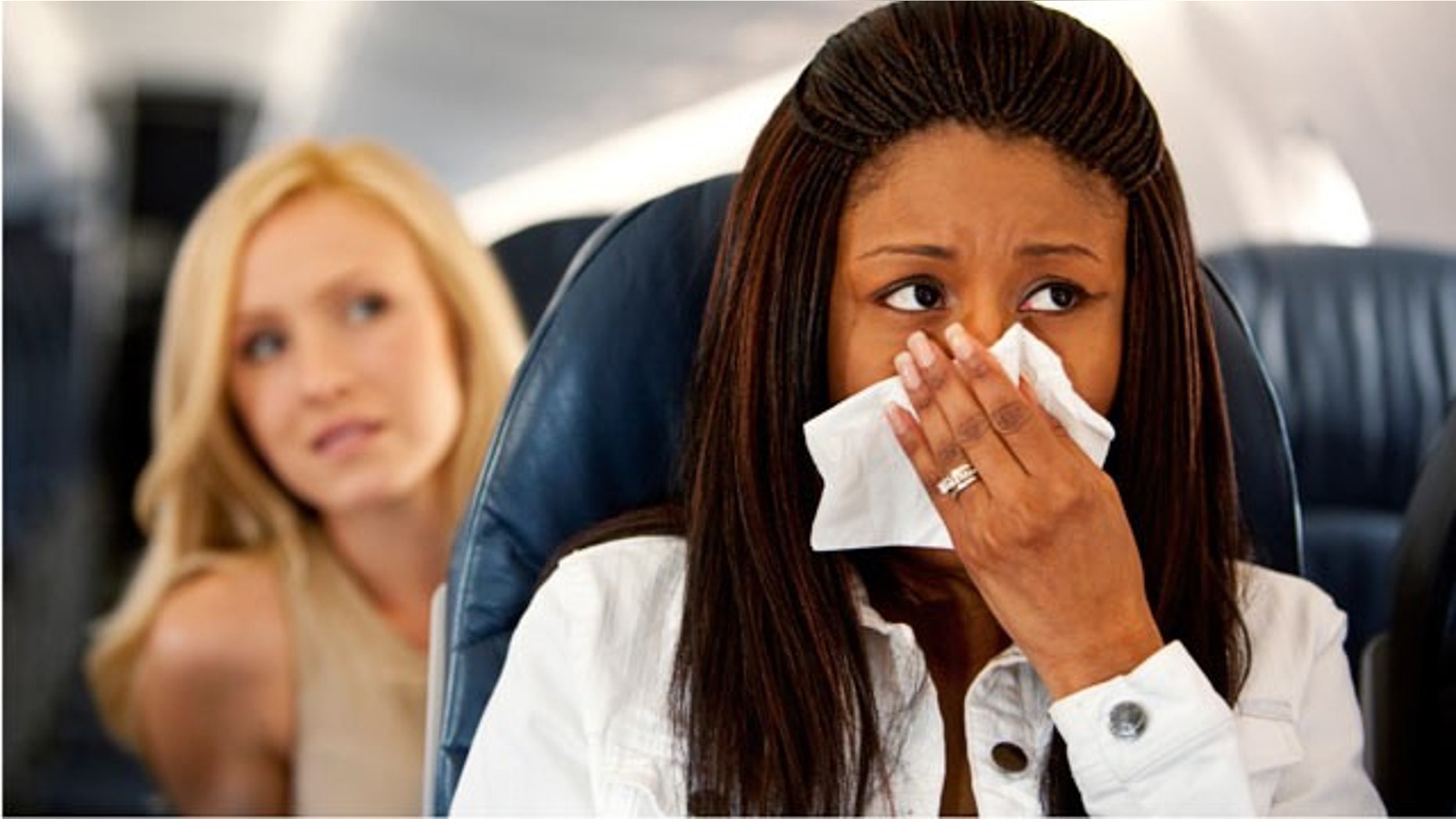 It's the inevitable predicament when flying in the winter. Coughing, sneezing, flu-like travelers are abound --and you're stuck sitting next to them for what seems like a never-ending flight.
A recent online survey by the market research firm ORC International found nearly two-thirds of Americans admit to going about daily activities despite experiencing flu symptoms. "That's really too high," said modern etiquette expert Anna Post, the great-great-granddaughter of Emily Post. "We need to reign that in."
The survey also said 45 percent say they would board a plane to go on vacation and 40-percent would get on a plane for business even if they were sick with flu symptoms.
"Flu spreads easily, and because of the proximity to others, traveling raises the risk," said Dr. Susan J. Rehm, the medical director for the National Foundation for Infectious Diseases. "But there are ways to limit spread of the virus and your chances of getting sick.
Get vaccinated at least two weeks before traveling. That is how long it takes for the vaccine to take effect. If you are sick with flu-like symptoms, see your doctor for diagnosis and possible treatment."
Post and Dr. Rehm give additional tips for how to avoid spreading or catching the flu when you're up in the air.
Sick Seatmate? Post encourages those who are sitting next to a sick traveler to talk with the passenger about the situation promptly. "Stay friendly, stay easy," Post said. "When you turn to them, smile and say, 'I can see you're not feeling well. Would you mind covering when you cough? Thanks.'"
She says it's better to discuss this early on, but make sure your tone isn't filled with judgment or disgust. Post suggests showing compassion to sick travelers by saying something like, "'I'm sure it must be such a bummer to travel while you're sick.'"
"Let's face it, it always works better when you approach it from a point of view that shows you are friendly and sympathetic," Post said.
If you're not comfortable addressing the issue directly, the etiquette guru encourages fliers to take preventative measures that hopefully give a subtle gesture to fellow passengers.
"Keep some tissues and alcohol-based sanitizer with you," Post said. "It's also nice to be able to hopefully offer that to your seat mates, that can help prompt them to try to keep the spread of anything to themselves."
Go ahead.. give the cold shoulder For the sick traveler, Post reminds you to try to turn away from other people if you are going to cough or sneeze.
"The idea of cold shoulder is to minimize your exposure to other people," Post said. "Even if technically it doesn't change anything, it shows people you are doing the best you can."
Know the FACTS It's common to confuse flu and cold symptoms, but Dr. Rehm says people need to know the difference. "Influenza is highly contagious," Dr. Rehm said. "The flu virus can spread up to six feet away when someone with flu coughs, sneezes or even talks. And it can live on hard surfaces for up to two hours."
The acronym FACTS --fever, aches, chills, tiredness and sudden onset--can help identify influenza. "This is the key sign," Dr. Rehm said. "Flu strikes fast, unlike a cold, which could take days to come on. If you are experiencing a sudden onset of a fever, aches and chills, you should call your doctor."
Post and Dr. Rehm also recommend downloading the "Fight the Flu" app, which locates nearby pharmacies and urgent care clinics, as well as tracks flu incidences in the area.
Hands down Classic etiquette is to keep your hands below your shoulders and avoid touching your face, which could provide health benefits as well. "This idea has been around for a long time," Post said. "It's still airborne as well, but that can help." When the flight attendant passes out drinks, Post says make sure you don't 'pass' along the flu by handing a cup to the person at the window if you are sitting in the aisle seat and aren't feeling well.
Don't shake Since the H1N1 flu scare in 2009, Post says it has become acceptable and even encouraged to avoid shaking hands if you have cold or flu symptoms.  While you may really enjoy meeting the person in the seat next to you, don't feel bad about avoiding the signature greeting. Post suggests saying, "'Excuse or forgive me for not shaking hands. It's nice to meet you.' "You want to say with words what that handshake would have said," Post said.
Stay home The Centers for Disease Control and Prevention says people should not travel if they are sick with flu-like symptoms. Dr. Rehm agrees, but says if you must catch the flight, be aware of others and take precautions.
"If you have flu symptoms, it's important to act quickly, see a doctor and follow your doctor's advice," Dr. Rehm said. "No one wants to be 'that guy' who puts others at risk for flu."