Tourists to Florence will now be fined for eating on the street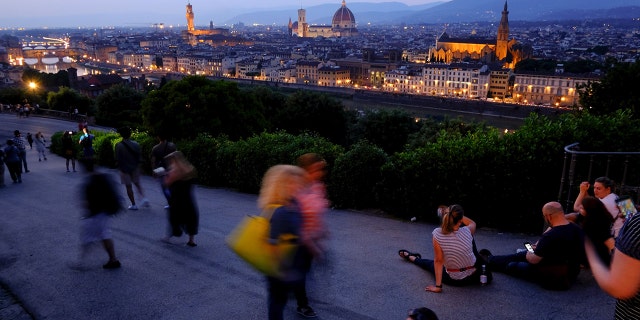 Tourists planning an impromptu picnic on the packed streets of the iconic Italian city of Florence can now be hit with fines of up to $580.
The city's mayor, Dario Nardella, introduced the measure after soaring tourism numbers, reportedly fueled by low-cost flights and Airbnb rentals, have left the narrow streets difficult to navigate for residents, who find tourists picnicking on precious pavement.
SEE IT: TOURISTS SKINNY-DIPPING IN HISTORIC ITALIAN FOUNTAIN SPARK OUTRAGE
"The new rule is not aimed at tourism in general but at uneducated visitors who camp in the streets with their lunch," Nardella told The Times of London on Wednesday.
Nardella introduced the rule after a shopkeeper was beaten by Spanish tourists when he tried to stop them from picnicking at the entrance to his store.
"Right now residents cannot get into their houses because of the tourists eating on their doorsteps," the mayor said.
STARBUCKS DEBUTS IN ITALY WITH PREMIUM BREWS, NOVELTY BAR
The restrictions apply during peak lunch and dinner times: 12 to 3 p.m. and 6 to 10 p.m., and will remain in place for up to four months. In posters promoting the new rules, officials say it's forbidden to "eat any kind of food just stopping and staying on sidewalks, on doorsteps on shops and houses and on roadways."
"You can walk while eating, but you cannot stop," a city spokesman told The Times.
FOLLOW US ON FACEBOOK FOR MORE FOX LIFESTYLE NEWS
This is not the first time that the Italian city has taken action against visitors. Last year, Nardella told city workers to hose down popular tourist sites, such as the city's cathedrals, to discourage tourists from sitting and snacking, The Local reported at the time.
Other Italian cities have also cracked down on tourists misbehaving. Venice is warning tourists not to feed pigeons and to walk on the right while crossing canal bridges, according to The Times.