Tourists keep baring their butts at Cambodia's Angkor Wat temple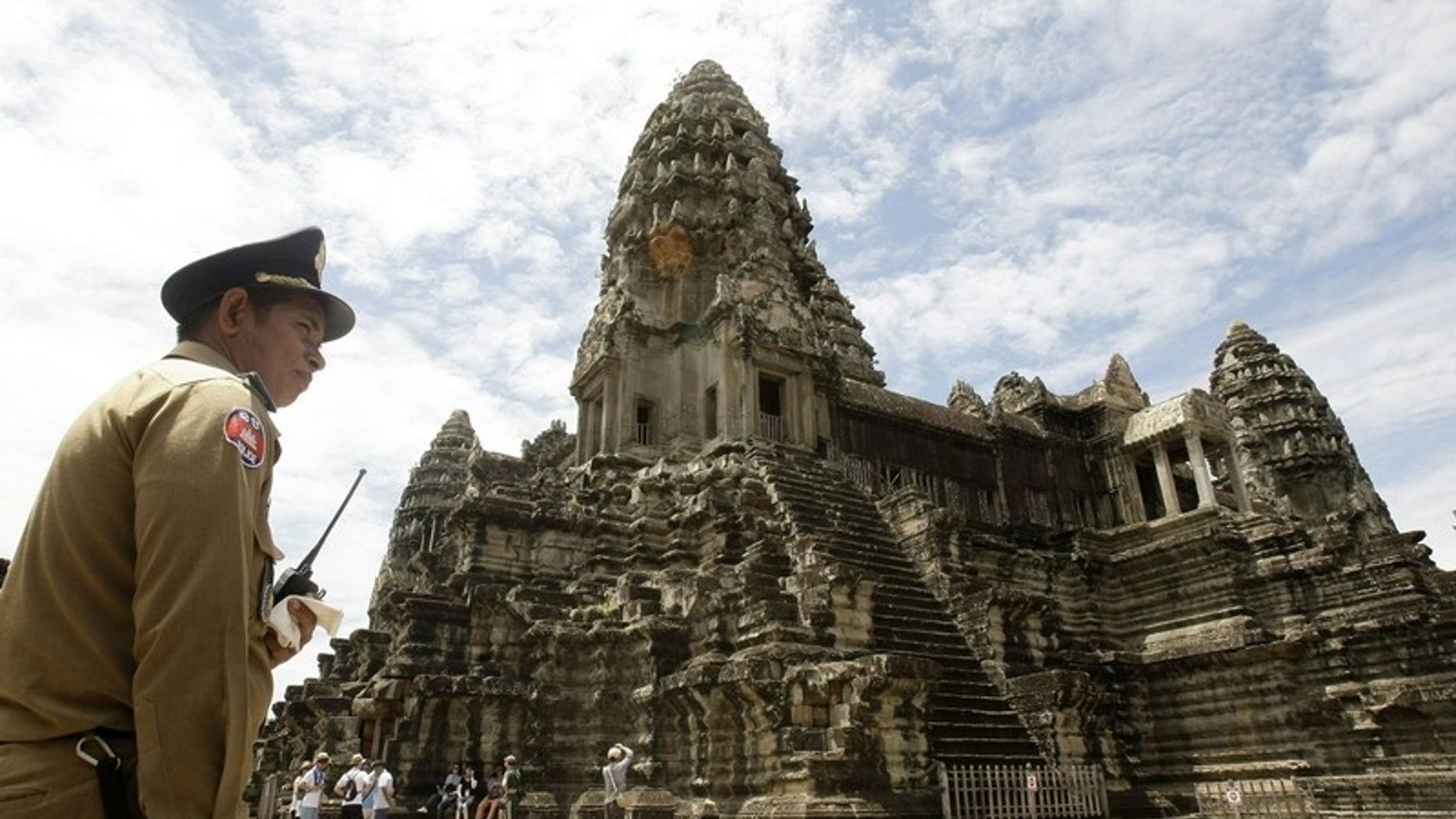 A bizarre trend among tourists is overtaking Cambodia's ancient Angor Wat.
On Sunday, three tourists were arrested for taking photos of their bare bottoms in front of the temples, making it the third time this year that Cambodian officials had to deal with disorderly visitors in a state of half dress at the site.
Two male tourists were caught with their pants down while a female companion snapped a picture. Temple guards arrested all three, and the court has yet to make a decision whether they  will be tried or if the case will be sent to an investigating judge, according to a local prosecutor who spoke with the Cambodia Daily.
Angor Wat -- a UNESCO World Heritage Site comprised of a massive complex of Hindu and Buddhist temples--is Cambodia's most popular landmark, receiving over 800,000 visitors a year.The butt baring at the temples has forced the Aspara Authority, a group which manages the site, to put up flyers, warning visitors that taking photos in the buff "desecrates" the sacred space.
"Our park was built to serve religious beliefs, so showing naked bodies is not acceptable," Apsara Deputy Director Long Kosal told the Cambodia Daily.
In the past, similar cases—one involving a group of three French men and another involving two sisters from the U.S.—led to the arrest, fining and eventual deportation of the tourists. The Americans were also banned from entering Cambodia for four years.
And it's not just bare buttocks. Photos of a topless woman standing in front of Angkor Wat have been circulated on Facebook but the individuals involved were never charged.
Temple authorities expressed their shock at the disturbing trend.  "This is the first time we've had to deal with several situations like this in such a short time," Apsara Authority spokeswoman Kerya Chau Sun told the Phnom Phen Post in February. "I don't understand what would drive people to do this."
Alison Carter, an archeologist who studies Angkor Wat, says that foreigners do not understand the significance of the site.
"I think tourists frequently forget that the Angkor Archeological Park is not an amusement park, but a place with living communities and many sacred places that are still actively maintained and worshiped," Carter told CNN.
But the rise of naked-photo taking in front of historic sites isn't restricted to Angkor Wat. Last year, eight people were arrested in a single week for streaking at Machu Picchu in Peru last year.
Social media sites like NakedAtMonuments (NSFW) and blogs like My Naked Trip, which encourage travelers to strip down at world famous tourists sites—may be contributing to the trend.
"There are places in the world that people can get naked," Alfredo Mormontoy Atayupanqui, director of archaeological resources for Peru's Ministry of Culture, told CNN. "But not all places are [appropriate] for getting undressed."