Tourist destroys historic statue of Portuguese king in quest for perfect selfie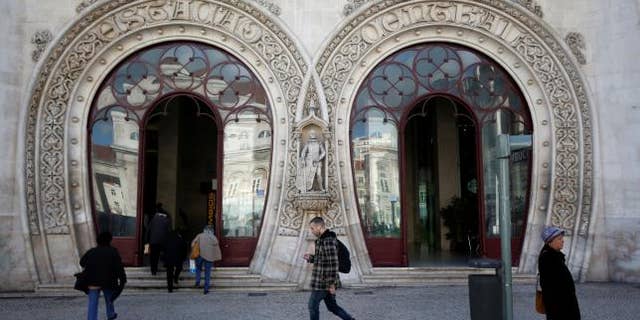 A tourist will appear in court in Portugal after he accidentally destroyed a 126-year-old statue while trying to take a holiday selfie.
The 24-year-old man, who has not been named, climbed up next to the famous statue of former Portuguese king Dom Sebastiao outside a Lisbon train station on Tuesday, Reuters reported.
He reportedly scaled the station's facade for the perfect photo opportunity.
But after he reached the statue, the man knocked the freestanding sculpture off its pedestal — and it topped to the ground, smashing into pieces.
The tourist reportedly tried to flee the scene but was quickly apprehended by police.
He was then charged to face a Lisbon court for destruction of public property.
A spokesman for Infrastructure Portugal said it was not yet known when the statue would be fixed.
The statue's subject, Dom Sebastiao, was Portugal's ruler between 1557 and 1578.
A legendary but tragic figure in Portuguese history, the young king embarked on a crusade against Morocco but was killed at the famous Battle of the Three Kings in northern Morocco at the age of 24.
His body was never recovered and the statue in his honour had stood proudly outside Lisbon's impressive Rossio railway station since 1890 — until last week.
But the young man who accidentally smashed it to pieces is far from the only tourist to inadvertently wreck havoc on valuable pieces of art.
Last year, a 12-year-old boy visiting a museum in Taipei, Taiwan, triggered facepalms the world over when he tripped over a punched a hole in a $2 million painting.
Footage showed the child trip on his feet and stumble into the 350-year-old oil-on-canvas painting, Flowers, by Italian master painter Paolo Porpora, which required expensive restoration.
Also last year, a pair of tourists accidentally shattered a 315-year-old marble statue in the Italian city of Cremona.
The tourists were reportedly trying to snap a selfie with the Statue of the Two Hercules — considered a symbol of the city — when they knocked it to the ground, Milan's Corriere della Sera newspaper reported.
In 2013, an American tourist accidentally snapped the finger off a 600-year-old statue of the Virgin Mary at Museo dell'Opera del Duomo in Florence.
The 55-year-old man was reportedly attempting to compare his finger to one on the statue figure when it broke off.
In an even more strange incident, the quest for a perfect selfie caused a US exchange student to become trapped in a giant stone sculpture of a vulva in Germany.
Some 22 firefighters were called to help free the man when he got stuck trying to take "a funny picture" with the sculpture in the grounds of Tubingen University Institute of Microbiology.