Top 5 tiki bars on Grand Cayman Island
If you're sailing the Caribbean on a cruise ship and Grand Cayman is one of your ports of call, the capital city of George Town is a wonderful place to spend the day. No doubt, the Cayman Islands are a foodie's paradise, and the shopping is top notch.
But if you want to take in the main island like a local, check out the bars where you can sit with your toes in the sand and go native—at least for a few hours.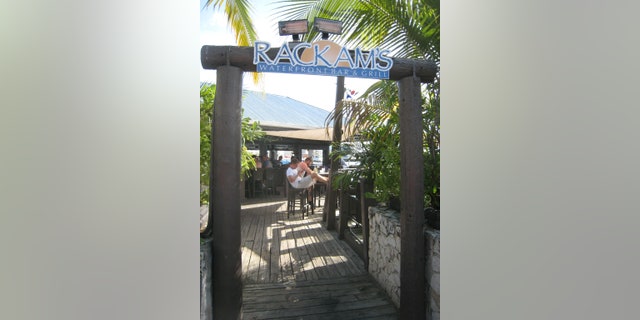 On a recent trip, I got to check out some of the island's best. Each of the bars has features that set them apart from another.
But these are not to be missed.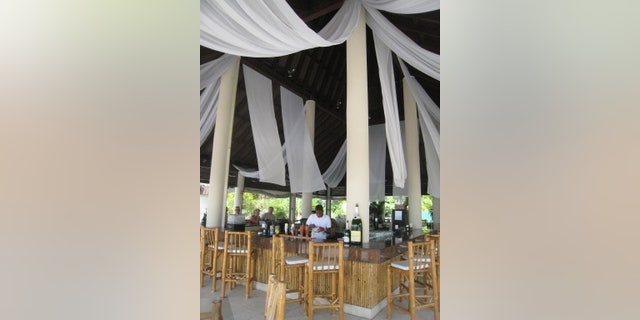 1. Rackham's in George Town
Named after the infamous pirate Jack Rackham, aka Calico Jack, this open-air tiki bar has a beautiful view of the harbor. It's a dive bar that caters to tourists and cruise ship passengers by day, but gets taken over by locals and divers at night. A local chef told me that it's the best diver dive bar on the island. He said you can "get rowdy and not get thrown out." So, if good food and drinks are what you seek, wait for the cruise ships to set sail and set your sites on Rackham's to get rowdy with the locals.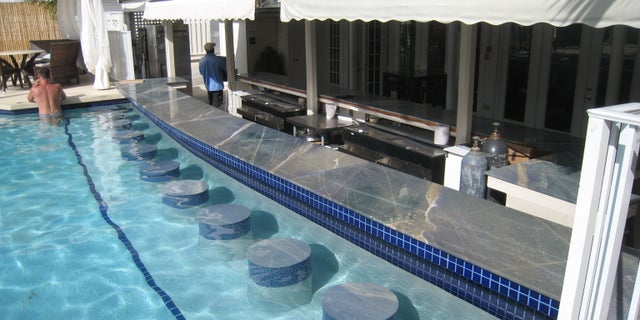 2. Tiki Beach
Tiki Beach is exactly what you expect out of an upscale beach bar. It has a big wood-beamed vaulted palm thatch roof, and flowing fabric accents that adorn the bar area and beach front lounges. This island paradise has fantastic frozen drinks and a fun lunch crowd. You know it's a good scene when the local beauty salon and aestheticians hang out there on the afternoon breaks. Tiki Beach also has a great beach with awesome snorkeling and easy access to water sports.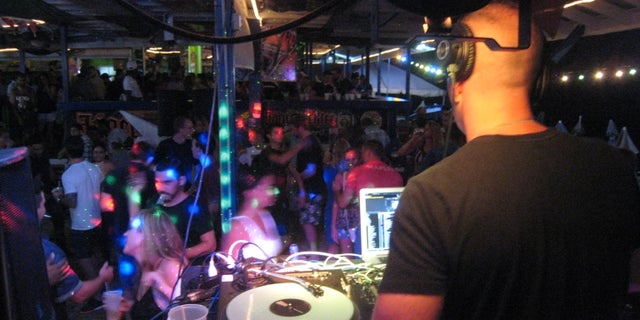 3. Royal Palms
Although similar in many ways to the other bars in town that get their cruise ship crowds, Royal Palms stands out with their pool bar. Keep you back warm in the sun and your bum cool in the pool, as your bartender serves up the umbrella drink of your choice. However a local secret: their Sunday brunch is amazing.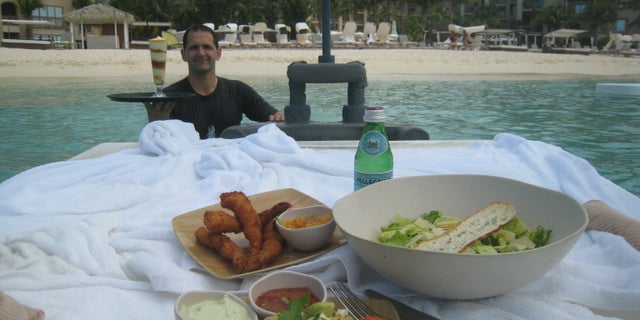 4. Calico Jack's
No matter who I talked to and on what part of the island, everyone said, "You're going to Calico's, right?!" And as luck would have it, I was there at just the right time for one of Calico Jacks' famous full moon parties. My trip was during the off-season and this joint was hopping. My new local friends told me this was nothing compared to the full-blown full moon parties of high season that overflow onto the beach with DJs and lights up on scaffolds and the thump, thump, thump of the beat on the dance floor under the stars and the sky. This bar is for everyone who likes to drink, dance and have a great time.
5. Aqua Lounge at the Ritz-Carlton
This is a tiki beach bar to end all tiki beach bars. At the pool reserve your personal aqua lounge—a private floating table with four chairs and sun shields that bobs up and down serenely in the gentle surf just 20 feet off the beach. On hand is your very own aqua butler who will keep you comfortable in food and drink as he or she swims everything out to you. Start with the coconut shrimp with tangy mango chutney before moving on to the classic caesar with fresh romaine hearts, focaccia croutons and shaved Parmesan. This aqua pampering isn't complete without trying some grilled mahi tacos. These soft tacos are overstuffed with fresh mahi mahi, charro beans, tropical slaw, achiote sauce, cilantro, lime, pickled red onions and avocado. Top things off with the Ritz's signature pina colada and you my never come home or get out of the water.