Top 10 sleigh rides in North America
Imagine snuggling up in a blanket and listening to the sleigh bells ring as you ride a horse-drawn sleigh through a wonderland of snow.
Sound like your cup of tea?
Here are 10 of the best sleigh rides that offer this experience and more in some of the most scenic spots in North America.
1. National Elk Refuge: Jackson Hole, Wyo.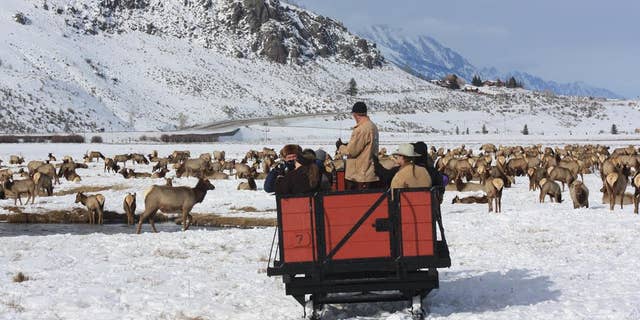 Topping the list, the National Elk Refuge sleigh ride operated by Double H Bar, Inc. offers unbeatable views of the Wyoming landscape and the elk that roam it. Over 5,000 of the 11,000 elk in the Jackson elk herd visit the 25,000-acre refuge during the winter. From December through early April you can hop aboard a sleigh for an hour-long ride that gives you an up-close look at the 500-pound beauties. You may see other wildlife, too, including eagles, wolves and swans. Sleighs operate from 10 a.m. to 4 p.m. daily.
Price: Adult $19; Child (ages 5 to 12) $15
2. Two Below Zero: Frisco, Colo.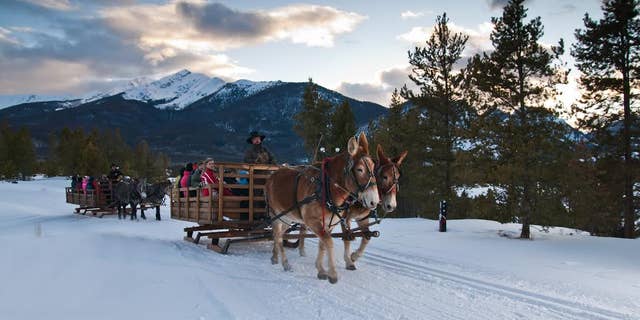 Two Below Zero offers the complete package with its popular dinner sleigh ride. Sit back and relax as you glide beneath snow-capped mountains and snow-covered pine trees. After a 20-minute sleigh ride, hop off and make your way into a cozy, heated cabin for a three-course dinner that includes Southwestern soup, top sirloin or marinated chicken breast, vegetables, a baked potato and warm apple pie. Finish the night off with some live country music and then enjoy the 20-minute sleigh ride back to base.
Price: Adult $84; Child (ages 4 to 12) $55
3. Thunder Bay Resort: Hillman, Mich.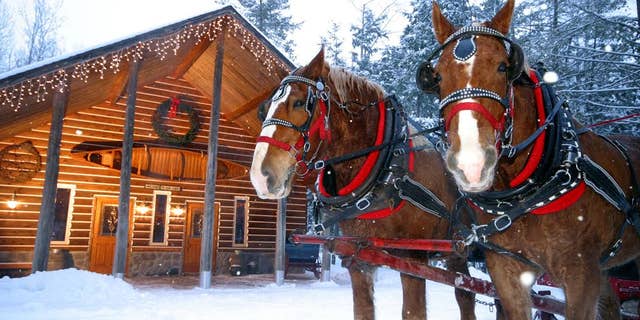 Travel over the Thunder Bay River and through the woods to a log cabin for a five-course dinner withThunder Bay Resort's elk-viewing and gourmet dinner sleigh ride package. Once at the cabin, you can cozy up to a split-stone fireplace while chefs prepare your meal on antique wood cook stoves. The dinner includes samples of five to seven local wines, a shrimp cocktail, chicken noodle soup, salad, crown roast of pork, roasted potatoes, a pear/apple crepe and white chocolate mousse-filled pizzelles.
Price: $89.50 per person
4. Brewster Adventures: Lake Louise, Alberta, Canada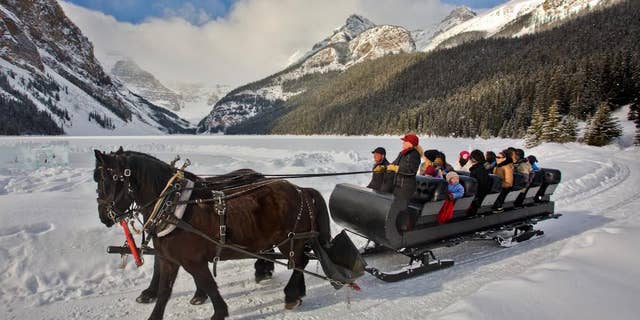 The views don't get much better than this. One of the most scenic rides on the list, the Brewster Adventuressleigh ride follows a lakeside trail that winds through snow-covered pine trees, past frozen waterfalls and beneath the Victoria Glacier. The 15-passenger sleigh features upholstered seats and blankets, so you can enjoy the 45- to 60-minute ride in comfort. Sleighs depart from the Fairmont Chateau Lake Louise in Alberta every day of the week, with the first departing at 1 p.m. and the last departing at 8 p.m., Mondays through Fridays. On Saturdays sleighs operate from 10 a.m. to 8 p.m. and on Sundays from 10 a.m. to 4 p.m.
Price: Adult $30; Child (ages 3 to 8) $27
5. Rocky Mountain Sleigh Company: Park City, Utah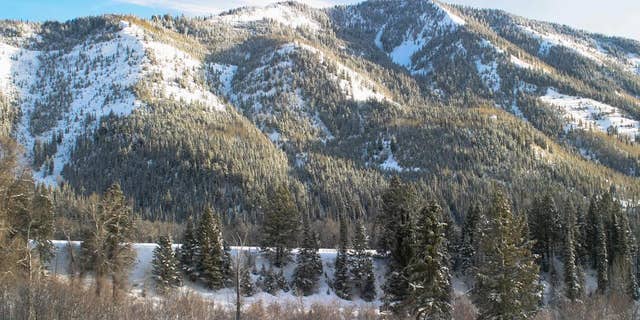 Park City may be popular for its world-class skiing, but it also ranks among the best for its sleigh rides. The Rocky Mountain Sleigh Company offers a top-notch dinner sleigh ride that takes passengers on a peaceful, quiet journey through meadows and woods along the Weber River to a rustic cabin where a chef will prepare a menu of mashed potatoes, vegetable medley, pot roast or chicken, fruit cobbler, ice cream and brownies. If you'd rather skip the dinner, the company also offers a sleigh ride only (Adult $45; Child $30).
Price: Adult $79; Child (ages 3 to 11) $59
6. Bogus Creek Outfitters: Meridian, Idaho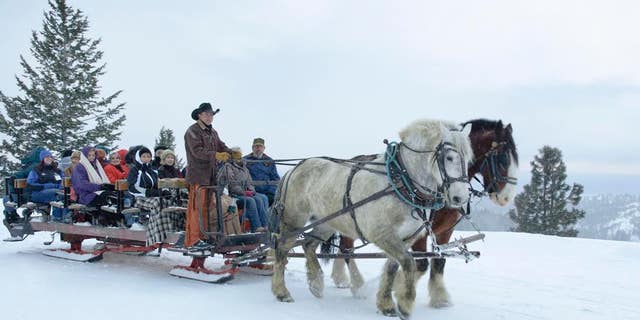 Dash through the snow in a three-horse open sleigh to a cabin in the Boise National Forest. From December through February, Bogus Creek Outfitters provides a good ol' country experience that includes a sleigh ride, a three-course gourmet dinner cooked by cowboy chefs and some live cowboy entertainment. Each dinner menu includes grilled steak, prawns and plenty of sides. The trip lasts about two hours and you can choose a 6 p.m. or 8:30 p.m. departure time. If you'd like to book private parties, the dinner accommodates up to 56 guests.
Price: $79.99 per person
7. Mountain Springs Lodge: Leavenworth, Wash.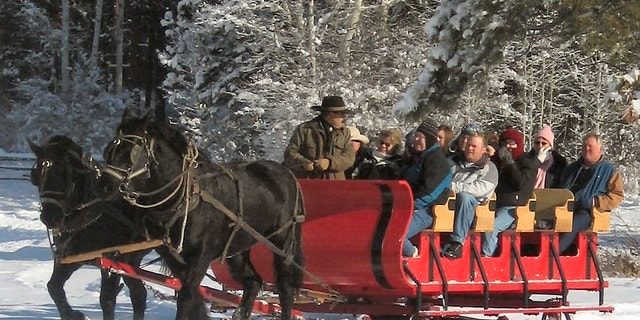 Offering three different sleigh ride packages every day, Mountain Springs Lodge caters to every taste. Munch on a hearty breakfast before departing for the 9 a.m. breakfast sleigh ride (Adult $39; Child $23) or leave on the 4 p.m. dinner sleigh ride (Adult $69; Child $37) for a trip to Beaver Creek Lodge for dinner. The dinner lineup includes filet mignon with mushroom sauce, house smoked salmon, glazed carrots, potatoes, salad, dessert, coffee and wine for an extra cost. If neither of these rides fits your schedule or budget, Mountain Spring Lodge also offers daytime rides (Adult $24; Child $15) that include hot cider by the fire.
8. Nestlenook Farm: Jackson, N.H.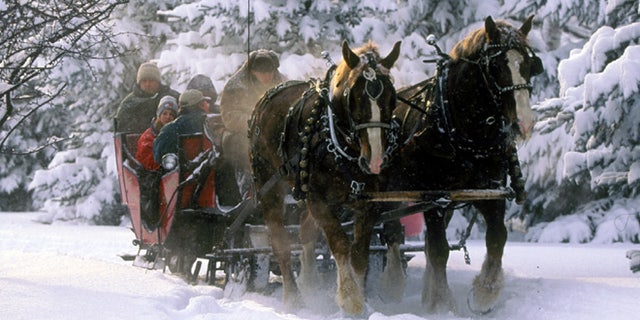 Located in northern New Hampshire, Nestlenook Farm is a 65-acre Victorian estate that comes alive during the winter as it opens up its 3-acre skating rink, its snowshoe trails and its sleigh rides. Beginning in late November, the farm provides a variety of sleigh ride packages Fridays, Saturdays and Sundays. Take the popular Jingle Bell Chocolate sleigh tour ($25 per person) and visit seven different local stores and inns for delectable chocolates, or board the heated, upholstered, custom Austrian sleigh for a ride around the charming property. You can choose to add ice skating and/or snow shoeing to each sleigh ride package.
Price: Sleigh ride only: Adult $18.50; Child (ages 3 to 12) $14.50
9. Rapp Corral: Durango, Colo.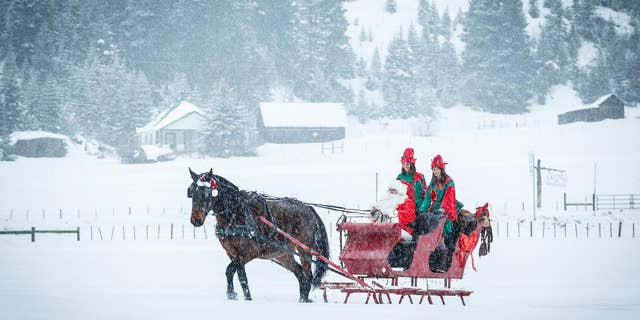 Offering sleigh rides since 1984, Rapp Corral provides a spectacular old-fashioned experience in the old mining town of Durango. From December through February, hop aboard a handcrafted two-person or 10-person sleigh for a breathtaking trip along Hermosa Cliff and Haviland Lake and through parts of the San Juan National Forest. Sip on some hot cocoa before your 45-minute ride and warm up by the campfire. Rapp Corral also puts on a fun Santa sleigh ride in late December that includes Santa personally delivering your gifts to your child ($33 per person).
Price: Private two-person sleigh $125; Old Fashioned Sleigh Ride Adult $42; Child under 5 Free
10. Lone Mountain Ranch: Big Sky, Mont.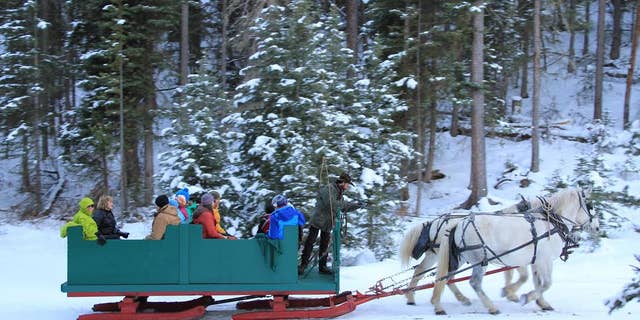 Whether you choose Lone Mountain Ranch's daytime or dinner sleigh ride, you won't be disappointed. During both you will be whisked through the snow by 2,000-pound draft horses to the remote North Fork Cabin. If you sign up for the day package, you will be served hot cocoa and fresh baked treats around a fire. If you opt for the dinner package, you will be served a monstrous portion of prime rib with all the fixin's. While munching on your meal, a cowboy will serenade you with live country music.
Price: Dinner Sleigh Ride Adult starting from $78; Child starting from $59; Day Sleigh Ride Adult $40; Child (ages 3 to 12) $29