Top 10 extreme hotels in the world
Tired of cookie-cutter hotel rooms? Check out our list of the top 10 extreme hotels in the world. Here you'll find unique offerings across the globe, including a converted bullfighting ring in Mexico and an underwater hotel in the U.S.
1. Quinta Real Zacatecas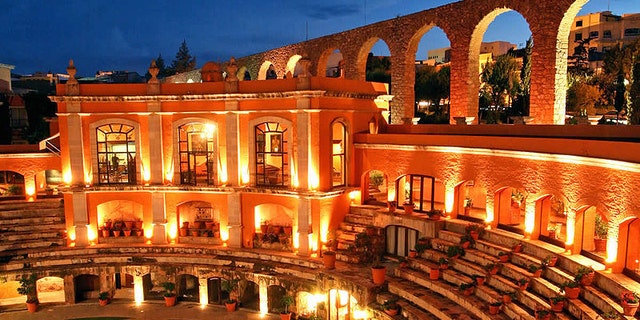 Zacatecas, Mexico
From breweries to jails, we've seen our fair share of neglected properties repurposed into hotels. But Quinta Real Zacatecas is among our favorites. Crafted from the grandstands of the restored nineteenth-century San Pedro bullfighting ring, which saw its last bullfight in 1975, this singular place welcomes guests with a glass of sparkling wine. Among the 49 colonial-style accommodations, many of which overlook a central patio, the most appealing are the high-end suites, featuring views of the cobblestone-paved bullring. The three-story house restaurant, La Plaza, resides in the sun stands, with views of the ring, aqueduct and Cathedral of Fatima. Also on-site is the brick-walled Botarel bar in the old bull pen, offering live music on weekends and wines from Mexico and around the world. Adding to the appeal of the experience is the surrounding town of Zacatecas. In this UNESCO World Heritage Site, guests can explore colonial-era architecture and take a cable car from a former mine to the top of Cerro de la Bufa. ¡Olé!
2. Attrap Reves Allauch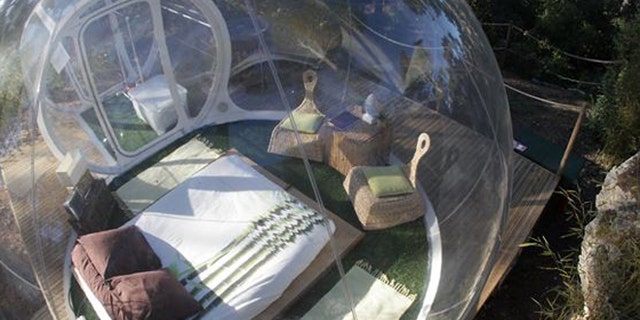 Allauch, France
Sure, not everyone dreams of starring in their own space odyssey, but for those who do, this family-owned enterprise provides an apt setting. Campy meets camping in six bubble accommodations with themes ranging from 1001 Nights to Zen. But these bubbles offer more than just a unique experience. Made from recycled materials, they are eco-friendly, and they are deflated at the end of the season, ensuring minimal impact on the surrounding pine forest. Although the bubbles are sheer, privacy is ensured, from individual bathrooms to secluded locales within the property. Packages heighten the experience, with extras such as Champagne, gourmet dinner, massages and a telescope and star chart for the ultimate in bedtime star-gazing. Though this Provençal property feels isolated, you can easily visit the pottery makers of Aubagne or nearby town of Allauch overlooking Marseilles. Better yet, if you enjoy this experience, you can check out Attrap' Rêves' other bubble destinations throughout France.
3. Taprobane Island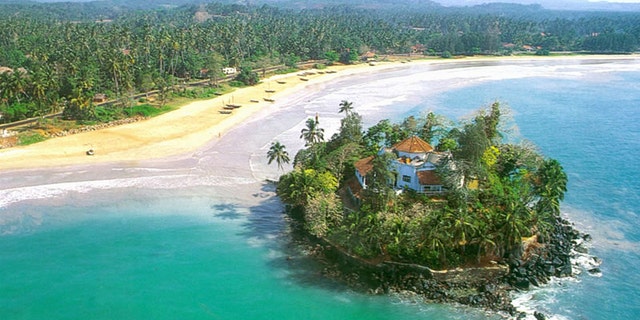 Weligama Bay, Sri Lanka
Built in the 1920s by a self-appointed count and later owned by the expatriate writer Paul Bowles (who penned Spider House here), this two-and-a-half-acre private island boasts just one sumptuous, five-bedroom villa. Although guests can wade to their exclusive hideaway from the shores of Sri Lanka, it's more fun to ride in on an elephant. The concept behind the villa's design was to avoid closed spaces, which means that there are views of the sea from almost every point in the house, including the stunning infinity pool and the individual terraces attached to the four double bedrooms. Adding to the sense of luxury is the island's attentive staff, which includes security guards and a dedicated chef whose many specialties include Sri Lankan curries.
4. Whitepod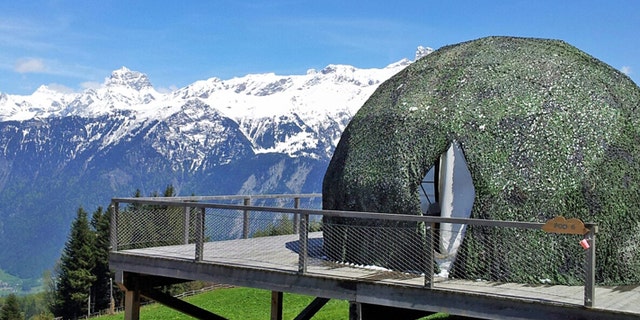 Les Cerniers, Switzerland
Accessible by shuttle, snow bike and ski lift — depending on the season — Whitepod delivers an exclusive Swiss Alps experience. Situated at 1,400 meters, the camp consists of just fifteen pods designed to resemble igloos. These pods are in fact dome-shaped tents, pitched on raised wooden platforms surrounding a refurbished, nineteenth-century alpine chalet. Each well-insulated lodging is heated by a wood-burning stove and has its own private front terrace with beautiful views of Lake Geneva, and the chalet features a communal area, where guests gather for breakfast and evening drinks around the fireplace. Along with majestic views of the snow-covered mountains, the camp offers ski tours, guided snowshoe tours, cross-country skiing, dog sledding and massages at Chalet Les Cerniers, the camp's starting point (a fifteen-minute walk from the pods), which also features a full restaurant.
5. Jules' Undersea Lodge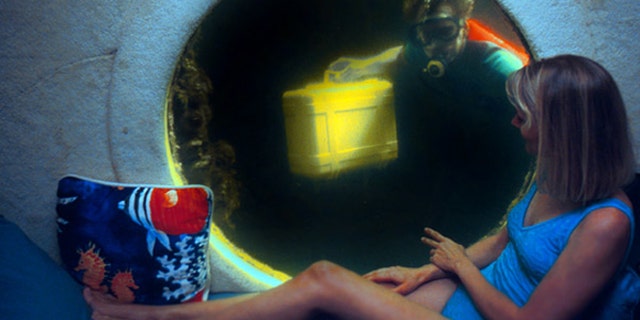 Key Largo, Florida
There's no need to head ten thousand leagues beneath the sea for an underwater adventure. Instead, you can scuba dive just 21 feet below the surface through a mangrove lagoon in Florida and drift to your heart's content. Named in honor of the fantastical world created by author Jules Verne, Jules' Undersea Lodge began life as an authentic research habitat, and today it is a hotel for up to six people. Guests with dive certificates are invited to enjoy unlimited diving. As for novices, a three-hour course is required in order to reach the hotel, but this also allows newbies to enjoy dive excursions in the lagoon with an instructor. Although the lodge is by no means a luxury retreat, it does offer a thoughtful selection of creature comforts, including packages featuring gourmet dinner prepared by a "mer-chef."
6. Kokopelli's Cave Bed & Breakfast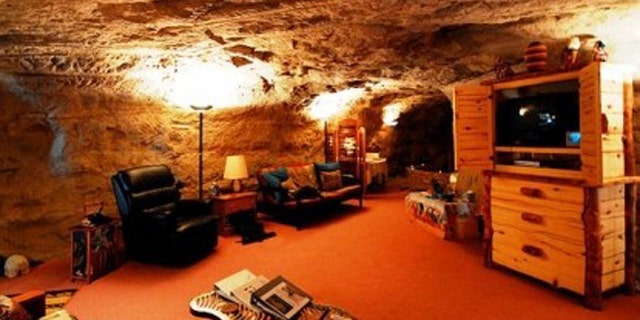 Farmington, New Mexico
Being at one with the earth takes on new meaning at Kokopelli's Cave Bed & Breakfast. Originally intended as a geological research office, this man-made one-bedroom cave dwelling sits 70 feet below the surface of a mesa and is accessed through an entrance carved into a cliff face. Complete with a working fireplace, it is reminiscent of the nearby Anasazi cliff ruins ... with the exception of electricity, carpeting, a Jacuzzi, waterfall shower, flagstone hot tub and comfy Southwestern furnishings. While breakfast is not prepared for guests, the kitchen is fully stocked for morning meals. In addition, a patio barbecue is on hand, and a seventh-generation French chef is available for catering. Of note is the sunset view spanning across four states, as Kokopelli's is located in the famous Four Corners region of the U.S.
7. Hotel Kakslauttanen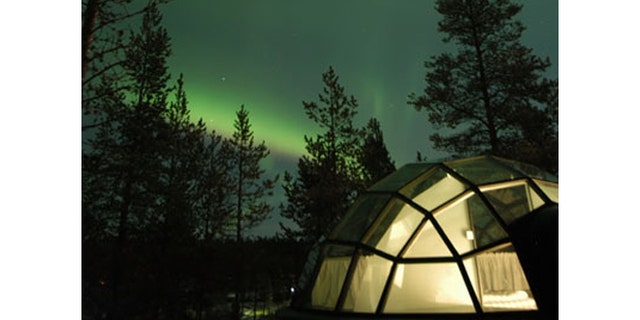 Lapland, Finland
Situated next to Urho Kekkonen National Park in remote Lapland, this resort features a variety of lodgings, including gorgeous glass igloos. Built of thermal glass and designed to stay frost free, these truly unique guest rooms offer the opportunity to watch the northern lights from the toasty comfort of your own bed. You can also stay in classic snow igloos or log cabins. The four dining choices include a snow restaurant and the dining room in a traditional Lappish kota (tent); menus showcase local specialties, such as Arctic Ocean seafood. To round out your unforgettable experience, you can embark on a reindeer-pulled sled tour or take an excursion to the nearby Arctic Circle.
8. Green Magic Resort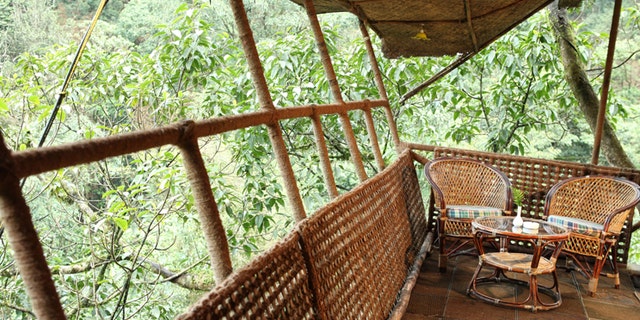 Kerala, India
Surrounded by coffee, cardamom and pepper plantations in the heart of a tropical rainforest, Green Magic Resort is a dream come true for kids at heart. Consider this your own private playground and choose from one of the four two-story tree fort accommodations , located about 80 to 90 feet off the forest floor. One of the tree houses is accessed by an indigenous cane lift that uses a unique water counterweight, while a second accommodation is reached by a hanging bridge. Each lodging was built by Paniya tribesmen using local materials and traditional techniques, and although they're simple (prepare yourself for cold showers), they're loaded with charm. Because these sometimes swaying houses aren't for everyone, the resort also has villas and cottages for those who want to keep their feet planted firmly on the ground.
9. Le Grotte Della Civita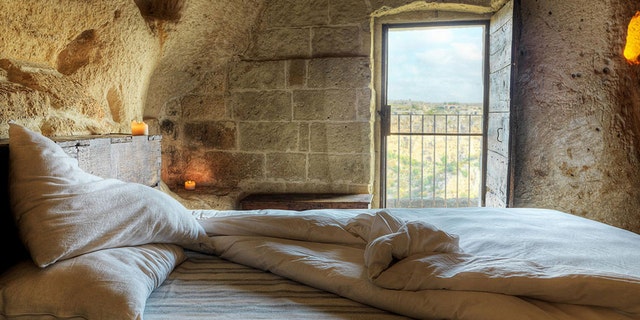 Matera, Italy
This enclave of cave buildings is not what most travelers envision for accommodation when planning their Italian hill town escape. But although the architecture may bring to mind Fred Flintstone, the décor is all about rustically sophisticated charm. The eighteen guest rooms are spread throughout a complex of ancient cave dwellings in Matera, a UNESCO World Heritage Site that has been inhabited since the Stone Age. Each features simple furnishings influenced by traditional designs (a local museum was consulted during the reclamation process) and made by area craftspeople. The caves have been modernized for comfort (running water, electricity, etc.), but the focus is on conservation and historical integrity, ensuring a memorably authentic experience.
10. The Hoopoe Yurt Hotel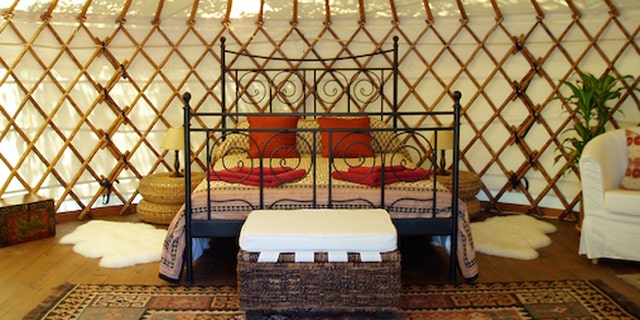 Cortes de la Frontera, Spain
Usually, yurts are associated with the outer reaches of Mongolia, but Hoopoe has made these traditional tent-like accommodations an accessible "glamping" experience by setting up six in the rugged Andalusian landscape of southern Spain. Situated within three hectares of olive groves and cork oak forest, each yurt at this fully solar-powered retreat has its own private bathroom and is decorated with antique Mongolian furniture and textiles from a variety of different countries. Breakfast is included in the rates, and three-course dinners begin with tapas in the Herb Garden Bar. Although drifting in a hammock is a tempting way to spend your entire holiday, the surrounding attractions are well worth a day trip, including ancient cave paintings, the Moorish town of Ronda and the sherry bodegas of Jerez.
More from Gayot
More Information and Photos of the Top 10 Extreme Hotels
More of the World's Best Extreme Hotels
Top 10 Remote Hotels Worldwide