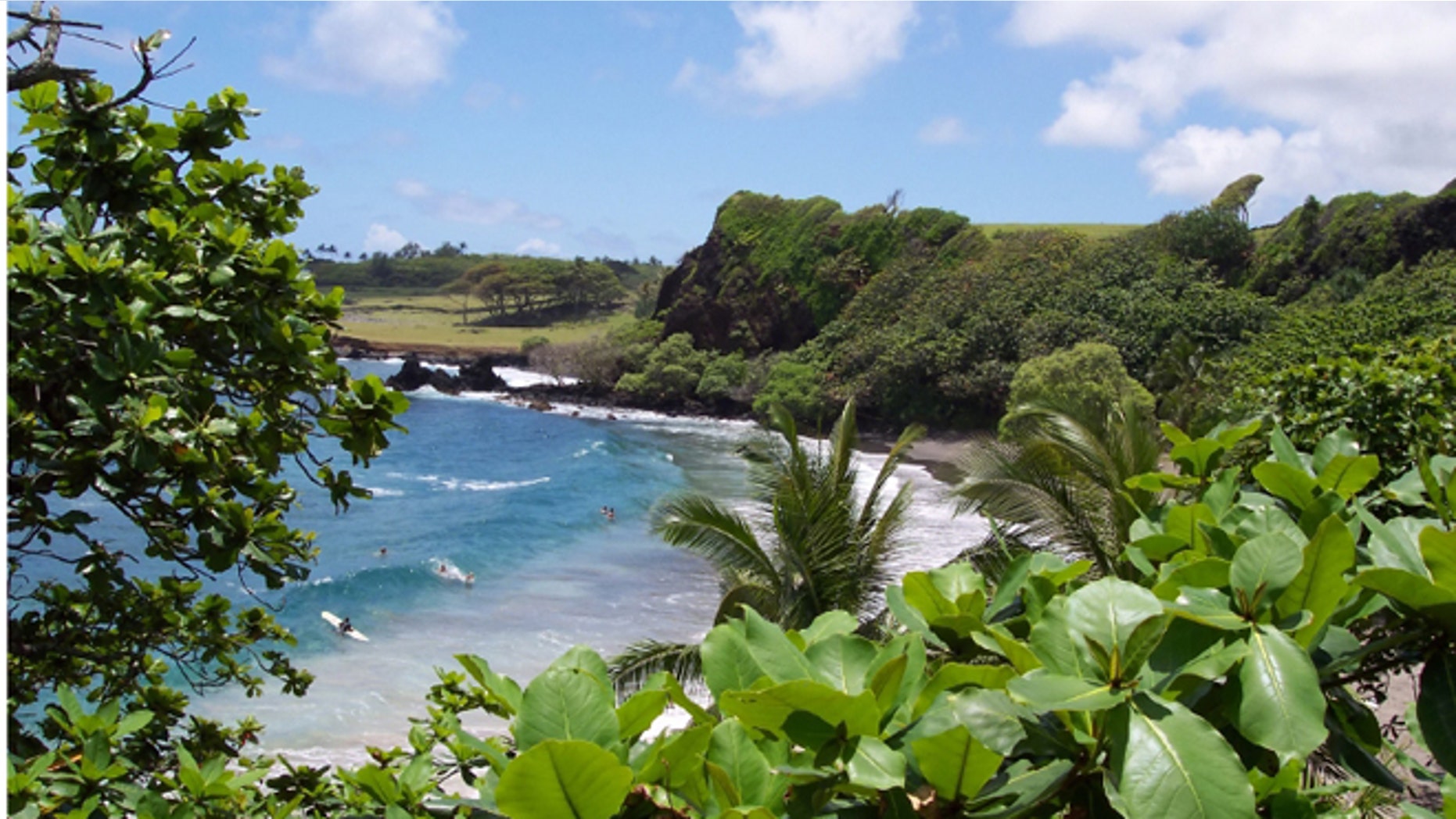 Among its tourist attractions, Hawaii boasts some of the most beautiful beaches in the world. Some feature full public facilities such as restrooms, showers and campgrounds; others are rustic in remote locations. We have chosen what we consider the ten best beaches from Oahu to Molokai for surfing, swimming, snorkeling and sunbathing. First-time visitors to the Islands should also read Hawaii 101
OAHU
Kailua Beach Park
526 Kawailoa Rd.
Honolulu 96734
www.gohawaii.com
This beautiful stretch of white-sand beach is a mecca for wind-surfing, kite-surfing, kayaking and swimming thanks to the constant trade winds and many ocean equipment renting companies nearby. Kailua Beach Park can get crowded on the weekends, so plan to visit on a weekday if possible. It is often used for small wedding ceremonies, so don't be surprised to see one!
Malaekahana Bay
Kamehameha Hwy., (Makahoa & Kalanai Pts.)
Malaekahana 96731
808-293-1736
www.malaekahana.net
We love that this beach is a world away from the Waikiki tourist scene. Reminiscent of "old Hawaii," Malaekahana Bay is situated near the North Shore of Oahu and boasts great conditions for swimming, surfing, fishing, windsurfing and kayaking. The ample shade provides a great picnic setting for the whole family. Malaekahana also has varied camping facilities ranging from areas for pitching a tent to small duplex houses, eco-cabins and yurts. The staff at the campgrounds is courteous and eager to share information on Hawaiian culture and how to best enjoy your time at the "Home of the Beachfront Li'l Grass Shacks." See Visiting Oahu with Kids
MAUI
Hamoa Beach
Hana Hwy., (Hana & Seven Pools)
Kipahulu 96713
808-248-8211
This exquisite salt-and-pepper sand beach is maintained by the Travaasa Hana hotel, so you will see hotel guests frequenting the beach. It offers superb bodysurfing and bodyboarding in the winter, and great swimming and snorkeling in the summer. Care should be taken during the winter as the waves are strong and there is an undertow. There is no lifeguard and parking is limited.
For more Maui travel information visit FoxNew.com's vacation guide! >>
HAWAII
Hapuna Beach State Recreation Area
Queen Kaahumanu Hwy.
Waikoloa 96743
www.hawaiistateparks.org
Hapuna is a popular beach along the Kohala Coast of the Big Island because of its large size and deep, clean sand. May through September proves to be a favorite time to visit for locals because conditions are perfect for bodysurfing, swimming and snorkeling. Use caution if visiting October through April as the surf pounds the beach and strong rip currents are present. Facilities include half a dozen A-frame cabins for overnight camping, paved parking lots, picnic pavilions, rest rooms and showers. Sun worshipers will rejoice here but take sun umbrellas and lots of sun screen as there isn't much shade on this beach.
Spencer Beach Park
Below the Puukohola Heiau
Hwy. 19, Kawaihae 96743
Lying in the shadow of the giant temple that Kamehameha built before uniting all the Hawaiian Islands is a white-sand beach. Spencer is protected from the prevailing winds and strong waves and swimmers, snorkelers and divers will find great conditions. This is the perfect place for a family picnic as there is calm water, shade and good facilities, including rest rooms, picnic tables, showers, tennis courts, a roofed pavilion, parking lots, camping area and lifeguard tower. Parents can relax in the shade and watch their children play near the water. Those wishing to explore the beach should use caution when walking in rocky areas, as sea urchins are present.
Hookena Beach Park
Off Hawaii Belt Rd.
Hookena 96704
www.hookena.org
The ocean views and scenic vistas are spectacular at this historical site for one of the last fishing villages in Hawaii. It's to Hookena that Hawaii residents bring their families to relax in the small park, complete with restrooms, showers, picnic tables and shade trees. The beach sand is an unusual combination of fine grey coral and white sand. You might be lucky enough to spot a dolphin or turtle here. Rent a kayak or snorkeling gear for some excellent water time.
KAUAI
Hanalei Bay Beach
Hwy. 56, Hanalei 96714
808-241-6660
If Hanalei Bay Beach seems familiar, it may be because the movie "South Pacific" was filmed here. Three county facilities offer a variety of camping, picnicking and rest rooms: Hanalei Beach Park, Hanalei Pavilion and Waioli Beach Park. The surfing here is excellent but for experts only. Families can set up camp near a lifeguard stand for added peace of mind. For more romantic spots, check out the Kauai Honeymoon Guide
Poipu Beach Park
Hoona Rd.
Poipu 96756
www.poipubeach.org
Poipu Beach Park, located on Kauai's South Shore, has something for everyone. Water lovers will find kayaking, scuba diving, snorkeling, surfing and swimming. The area also offers horseback riding, hiking, mountain biking and ATV tours. Go deep-sea fishing if you want to catch "the big one."
LANAI
Manele Bay
End of Rte. 441
Manele Bay is a marine preserve, and as such, is filled with tropical fish and the occasional curious dolphin. Considered by some to be one of the most beautiful areas in the world, it boasts sapphire-blue water for swimming, snorkeling or scuba diving as well as sunbathing along the honey-colored sand. The Four Seasons Resort Lanai at Manele Bay is located in this heavenly setting, offering suites with lanais and amazing ocean views.
MOLOKAI
Papohaku Beach
Kaluakoi Road
www.gohawaii.com
Also known as Three Mile Beach, Papohaku offers three miles (circa 4.8 km) of sand and surf with few people. The wonderful ocean vista includes a view of the Island of Oahu. Among the facilities you will find campsites, showers, restrooms and picnic areas. Care should be taken in the water as strong rip currents are present. Try to visit during the third week of May when Molokai's biggest cultural festival, Molokai Ka Hula Piko, takes place here.
MORE ON GAYOT.com