This solar-powered yacht will revolutionize luxury boating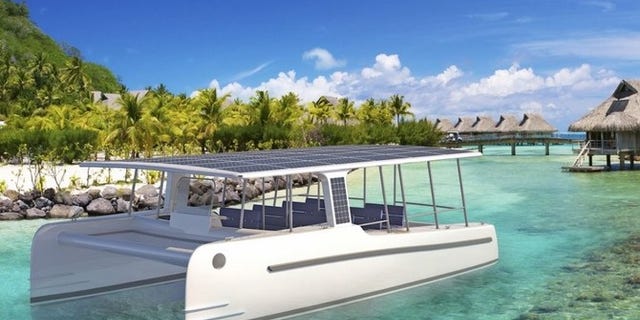 Dutch firm Soel Yachts is taking the fast-growing industry of ecotourism and reduction of transport emissions into unchartered waters: solar-powered boats.
The company's SoelCat 12, a solar-electric catamaran devised in collaboration with Netherlands-based firm Naval DC, is set to debut later this year with a price tag of around $560,000.
"The [boat] offers a 100 percent sustainable alternative to conventionally powered boats used in the industry so far," Joep Koster, designer and naval architect at Soel Yachts, said in a statement. The 39-foot-long craft, which has room for up to 24 people, can cruise at speeds from seven to 17 m.p.h (six to 15 knots).
"At six knots, the vessel operates entirely off the energy provided by the solar panels during the sunshine hours," Naval DC founder David Czap says. At the higher speeds, it gets an additional boost from a pair of 60-kilowatt-hour lithium batteries.
More from Architectural Digest
Tour the World's Most Luxurious Submarine Superyacht
Go Inside a $53 Million Private Jet
Inside Jennifer Aniston's Gorgeous Beverly Hills Home
10 Awesome Hotels in California's Wine Country
10 Hotels with Unbelievably High-End Amenities
Built of lightweight yet durable fiberglass designed for saltwater use, the SoelCat 12features a large solar-paneled roof and two slender hulls that enable it to navigate in shallow lagoons, reefs, and bays. The spacious deck area is fully customizable for a variety of layouts and functions, from a simple bench setup for shuttle service to a fully equipped bar with matching lounge furniture for resorts or private owners.
The state-of-the-art vessel not only allows for quieter, more pleasant rides and tours—no noise or smell from combustion engines—but can also, Koster said, "offer surplus solar energy to the resort when [it] is moored."