These popular tourist attractions may be the germiest places in the world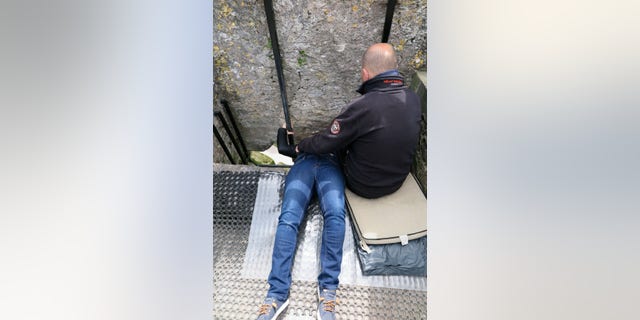 NEWYou can now listen to Fox News articles!
People have been rubbing and kissing special places around the world for centuries. They do it for good luck, virility, healing, or even the gift of gab. Or sometimes, just because they can't help themselves.
But do any of them ever think about how unsanitary a place can be that countless others have pawed or slobbered on?
Here are six touch magnets that travelers find irresistible, germs notwithstanding.
1. Blarney, Ireland
Legend has it that kissing a block of carboniferous limestone, set high up in the 15th-century Blarney Castle tower, will give the smoocher everlasting eloquence. Why else would millions risk life and limb — not to mention contracting a communicable disease — to be tipped precariously backwards and head first over a ledge in order to get their peck at the stone? And that's putting aside the rumor that locals use the Blarney Stone as a bathroom after hours.
2. National Gallery, Washington, D.C.
(iStock)
What is it about a knife-sharp edge of a famous building by a famous architect that just begs to be touched? So many people have rubbed this spot of the National Gallery's East Building — designed by starchitect I.M. Pei — that the Tennessee pink marble has become worn and stained brown. Just think of the grime that's built up over time.
3. University, Cambridge, Mass.
Here's the rub. By day, the tourists who swarm the bronze statue of John Harvard on the university campus just can't keep their hands off his eye-level shoe, whether for luck or in the mistaken belief that it's a Harvard tradition. Indeed, all the touching has burnished it to a golden sheen. But by night, the students gleefully urinate all over this symbol of elite education in an act of unrestrained sophomoric rebellion. If only the visitors knew they were cozying up to the school's most famous late-night pit stop, literally drenched in the previous evening's deluge.
4. St. Peter's Basilica, Vatican, Italy
Deep inside St. Peter's Basilica just in front of the altar is a seated bronze statue of Peter, its patron saint. But it's not just any statue. Created by Arnolfo di Cambio in the late 13th century, it has become a magnet for the faithful, who dutifully line up to touch or kiss the saint's outstretched foot while praying for a blessing. A guard has even been posted to keep the devout orderly and moving along. Centuries of touching have actually worn down his foot to a shiny nub, causing his toes to lose their original shape. Poor St. Peter and his bacteria-laden deformed foot.
5. Juliet's House, Verona, Italy
(iStock)
Calling the lovelorn. To guarantee romantic luck, so the story goes, you must visit what's supposed to be Juliet's house from Romeo and Juliet in Verona, Italy. Forget that the Shakespearean couple never existed and the Bard never stepped foot in town. Nevertheless, visitors throng the small courtyard, complete with its obligatory balcony. There, amid the couples pledging their eternal loyalty, is a handsome bronze statue of Juliet. By touching her exposed chest you can expect good fortune in love — unlike poor Juliet herself.
6. Wawel Royal Castle, Krakow, Poland
Legend has it that an inner wall of the Wawel Royal Castle in Krakow, Poland, contains a fabled "chakra" stone, believed to be one of seven main energy sources on earth — similar to the human body's seven chakras. Never mind that no physical evidence has ever been found to support the claim. But that hasn't stopped New Age enthusiasts from visiting the castle's courtyard, where they touch or lean against the wall for a few minutes to absorb the cosmic energy it supposedly radiates. What is revered by some as a beneficial force field appears to others as just a dirty wall, stained from all that providential patting and pawing.
More from Yahoo! Travel
How Not to Wash Your Hair on Vacation and Still Look Great
Places to Channel Your Inner Astronaut Without Leaving Earth
8 Epic Travel Instagram Accounts to Follow Now