Student who said Spirit Airlines employee told her to flush hamster down toilet has a new pet, lawyer says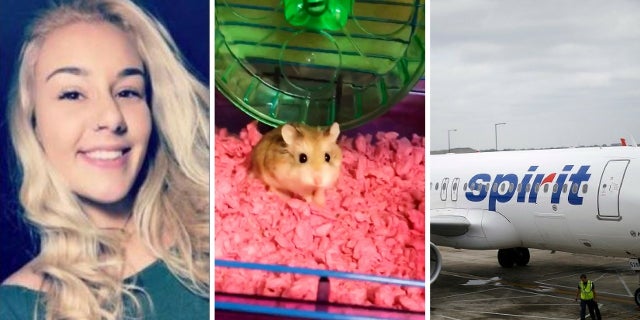 A college student who claimed a Spirit Airlines employee suggested she flush her emotional support hamster down the toilet — and who ended up doing so — now has a new pet hamster, her lawyer said.
Belen Aldecosea, 21, of Miami Beach, Fla., told the Miami Herald she was considering legal action against the airline after she flushed her dwarf hamster, Pebbles, down the toilet on Nov. 21, 2017, at the suggestion of a Spirit Airlines employee.
She said the airline initially told her it was fine to bring her furry friend on the flight, but learned otherwise when she attempted to board the plane with it.
SPIRIT AIRLINE EMPLOYEE TOLD STUDENT TO FLUSH EMOTIONAL SUPPORT HAMSTER DOWN THE TOILET, STUDENT ALLEGES
The young woman said a Spirit Airlines employee advised her to either set the rodent free, into the wild, or flush it down the toilet. Aldecosea tried to rent a car instead, but was too young to do so. Her friends also lived too far away to come pick up Pebbles, so, running out of options, she did what she thought was most humane: She flushed her beloved pet hamster down the toilet.
"She was scared. I was scared. It was horrifying trying to put her in the toilet," Aldecosea told the Miami Herald. "I was emotional. I was crying. I sat there for a good 10 minutes crying in the stall."
Adam Goodman, Aldecosea's attorney, told USA Today he believed the student, even though there was no proof an employee advised her to get rid of the rodent.
"It's hard, but you really have to look at the circumstances because this whole thing only makes sense with someone telling her to (flush the animal)," Goodman told USA Today. "This is a situation where there weren't body cameras or anything."
EMERGENCY CREWS 'EVERYWHERE' AFTER SOUTHWEST FLIGHT SLUMPS FORWARD ON NOSE AFTER SKIDDING OFF TAXIWAY IN MARYLAND
Goodman claimed adults advising his client on what to do — in this case, the Spirit employee — made it hard for her to make any other decision due to her age.
"This was a highly stressful situation and people react in a lot of different ways," he said. "She's only 21 years old, a kid still."
Goodman, however, revealed that his client has a new hamster, though she's still upset over the debacle.
"She's distraught," Goodman said. "Imagine anyone in that situation that has to make a choice like that. It was a horrible situation, and she's still distraught."
Goodman said he and Aldecosea are considering filing a lawsuit against Spirit Airlines.
"A hamster is the most innocuous animal. It's confined to a cage," Goodman said. "No one would have probably even known it was there."
FOLLOW US ON FACEBOOK FOR MORE FOX LIFESTYLE NEWS
It was not immediately clear what Aldecosea named her new support hamster. Fox News reached out for a comment from Goodman regarding the incident.
After the story broke, PETA Senior Vice President Daphna Nachminovitch condemned the young woman's decision to flush the pet down the toilet.
"One phone call could have saved this animal, or some kind person at the airport could have helped," Nachminovitch told Fox News. "Flushing a living being down the toilet is not only cruel but also illegal, and both the person who killed this animal and Spirit Airlines — if an employee did, in fact, advise the woman to drown the hamster — should be charged. This must have been a horrific, terrifying death."
Spirit Airlines spokesman Derek Dombrowski told Fox News that an employee misinformed Aldecosea by saying Pebbles was allowed on the flight, but denied that an employee suggested she flush the rodent down the toilet.
"After researching this incident, we can say confidently that at no point did any of our agents suggest this guest (or any other for that matter) should flush or otherwise injure an animal. It is incredibly disheartening to hear this guest reportedly decided to end her own pet's life," Dombrowski told Fox News.
Aldecosea said Pebbles was a doctor-approved emotional support animal that helped her when she developed a growth in her neck while at school in Wilson College in Chambersburg, Penn. The student said she bought Pebbles for some company.
"She (Pebbles) was so loving. It was like she knew I needed somebody," Aldecosea said.