SeaWorld San Diego unveils plans for Electric Eel Roller Coaster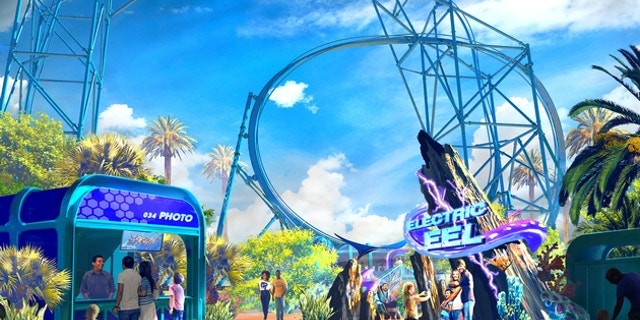 SeaWorld San Diego is boosting its non-animal attractions with a new roller coaster—dubbed the Electric Eel—the ride is scheduled to debut at the amusement park in 2018.
The Eel will live in SeaWorld San Diego's new Ocean Explorer realm, slated to open next year, and will be the largest attraction premiere in the park's history.
In addition to the new coaster, the San Diego theme park is slated to open three new major attractions in 2017, including Ocean Explorer, Orca Encounter and Electric Ocean.
The Electric Eel will send riders at 60 miles per hour forward and backward, and the attraction will reach a height of 150 feet with loops, twists and plenty of airtime. As part of the waiting area leading into the ride, there will be a live eel habitat featuring one of the world's most extensive displays of moray eels.
More from Travel Pulse
America's Test Kitchen Goes to Mexico on Holland America Line
Get to Know the Brand New Royalton Saint Lucia
Make A Great Escape With Trafalgar
How Will A Trump Presidency Affect Travel?
Beaches Ocho Rios Resort is Fun for the Whole Family
"Electric Eel will bring a whole new level of excitement to SeaWorld in 2018," SeaWorld San Diego president Marilyn Hannes said in a statement. "This new, first-of-its-kind coaster at SeaWorld will give riders the rare opportunity to feel what it's like to move like an eel as they twist and flip along nearly 900 feet of undulating track."
Upon completion, Electric Eel will join Manta and Journey to Atlantis as the third roller coaster attraction at SeaWorld San Diego. The Electric Eel ride will be built on a two-acre site between the Ocean Explorer attraction and Journey to Atlantis.