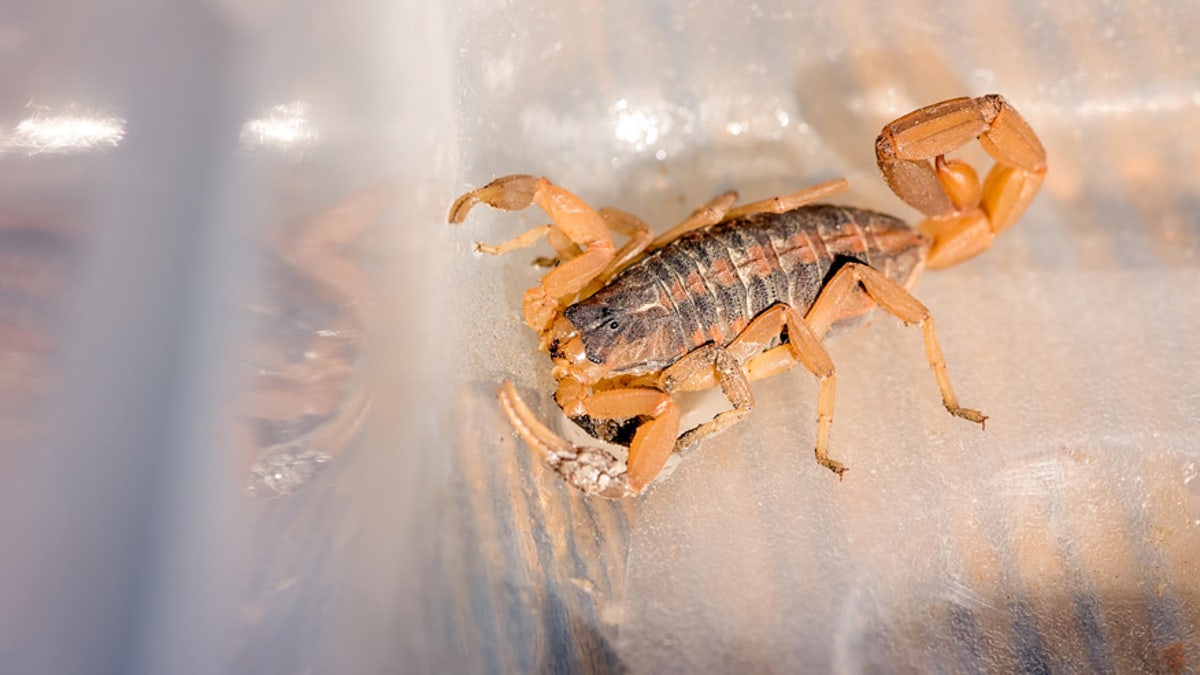 As if United didn't have enough to deal with this week, now they have to contend with dangerous bugs stowing away on their cabins.
On Thursday, the airline confirmed to CNBC that a scorpion stung one of their passengers after falling from the aircraft's overhead bin on a recent flight from Houston to Canada.
Richard Bell and his wife Linda, of Calgary, Canada, were flying home from Houston following a vacation in Mexico, when he claims the eight-legged creature landed on his head.
"It fell in my hair. I grabbed it. I was hanging onto it by its tail," said Bell in an interview with GlobalNews.ca.
"I looked down and I thought, 'Aw, it kind of looks like a little lobster," added Linda.
SNAKE LEFT BEHIND ON FLIGHT TO ALASKA
After a fellow passenger informed the couple that the scorpion might be poisonous, Bell removed the arthropod — which reportedly measured an inch and a half — and placed it on a plate. He then picked it up again, at which point Bell says he felt a sharp pain akin to "a wasp sting" on his finger.
Another passenger reportedly stomped on the critter before United employees disposed of it in an airplane toilet.
A spokesman for United claims that the crew took immediate action, and contacted a medical professional on the ground for assistance. Emergency personnel were also on-hand to meet with Bell upon his arrival in Calgary.
"The pilot announced it," fellow passenger John Rogers told GlobalNews.ca. "Because (Bell) was bitten, emergency services, the fire department and police boarded the plane."
Bell ultimately denied medical treatment, according to an EMS spokesperson. United also told CNBC that Bell's injuries were non-life threatening.
FOLLOW US ON FACEBOOK FOR MORE FOX LIFESTYLE NEWS
United is reportedly investigating the incident, which no doubt comes at an inconvenient time for the airline.
Just days earlier, officers at O'Hare International Airport forcibly removed 69-year-old David Dao from a United flight to make room for airline crewmembers. The incident left Dao bloodied and beaten, sparking backlash across the internet. Dao's lawyer has since stated that he will "probably" file a lawsuit against the company, and United has also offered to compensate all of the passengers on his flight.
Bell, however, hadn't heard from United at the time of his interview with GlobalNews.ca.
"I fly 150,000 miles a year with them," Bell said. (I'm) a little astonished that they haven't reached out."