Ryanair tries to 'expose' crew who posted viral photo, but some customers aren't buying it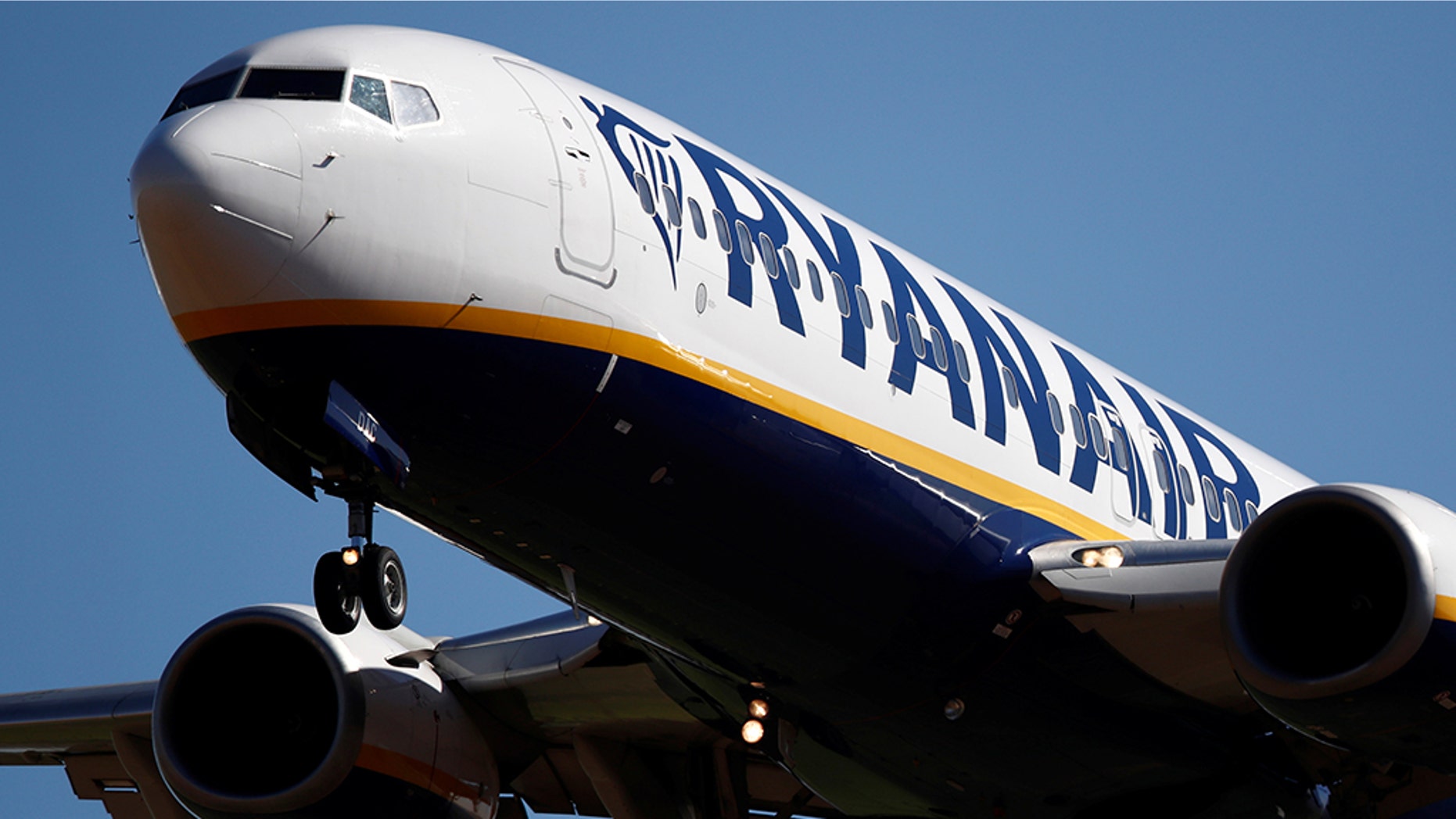 Ryanair has released footage showing what a group of its flight attendants really did in the moments before they posed for an image protesting their "disgusting" treatment by the airline. But the bizarre move may end up backfiring on the carrier.
The airline very publicly hit back at the crew after the image — showing six crew members sleeping on the floor of an office at Spain's Malaga Airport on Sunday morning after being left stranded by a storm — went viral.
EGYPT AIR PULLS MAGAZINE AFTER BIZARRE DREW BARRYMORE ARTICLE
Eight pilots and 16 flight attendants claim they were forced to stay in a small room with only eight seats from 1 a.m. to 6 a.m. They also allege there was no access to food or water. So they snapped the photo in protest.
The image, which first appeared on a Facebook page called Ryanair Must Change, was later shared on Twitter by user Jim Atkinson and was retweeted nearly 2000 times.
The airline on Wednesday released footage from inside the room which shows the crew gathering together and then laying on the floor to pose for the photograph. Once the snap has been taken, they get up off the floor and walk over to office seats — or walk towards the door. Ryanair claims it proves the photo was "faked."
Ryanair even took to Twitter to slam the crew, alleging the footage "exposes" the truth about the situation — that it was all a lie.
Their tweet said: "Ryanair exposes fake photo of cabin crew sleeping in crew room."
However, the move by the airline has left many scratching their heads, seeing as the image was allegedly taken in protest.
BRITISH AIRWAYS PASSENGER CHARGED WITH SLAPPING TRAVELER, EXPOSING GENITALS ON FLIGHT
Jim Atkinson wrote in response to Ryanair's tweet: "Everyone already knew it was a protest picture you knuckleheads. The fact remains: You stranded four crews in an airport terminal for the night and made no discernible attempt to find them proper lodging or even food and water."
Another Twitter user wrote: "Thanks for the video @Ryanair @Ryanair_ES it will be used to demonstrate that crew were left in crew room seated on some chairs the whole night against FTL. @instrabajoyss This video also shows how the airline use confidential video of its workers abandoned in an office."
Fellow Twitter user Evert van Zwol was also perplexed: "And then back to their 'comfortable' chairs (how many?) for their well-deserved sleep? What is the message @Ryanair? Crew room good accommodation for layover? Started disciplinary procedures already no doubt? Spy cams in every crew room?"
Twitter user Adam Mark Smith, a union delegate, wrote: "Shows just how many crew you left stranded without any support from the company, exactly in line with what the Portuguese cabin crew union reported. So far, they are credible and Ryanair are not."
When the photo started going off on social media, Peter Bellow, operations manager of the airline, wrote on Twitter: "Unfortunately all hotels were completely booked out in Malaga. The storm created huge damage in Portugal. Later after this, the crew moved to VIP lounge. Apologies to the crew we could not find accommodation."
However, this version of events was dismissed by user Jim Atkinson, who said, "The pilots aren't buying it," along with an image appearing to show a text exchange about the plethora of available hotels in the area.
Fernando Gandra, a delegate for SITCPLA, the Portuguese union for airline employees, also wasn't convinced about this version of events.
"In the end, they were informed it was impossible to find any hotels. Friday was a bank holiday in Spain and the duty manager said all hotels were full …Maybe all hotels around Málaga Airport and the city were full, but for sure it would have been possible to accommodate these crews in different hotels, even ones far away from the airport."
The image has been widely condemned on social media, with those on Twitter using the hashtag #RyanairMUSTchange.
At the time, a Ryanair spokesman dismissed the photograph and claimed the crew spent just a short time in the room before they were put up in a VIP lounge.
FOLLOW US ON FACEBOOK FOR MORE FOX LIFESTYLE NEWS
The staff were reportedly flown to Porto, Portugal, a few hours later, but were made to wait on board for nearly three hours while a captain was flown in from London to operate the flight.