Ryanair co-pilot faints before diverted landing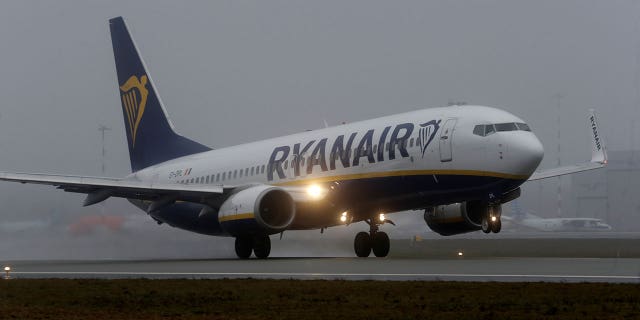 NEWYou can now listen to Fox News articles!
A Ryanair captain was forced to land a diverted flight alone after the co-pilot passed out in the cockpit soon before the aircraft was set to touch down.
Ryanair Flight FR3918 from London's Stansted Airport to Palermo, Italy, was forced to make an emergency landing in the Sicilian city of Trapani due to a "raging thunderstorm" in the region, Express reported. A rep for Ryanair confirmed the Aug. 23 incident to Fox News.
PARALYMPIAN CLAIMS SHE WAS LEFT 'ABANDONED' ON PLANE IN WHEELCHAIR AFTER RYANAIR FLIGHT
According to the outlet, the unnamed co-pilot "briefly fainted" in the plane's cockpit just before the Boeing 737 was set to land.
Upon safely landing and deplaning, the co-pilot was hospitalized and examined, the Ryanair spokesperson told Fox News.
CAPITAL AIRLINES PASSENGERS TERRIFIED OVER MIDAIR DROP: 'I DON'T WANT TO DIE'
"The first officer on this flight briefly fainted while the aircraft was being landed by the captain at Trapani. He was examined by local medical staff and taken to hospital, where he was examined and released shortly thereafter without suffering any ill effects whatsoever," the rep said.
The aircraft subsequently was inspected by Ryanair engineers, and was cleared to return to service, Express reported.

FOLLOW US ON FACEBOOK FOR MORE FOX LIFESTYLE NEWS