Power outage at North Carolina amusement park strands visitors on 300 foot tower ride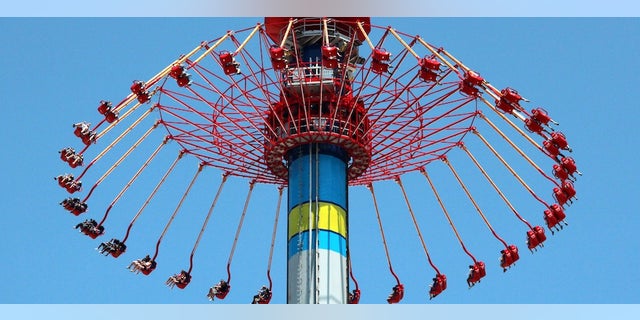 NEWYou can now listen to Fox News articles!
A power outrage at Carowinds amusement park left guests stranded on multiple rides late Thursday evening.
The theme park, which straddles the border between North and South Carolina near Charlotte, experienced a loss of power around 7:50 p.m. The outage lasted for about three minutes but several rides were affected.
Photos posted online show riders dangling high in the air on a rotating swing ride called the WindSeeker.
The Charlotte Observer reports that park staff were manually lowering the ride about an hour and 40 minutes after it got stuck.
According to WDAM, UNC-Charlotte student Josh Bryant said that he was stranded on the ride with his girlfriend and her family when the power went down.
"We have been stuck on the WindSeeker ride at Carowinds for over two hours now. We're finally slowly making our way down at what it feels like a couple inches every 4 to 5 minutes," Bryant wrote. He says his group was not happy with the way the park handled the emergency.
"It is making us mad that they're taking this long and had a power outage to begin with. I won't be coming back to Carowinds for a long time and recommend others shouldn't either."
According to WBTV, riders on two roller coasters—Afterburn and Intimidator—were also stuck after the outage.
WindSeeker, a suspended swing ride which is 301 feet tall, has caused multiple problems for Carowinds over the years.
In July 2013, the ride malfunctioned, stranding 64 passengers for over an hour. And in June 2012, ride's safety system activated, suspending 25 riders about 30 feet off the ground for nearly three hours.
The cause of the outage wasn't known Thursday night but Carowinds confirmed that no guests were injured and expects the park to reopen Friday.
The Associated Press contributed to this report.