Plane designed for larger fliers to debut this week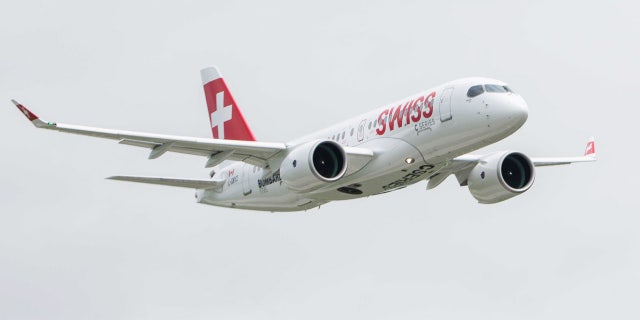 NEWYou can now listen to Fox News articles!
Plane seats may be shrinking but people aren't.
Carriers have been accommodating larger passengers with seatbelt extenders—but some have suggested overweight people should pay more for an extra seat.
Now Canadian aircraft manufacturer Bombardier is set to debut a new airplane designed to accommodate wider passengers.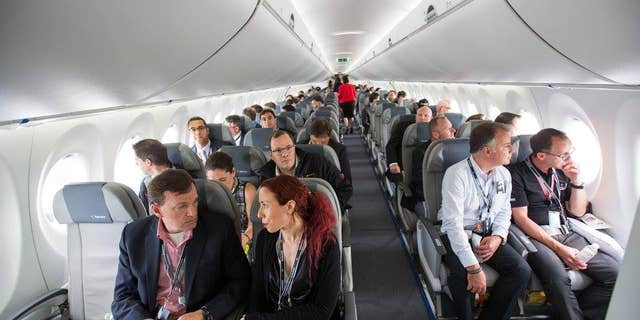 The CS100 plane will be unveiled in its first official flight demonstration at this week's Farnborough International Airshow in England. The middle seats on the new aircraft are 19 inches (48 cm) wide— a full two inches wider than many standard economy seats. Bombardier competitor Boeing's 737 economy seats are 44 cm and Airbus A319 seats are 45.7 cm.
Bombardier's vice president of commercial operations Ross Mitchell said the plane was developed as a response to various requests by airlines for a more comfortable flying experience for all types of passengers, reports the Telegraph.
In addition to wider seats, the new aircraft boasts larger overhead bins with room to accommodate a carry-on bag for every passenger and the largest windows found on single aisle planes. "Together these attributes create a widebody feel that offers passengers an unparalleled level of comfort," Bombardier said in a statement.
The first order for CS100s was delivered to Swiss International Air Lines in June. The 125-seat plane will make its maiden commercial flight on from Zurich to Paris' Charles de Gaulle on July 15 with future flights planned to Manchester, Prague and Budapest.
In April, Delta Air Lines places an order for 75 new Bombardier planes, with an option to purchase 50 more in a $7.4 billion deal.
Other aircraft manufacturers have attempted unique interior redesigns to accomodate larger passengers. In Februrary, Airbus submitted a patent for a "Re-configurable Passenger Bench Seat" with adjustable chairs and seatbelts to allow airlines to accommodate people of different sizes or allow families to share space.