Passenger arrested for storming tarmac at Melbourne Airport, trying to yank open plane door
A 57-year-old man was arrested Thursday morning after running onto the tarmac and attempting to force his way on a flight at Melbourne Airport, in southern Australia.
The man, who has not been identified, was reportedly hours late to catch his Jetstar Airways flight to Adelaide, and became angry at the airline employees who informed him of his tardiness, 9News reported.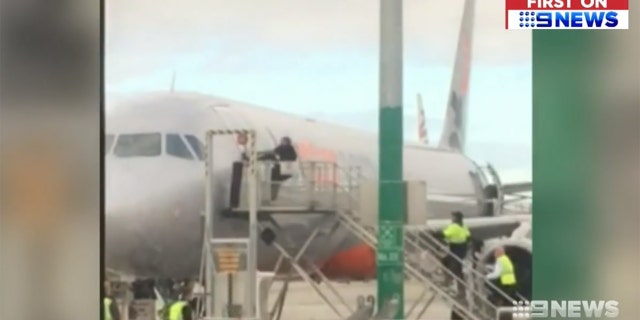 WOMAN CALLED A 'SMELLY FATTY ON UNITED FLIGHT SAYS STRANGER STEPPED IN TO INTERVENE
Witnesses say he then smoked a cigarette inside the airport — an act which is forbidden — before pushing over a computer, assaulting the Jetstar staff, and then making a break for the gate before running out to the tarmac and trying to board the first plane he saw.
"We were sitting waiting to get on the flight and people went 'Oh my God, what is going on?'" said a witness for 9News, who identified herself as Susannah.
Outside, he continued to fight with staff who attempted to keep him off a mobile staircase leading to an aircraft that had just deplaned and was next scheduled to fly to Sydney.
LAWMAKER WITNESSES NAKED PASSENGER 'RUN FROM FRONT OF PLANE TO BACK' ON FLIGHT TO ALASKA
"This man was trying to get up the stairs, he was physically fighting with the staff, punching and scratching them," said Susannah.
The unruly traveler somehow made it past the crew and up to outside the aircraft, where he proceeded to yank on the handle, placing his foot against the plane to get more leverage.
Crew members arrived to hold off the man until the Australian Federal Police arrived and placed him under arrest. He was charged with one count of unlawful assault on an airline employee, according to 9News. He could also face further charges following an investigation.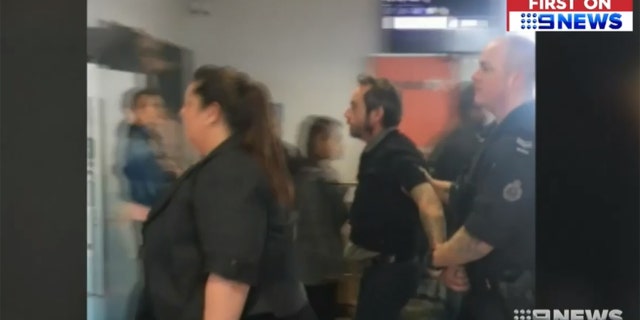 FOLLOW US ON FACEBOOK FOR MORE FOX LIFESTYLE NEWS
It is unclear how many crew members were assaulted, though it is believed that three were treated for injuries. The Sydney-bound plane was delayed for close to two hours while officials inspected the plane and obtained replacements for the injured crew members.
Jetstar has since banned the unruly flyer from traveling with them, as did Qantas, which owns the budget airline.
"This behavior is unacceptable and we have placed an immediate ban on this passenger travelling on all Jetstar and Qantas flights," said a representative for the airline.
The man is reportedly due in court June 12.