New Years Eve cruise deals for 2012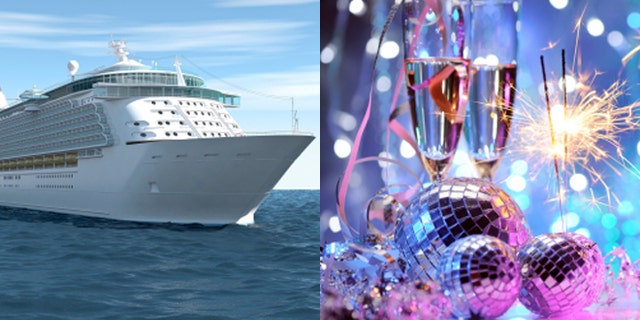 NEWYou can now listen to Fox News articles!
It's not too early to plan for New Year's Eve festivities.
Ringing in the New Year is especially fun on the top deck of a cruise ship. The hot, tropical air makes nothing more refreshing than a cool splash of champagne --and you can celebrate with no worries about driving home. Let's take a look at some of better New Year's Eve cruise options.
This year December 31 falls on a Monday, and since the cruise lines rarely change schedules just to accommodate holidays this mostly makes the choice between seven-day cruises commencing the previous weekend or shorter four-day cruises sailing on the afternoon of New Year's Eve.
When it comes to prices holiday cruises are generally more expensive than average, but there are a handful of last minute bargains remaining - about $100/day per person, but don't wait until the last minute.

Carnival Cruise Lines
Carnival is the "Fun Ship" cruise line offering breezy getaways at reasonable prices. Most of the newer and more glamorous Carnival ships are already sold out for the holiday, but some of the older but adequate ships built during the 1990s still have room. These ships have been upgraded with new dining options and family fun.
Carnival Sensation, an older "Fantasy-class" built in the 1990s ship, received an extensive upgrade last year including an adults-only serenity deck, top-deck water slides and special dining spots like a sushi bar, Mongolian Barbecue and a New York deli. Leaving on Sunday, December 30, on a four day cruise out of Port Canaveral, the ship has inside staterooms for $409, oceanview for $489, balcony cabins for $839 and suites for $959.
The balcony staterooms added to this ship in the recent upgrade are especially interesting "cove balconies" cut into the hull near the aft end of the ship on decks five, six and seven. Port Canaveral's main airport is Orlando, meaning access to Disney World, Universal or other fun parks. I highly recommend a day at the Kennedy Space Center not far from the cruise terminal.
Carnival Fascination sails a 5-day Bahamas cruise from Jacksonville to Key West and Nassau with two days at sea: Inside $429, oceanview $529, cove balcony $849 and $909 suites.
Carnival Imagination, which sails a four-day itinerary on Dec 31st from Miami to Key West, Cozumel (off the Yucatan Peninsula) and a day at sea was available last week, but it just sold out.

Norwegian Cruise Line
Norwegian Sky is sailing out of Miami on a four-day cruise on December 31st with a day in Freeport, a day in Nassau and day four at the NCL private island (no days at sea). There are no balconies or suites available but an inside stateroom is $449, oceanview is $579. The ship has several special dining spots that come with a surcharge between $5 and $25 per person.
Norwegian also has several cruises of seven to 14-days cruise on newer and bigger ships. Inside staterooms are $649-769, ocean views are $749-799 and verandas are $1149 to $1349.

Celebrity Cruises
Stepping up to a premium cruise line, Celebrity Constellation sails a five-night cruise out of Miami leaving on Saturday, Dec. 29th. The ship sails to Key West and Cozumel separated by two days at sea. Prices start at $799 inside, $899 oceanview, $1129 balcony, $1229 concierge class and $1599 suite.
This ship is a cut above, built in 2002 with more space and posh surroundings. Expect a fine wine selection, tasteful lounges, comfortable staterooms and excellent culinary offerings.

Disney Magic
Looking to indulge your entire family? Take a six-night cruise on Disney Magic departing December 29 from Galveston, Texas, with two days at sea before Grand Cayman, Cozumel and another day at sea before returning home. It isn't cheap but these Disney departures from Galveston are limited in number.
The last available accommodations are Deluxe Oceanview staterooms at $4285 or oceanview cabins for $4657 per person. The rooms can sleep two additional guests and have an extra half-bath. The extra cost is for all of the unique charm and Disney characters.
Holland America
Another premium cruise experience comes from Holland America with a seven-day Mexican Riviera cruise on the intimate Zaandam sailing from San Diego on Dec. 29. Spend two days at sea followed by an overnight in Puerto Vallarta, a day in Cabo San Lucas and another day at sea before you return. Inside or oceanview staterooms are priced at $1099, ocean view at $1149 and verandah at $2199 per person.

One of the newer and nicer Holland America ships, the Eurodam, still has space on the Dec. 29 cruise to the Western Caribbean. It sails out of Fort Lauderdale to the line's private island, Grand Cayman, Roatan and Costa Maya with two days at sea. Prices start at just $779 inside, $819 oceanview or $949 verandah.

Princess Cruises
Princess only has seven-day or longer cruises available for New Year's Eve and prices start at over $1250 per person. They sail from Fort Lauderdale or Galveston.

Royal Caribbean
Saving one of my top picks for the last, I highly recommend the Royal Caribbean Allure of the Seas, the biggest cruise ship in the world, sailing December 30 on a seven-day Western Caribbean cruise from Fort Lauderdale to the private beach at Labadee, Falmouth (Jamaica) and Cozumel. This ship is the star as the most elaborate and entertaining cruise vessel ever created. Prices start at $1249 per person.