My sexy valentine: 6 amazingly romantic getaways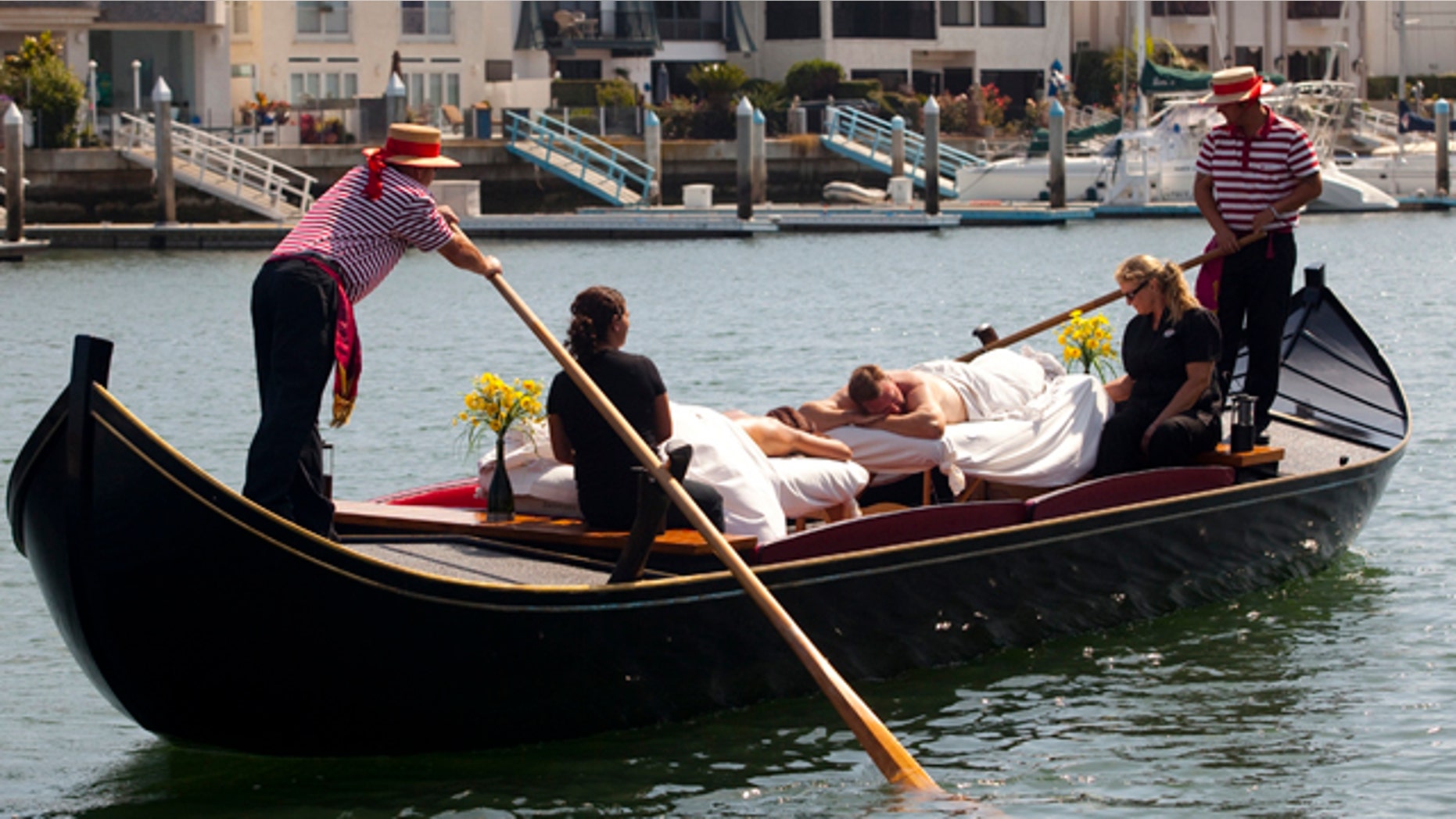 Heart-shaped tubs and chocolate are so last year.  This Valentine's Day spark romance -- and a little adventure -- with an amazing, and a little over-the-top romantic excursion.
From a couples massage in a gondola, to a private luxury lingerie fitting, to couples yoga and a cozy sleigh ride, hotels and resorts across the country are pulling out the stops and offering some pretty amazing packages.
Rachel Sussman, relationship expert and author of the Breakup Bible (Three Rivers Press) insists that couples must find the time to get away together. "If you don't nurture the relationship, it could easily go into a danger zone," says the New York City-based psychotherapist.
And it's not as simple as going on a trip. Sussman encourages those in relationships to find activities couples can do together while traveling  -- to strengthen their bonds in addition to creating priceless memories.
"These are really nice ways for couples to reconnect with each other and it makes them feel happy," Sussman said. "It enhances the lifeblood of a relationship. It enables you to reconnect to what you fell in love with your partner about."
Here are six unique and extravagant packages from coast to coast are offering this year during the month of love:
An Intimate Upgrade at the W Hotels, New York City, N.Y.
The W Hotels have teamed up with luxury lingerie designer Kiki de Montparnasse to debut the "Ignite" package - what the hotel is calling "the ultimate sensual experience for couples this Valentine's Day." After checking into a luxurious suite, guests will take a private car service to Kiki de Montparnasse where they will have a private consultation and fitting. "It offers couples a unique New York experience by giving them insider access to Kiki de Montparnasse's Romance Salon and an opportunity to heat up their relationship both in and out of their W hotel room," said Vera Manoukian, area managing director of Starwood Hotels of New York and New Jersey.
Guests will receive a 20 percent discount on all Kiki de Montparnasse Collection purchases. The package is available during the month of February at W New York, W New York - Downtown, W New York - Times Square and W New York - Union Square. "Ignite" guests will also enjoy in-room champagne service and a late check-out with rates starting at $689.
Jewelry is a Girl's Best Friend at Mandarin Oriental, Munich, Germany
Don't worry about finding a gift for the lady you love. The Valentine's package available throughout the month of February at the Mandarin Oriental in Munich, Germany - includes a NUDO ring from the new collection by Pomellato and a six-course dinner at the hotel's Michelin starred restaurant, Mark's. The room is complete with chocolate dipped strawberries, a bottle of Dom Pérignon vintage champagne, rose petal turn-down service and a champagne breakfast-in-bed for two. The Valentine's package includes one night accommodations for two in a double room or suite and starts at $4,326.
Voga Voyage at Loews Coronado Bay Resort, Coronado, Calif.
Forget heading to the spa for a couples massage. Enjoy a floating treatment with your special someone aboard Loews Coronado Bay Resort's 33-foot gondola. After departing from the resort's private marina, couples relax with a soothing sunscreen application, as well as a 40-minute massage.
"Cool sea breezes and the gentle rocking of the gondola as it cruises the canals and waterways of the Coronado Cays add an unforgettable element to this already unique experience," said Brian Johnson, the general manager of Loews Coronado Bay Resort. During the final 10 minutes of the scenic cruise, guests are served with champagne and chocolate-covered strawberries. The Voga Voyage spa package starts at $400 per couple. Guest rooms during the month of February are available from $149.
Travaasa is for Lovers, Austin, Tex.
From aphrodisiac culinary demonstrations to couples medicine ball routines - Travaasa Austin offers 12 to 25 classes per day to help guests relax their minds and re-energize their relationships. For foodies, the experiential resort offers breakfast in bed and romantic dinner for two culinary demonstrations. For the focused, couples can take part in a relationship strength challenge or partner yoga session. Those interested in free-spirited activities can try a romantic dance or energy vibrations of love meditation class.
"People can really select from a range of things to do, no matter what their fitness level is, age, area of interest and energy level," said Kristine Huffman, programming manager at Travaasa Austin. "What we're working on in the month of February is focusing on allowing couples to get away, get together and design a weekend together that brings them closer."
The "Travaasa is for Lovers" package includes two nights' accommodations, daily breakfast, a romantic dinner, wine and cheese selections upon check-in, two $125 spa credits and access to the array of classes. Packages start at $379.50 per person (double occupancy).
Sleigh Ride for Two at Squaw Creek, Lake Tahoe, Calif.
The sparks can start flying early in the evening as couples can snuggle close in a private horse-drawn sleigh ride for two. Lake Tahoe's "Ultimate Valentine's Getaway" package includes two nights' accommodations in a deluxe guest room at the Resort at Squaw Creek, champagne delivered upon arrival, two adult lift tickets to Squaw Valley USA, two 50-minute spa treatments, complimentary valet parking and nightly turndown service.
"Lake Tahoe is a winter wonderland, and Resort at Squaw Creek at the base of Squaw Valley is the perfect place for Valentine's romance with horse-drawn sleigh rides, dog sled tours, and 'Amore Under the Stars' evening outdoor ice skating session with romantic music and hot cider," said Eric Sather, general manager of the Resort at Squaw Creek. The package is listed at $999 per couple and available Feb.12 - Feb. 15.
Proposing at Stowe Mountain Lodge, Stowe, Vt.
Ready to pop the question this Valentine's Day? Take the stress out of planning the proposal by calling the proposal concierge, Calais Van Horn, at Stowe Mountain Lodge. Van Horn can help every guy come up with an unforgettable way to surprise their bride-to-be and take care of all of the details so all he has to think about is saying the four precious words.
For the adventurous couple, they can choose between dog sledding, a snow shoe scavenger hunt, a snow shoe tour, a sleigh ride, lift tickets for skiing or riding, snowmobiling, zip lining, or ice climbing for the "Winter Wonderland" package, which is $1,700.
If the love of your life would more appreciate a relaxing, retreat weekend, the "Pamper" package includes a spa day, complete with a private yoga class and two 50-minute spa treatments for $1,650.
Both weekend packages include two nights stay in Ridgeline studio, dinner for two at Solstice on Saturday, champagne and roses as well as breakfast for two each morning. Van Horn says those two packages are just the start of options at Stowe.
"We certainly work with anybody to customize anything and make it happen," Van Horn said. "We can do anything under the sun. We want this to be a completely enjoyable experience for both of them."
The hopeful groom-to-be can also book a professional videographer or photographer disguised as a tourist, employee or guide to capture the moment.