Must-visit Christmas markets around the world
For most of us, the Christmas season is both enchanting and daunting. Yes, it's the time of year when the world becomes just a little bit more whimsical and beautiful. But it's also the time when gift getting can begin to feel like a burden. Luckily, many towns around the world manage to maintain the holiday magic (and offset the often overwhelming commercialization of the holiday) with their unique and often whimsical Christmas markets. From late November through the New Year, you can find amazing candlelit displays, winter delicacies, delicious mulled wines, and spectacular crafts at seasonal markets around the world. These markets are time-honored traditions — some have been around for centuries — that make the historical magic of Christmas feel a bit more present-day.
These Christmas markets, also known as Holiday Markets, Christkindlmarkts (the spelling of this varies from city to city) or Weihnachtsmarkts, are based on a tradition that dates back to the late Middle Ages in German-speaking parts of Europe — a time when decorations and ornaments only came in handmade form from talented artists. Traditionally, these markets were held across Germany, Austria, Northern Italy, South Tyrol, and Alsace, but today these spirited celebrations can be found all over the world.
Less expected cities, such as Sapporo, Japan (which fell into the mix because Munich is its sister city) and Quebec City, Canada, now host holiday markets, turning sections of their cities into winter wonderlands you'd have to see to believe. In the United States cities such as New York, Chicago, and Philadelphia have introduced traditional artisanal Christmas markets, some of which are outdoor pop-ups while others invoke the ritual of incorporating a Christkind into an established market program, à la Nuremberg, Germany's original market.
What is a Christkind, you ask? While it literally translates to "Christ child," the Christkind is an angelic woman with long, flowing blond locks, a gilded crown, and a robe of white and gold who is responsible for reciting the customary prologue to commence the festivities. At some markets, you'll find the Christkind schmoozing with guests, spreading holiday cheer, and even reading Christmas stories to children.
If you find yourself in any of these cities during the holiday season, make a point to explore the Christmas market to see the lights, trees, and tinsel, to smell the pine and spiced wine, and to gawk at the gorgeous pieces of art and antiques on display and for sale. You'll be able to score eclectic gifts for everyone on your list, and no matter how Grinch-like you may naturally be, if you celebrated Christmas growing up you're pretty much guaranteed a (momentary at least) flashback to your former, childlike self (if not a full-on regression to a stuttering, awestruck tyke at the sight of Santa Claus sitting in his cushy red chair).
Think of this slideshow as your passport to the markets around the world, or those nearest to where you are — these amazing venues are sure to get you into the holiday spirit!
1. Christmas market — Vienna, Austria
Known as one of the most romantic cities in the world, Vienna transforms into a holiday haven during winter months, hosting several traditional Christmas markets around picturesque spots including the town square Rathausplatz and the Historic Quarter. Vienna held its first, Dezembermarktes, or "December Market" in 1294, kicking off a tradition that carries through to today's Christmas Market. Now, festivities center on Rathaus, the city's town hall, where millions of revelers gather to ring in the season. The markets open in mid-November and host vendors selling handcrafted decorations and artisanal beeswax candles. Twinkling trees bedecked in lights surround the park around the market. Travelers will enjoy weekend performances by choirs from around the world and families can take advantage of daily kids' workshops. Top picks include the Vienna Magic of Advent & Christmas Market where visitors are immersed in the aroma of roasted chestnuts and are spoiled for choice with over 150 stalls; the Christmas Village on Maria-Theresien-Platz, offering handicrafts and other stocking fillers along with freshly-baked pastries; and the Kultur-und Weihnachtsmarkt in front of the monumental Schönbrunn Palace, which specializes in lucky charms to offer to loved ones for the New Year.
2. Christmas market — Brussels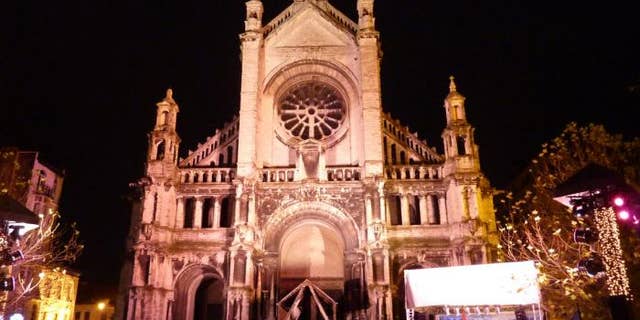 The Brussels Christmas market has more than a mile of shops, stalls, and chalets with gifts, food and drinks, ornaments, and artisanal arts and crafts. With help from the Montreux Noël team (who worked on a very successful holiday market in Switzerland for two decades), the market is equipped with an authentic Swiss chalet serving culinary delicacies from Switzerland (think fondues and expertly paired wines from the Lavaux and Fendant regions), and the Rue Devaux will be a big part of the action, hosting a number of participating shops, vendors, and outdoor eating areas.
3. Lowe's Toronto Christmas market — Toronto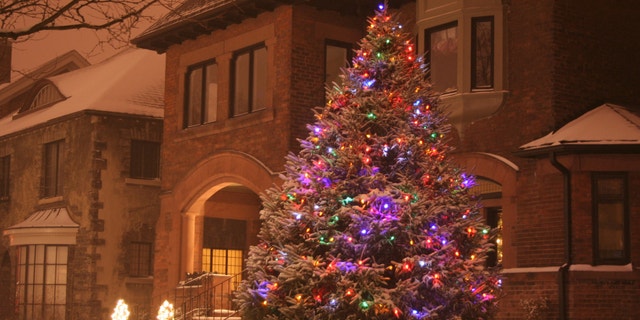 The sounds of children's choirs and carolers can be heard throughout this Canadian Christmas market, whose organizers strive to keep true to centuries-old European traditions. On top of romantic lighting and an enormous, lit-up tree, the market boasts a number of garden spaces where visitors can relax with a glass of mulled wine, local beer, or a hot rum-based beverage. December 21 marks the final day, when you can catch the Mill Street World Caroling Challenge in the Distillery District.
4. Christmas market — Vancouver, Canada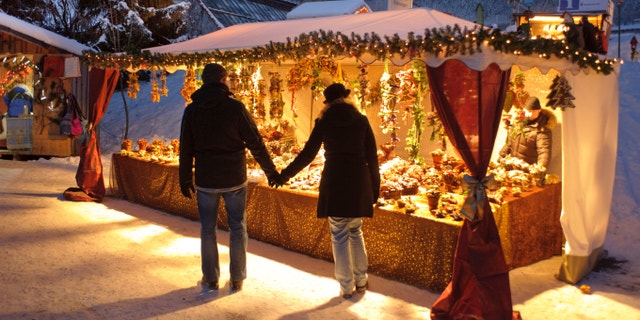 This homage to German Christmas markets of yesteryear plays up the décor with rows of wooden huts adorned with white light ropes and aromatic pine branches. Each hut offers visitors a chance to sample authentic Bavarian edibles and libations, including Feuerzangenbowle (a beverage in which sugar cubes are flambéed with rum and mixed with mulled wine), cakes and cookies from Sven's Bakery, and cherry-topped waffles from Das Wafflehaus.
5. Christmas market ­ — Prague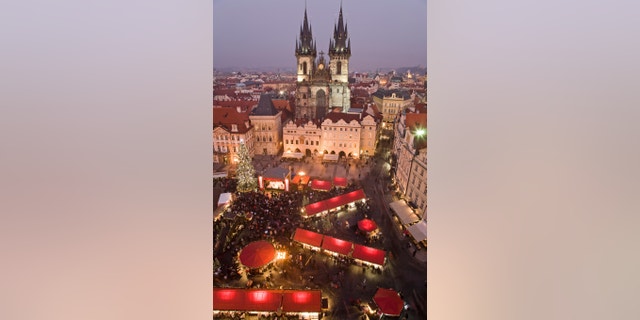 Possibly the largest and best known of Prague's Christmas markets is found in the city's Old Town Square. Kids will enjoy petting zoos while adults can peruse hand-carved wooden figurines and Bavarian crystal. Visitors can also gaze upon the Church of Our Lady before Tyn and the ancient Prague astronomical clock, walk through the winding lanes of Prague's Old Town, and marvel at the fairy-tale cityscape covered in snow.
6. Christmas market at Old Port Market — Quebec City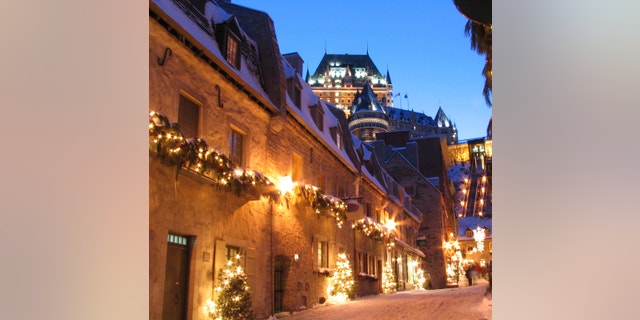 During the holiday season, Le Marché du Vieux-Port is home to thousands of gifts, ornaments, and home decorations amid the Old World splendor of beautiful Quebec City, making it the perfect place to explore, shop, and stimulate your senses. The selection of gourmet snacks will overwhelm you, so opt for cheesy poutine to warm your insides if the weather is extra-frigid — and to make decision-making especially easy.
7. Christmas in Tivoli Gardens — Copenhagen, Denmark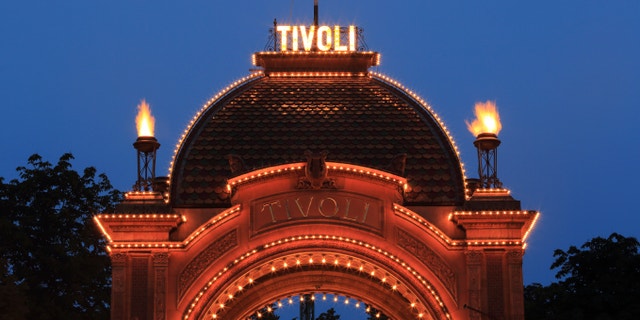 Tivoli is only open through January 4, so hurry to visit before it closes for the season. And who wouldn't want to drink gløgg and watch a production of The Nutcracker, whose costumes were designed by Denmark's very own Queen Margrethe? The Christmas market at Tivoli Gardens is where Copenhageners go to cope with cold winter weather with hot drinks, and to hang out during the holidays among festive lights, Nordic décor, and even live reindeer. More than 50 stalls serve Scandinavian sweets and savory snacks, along with handmade gifts and ornaments. The Russian basilica is the main attraction (although, for the children, it could also be the 28 Christmas rides...), with nine onion-shaped domes in assorted colors and patterns and a decked-out Christmas tree.
8. Hyde Park Winter Wonderland — London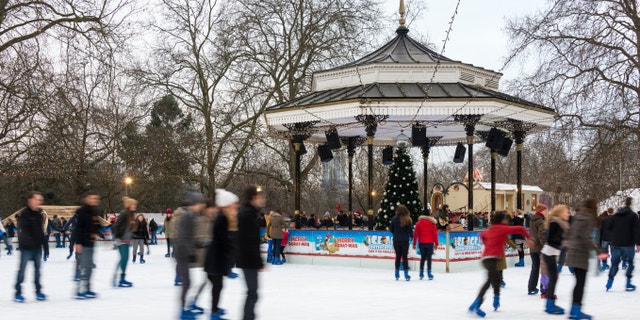 London gets a North Pole makeover during the holiday season when it transforms into this surreal snow-asis, featuring exhilarating rides (the Winter Wonderland Express, Star Flyer, and three roller coasters, to name a few), ice skating, and a Christmas circus. Experience the best views of the U.K.'s capital on the nearly 200-foot-tall Giant Observation Wheel, and get your grub on with beer and bratwurst at the Bavarian Village and a number of bars, including the Carousel Bar, Nordic Bar, Mirror Bar, and the Après ski bar.
9. Colmar Christmas market — Alsace, France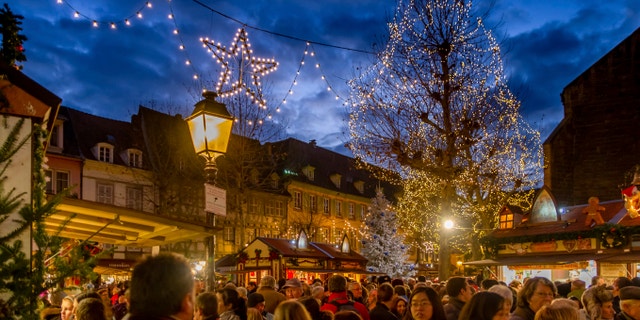 Colmar is one of the most charming Alsatian towns, full of crooked houses set on crooked lanes. Its Christmas market is divided into five venues, each offering an abundance of activities and entertainment for guests of all ages. The children's section is in Petite Venise and is highlighted by a wooden horse merry-go-round, an animated nativity scene, and a giant letterbox for kids to put their letters to Santa. Adults can enjoy markets at the Place de Dominicains, with 65 stalls augmented by lights around the stained-glass windows of a fourteenth-century Dominican church; the Place Jeanne d'Arc, loaded with local culinary delights; Place de l'Ancienne Douane, with 50 stalls surrounding the Schwendi Fountain; and at the covered market of the Koïfhus, located in a fourteenth- and fifteenth-century structure that was used as a trading post, which features antiques, wood sculptures, cabinet-makers, hatters, jewelers, and old book sellers.
10. Various Christmas markets — Berlin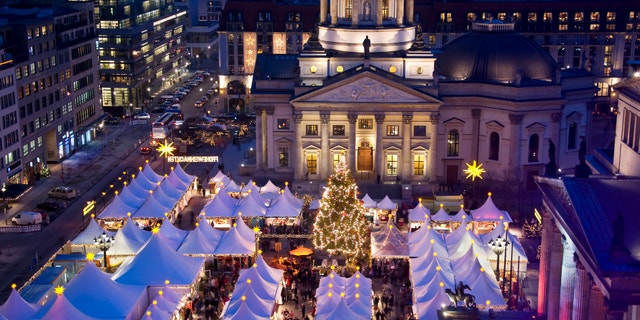 Berlin plays host to more than 60 Christmas markets, about 12 of which are multi-week events throughout the Advent season. These events date back to the early 1500s and have always been places where artisans sell everything you could ever need for the holidays. From the market in Spandau Old Town (the largest in town) with more than 400 stalls and a church more than 800 years old to the one in Rixdorf that's known for wood, metal, and ceramic wares, you'll be able to experience Christmas like never before in this spirited city.
Discover these must-visit Christmas markets this holiday season.
More from The Daily Meal
Best Food Finds at European Christmas Markets
10 Best Christmas Markets in Europe
The Ultimate Holiday Treats Guide