Man proposes to girlfriend mid-flight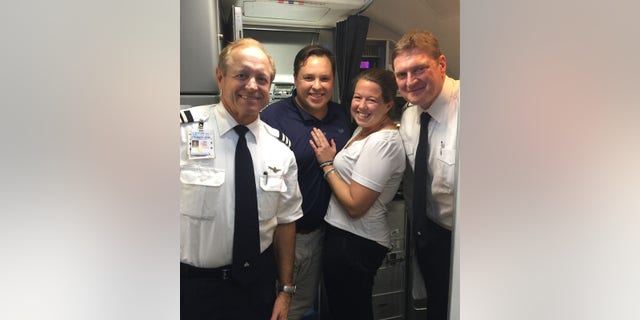 NEWYou can now listen to Fox News articles!
Love really was in the air Saturday after a man decided to kick off the Thanksgiving holiday by popping the question to his girlfriend mid-flight over the plane's loudspeaker system.
Rebecca Eltzroth was flying from Boston to California with her boyfriend Samuel Lockard on American Airlines.
While Eltzroth was in line for a pre-takeoff coffee, Lockard spoke with the pilot –telling him of his plans to propose. They figured out a plan and the pilot promised to coordinate with the flight crew.
Somewhere mid-flight, Lockard got the signal, made the excuse of needing a bathroom break and headed to the front of the plane.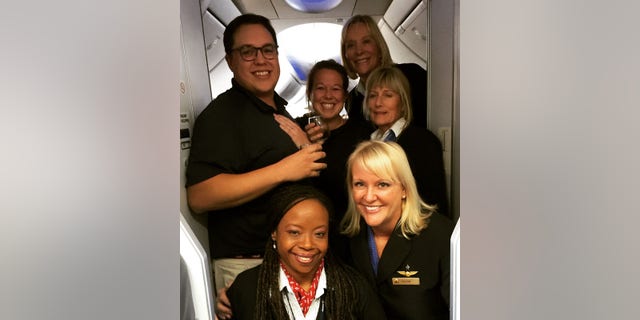 After getting the green light from the cockpit, a flight attendant said over the PA system: "We have a special mid-flight announcement to make, there is a young man up here who has an important question to ask someone."
"At that point, the flight attendant handed the phone over to Sam and he proposed over the PA system, I nodded my head "yes!" and he walked back to our row, got down on one knee and asked me to marry him," Eltzroth said.
The passengers cheered and clapped as the happy couple kissed.
Eltzroth said she's on cloud nine and feels especially thankful this Thanksgiving.
"I was so surprised and shocked and it was the best flight and best day. The crew and pilots were exceptional, treated us to champagne on the flight and were so excited to be a part of our big day!"