Less than half of US hotel rooms now have Bibles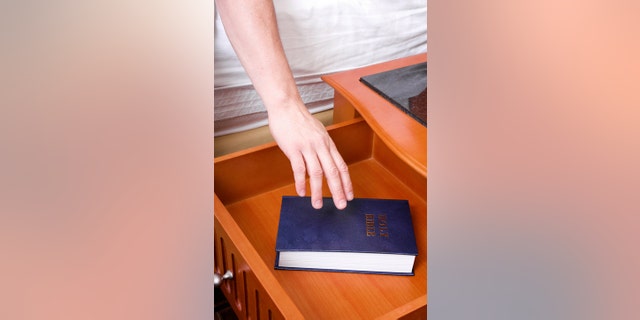 Hotel nightstands across the U.S. are starting to empty out.
According to a new study by hospitality analytics group STR, the percentage of hotels that offer religious materials in rooms has dropped by almost half in the last decade-- from 95 percent of in 2006 to just 48 percent this year.
"It's because the religious books don't fit the personality of the brands," Marriott spokeswoman Felicia Farrar McLemore told the Los Angeles Times when speaking about two brand property openings in Los Angeles this year.
HOW TO AVOID BOOKING THE WORST HOTEL ROOM
Marriot International recently decided against supplying religious materials at its Moxy and Edition hotel brands, which are geared toward millennials.
But the decision to shy away from supplying the religious texts is multi-faceted.
According to some industry experts, hotels are trying to appeal to younger American travelers who tend to be less religious than their parents. The casual Bible placement has also declined to avoid offending guests of other faiths, say industry experts.
And there's a pragmatic issue at play. Many newer hotel brands install shelves rather than nightstands with drawers next to the bed, displacing the religious materials' previously discreet home.
SOME OF LAS VEGAS' BIGGEST CASINOS TO END FREE PARKING PERK
STR officials did note that only 2,600 of the more than 8,000 hotels surveyed in their study answered the question about religious materials in the rooms. Still, some religious officials say the decline is notable.
"The decline of religious materials in hotels, as cited in the survey, is reflective of increasing secularism and independence in the world," said Jeff Pack, the Director of Communications for Gideon International, the nonprofit group that distributes Bibles in hotels across the country to the Time.
"This has resulted in an erosion of spiritual awareness."
The trend toward removing religious materials from hotel rooms has not affected at least one big notable brand. Rooms in the tew Trump International Hotel in Washington, D.C. come equipped with a Gideon Bible in the nightstand. The property also keeps several other religious texts on hand available upon request.
WHY TRUMP IS CHANGING THE NAME OF NEW BRAND HOTELS
The trend of removing Bibles from hotel rooms is also affecting properties overseas.
Travelodge hotels in Britain removed Bibles from their rooms in 2014 "in order not to discriminate against any religion," the company said. And Wyndham Hotel Group, Travelodge's parent group, said that there's no requirement to stock Bibles in any of its 15 global hotel brands.