KLM Dutch Royal Airlines tweets pro-gay ad, gets trolled for missing the mark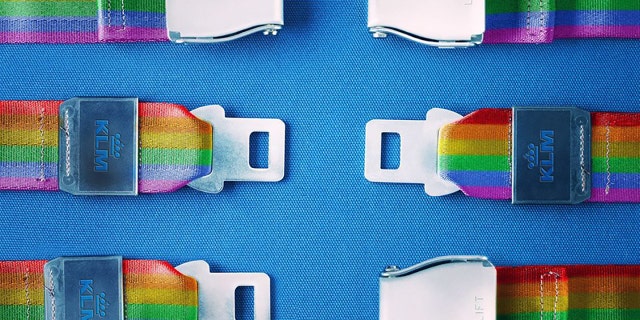 KLM Royal Dutch Airlines clearly meant well when they thought to tweet out a pro-gay message in honor of Amsterdam's Gay Pride festivities, but their efforts have left quite a few people scratching their heads.
On Aug. 5, the airline shared a photo on Twitter and Facebook featuring three sets of rainbow-print seatbelts: one with two "female" ends, another with two "male" ends, and the last with one male and one female end.
"It doesn't matter who you click with," the airline wrote in the caption. "Happy #PrideAmerstdam."
BEN & JERRY'S BANNED SAME-FLAVOR SCOOPS TO PROMOTE MARRIAGE EQUALITY, BUT TWITTER WAS CONFUSED
However, as several Twitter users soon pointed out, the photo in the tweet didn't make sense, seeing as the only seatbelt pairing that would actually work is — in terms of safety — the one with both the male and female end.
While most users were content to ridicule KLM for its mistake, some critics of gay marriage pointed to KLM's marketing failure as an example of misguided morals.
Doug Mainwaring, a writer at the conservative blog Life Site News, further pointed to KLM's gaffe as his proof that marriage "is only between man and woman."
"In this way, the KLM ad offers a perfect explanation of why same-sex 'marriage' is an impossible notion," he wrote in a blog post.
FOLLOW US ON FACEBOOK FOR MORE FOX LIFESTYLE NEWS
Meanwhile, KLM is sticking by its post, and urging that the seatbelts are merely a metaphor that in no way reflects the airline's stance on flight safety.
"The statement we made with the image showing rainbow-colored safety belts is simply a metaphor that celebrates diversity," wrote KLM spokesperson Koen van Zijl a statement to Fox News. "Safety for all passengers remains our primary priority. All passengers are required to use standard safety belts on KLM flights."
The airline has even responded to supporters who applauded the post for its sentiment, rather than its unintended message.
As of Wednesday morning, KLM's original #PrideAmsterdam post remains unchanged on its official Twitter page.