Just in time for Carnival: Beginner's guide to Rio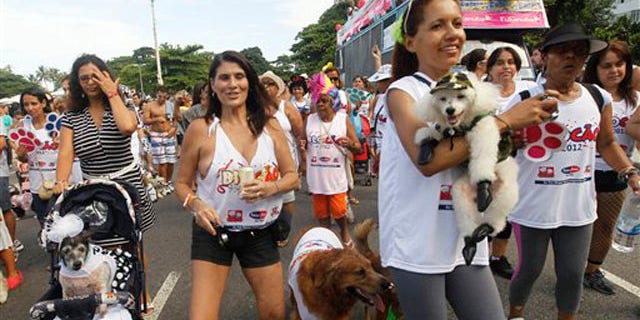 RIO DE JANEIRO – "Brazil is not for beginners," the late, great Brazilian composer Tom Jobim once quipped. Nowhere does the remark hold more true than for the country's pulsing, chaotic oceanfront metropolis, Rio de Janeiro.
This is a city of contrasts, where vastly different worlds rub shoulders, and the unexpected lies lurking around every corner.
Hang a right during an aimless stroll through the chic beachside neighborhoods of Ipanema or Copacabana and you might just bump into a lush tropical forest. Hang a left, and the luxury condominiums could give way to a warren of brick and corrugated iron houses perched precariously on a rocky outcropping — a "favela," or hillside slum.
It's this proximity between rich and poor, city and nature that gives Rio its intensity. But it also makes navigation a challenge for first-time visitors. It's even more difficult during Carnival season, when city streets morph into rowdy block parties with tens of thousands of costumed revelers dancing to infectious samba beats.
Luckily, Rio is dotted with landmarks that allow you to easily find your bearings. Sugarloaf Hill, the awesome rocky outcropping that can be visited by aerial cable car, presides over Guanabara Bay in the east. The monumental statue Christ the Redeemer reaches toward the sea from his perch inside the dense Tijuca Forest in the heart of the city. A 5-mile (8 kilometer) stretch of white sand marks Rio's southern edge, home to the legendary Copacabana, Ipanema and Leblon beaches.
Here, the beach is a way of life, and these iconic stretches of sand are the stage upon which Rio natives — known as Cariocas — play out their lives. Weekends draw huge crowds from across the class spectrum to swim, surf, sun, jog, picnic, gossip, frolic, flirt, stretch and strut.
During the Southern Hemisphere summer, January to March, the throngs are often so thick that towel-size real estate can be hard to come by. But persevere.
Between the tall, tan young and lovely girls from Ipanema, their muscle-bound, tattoo-covered male counterparts, the flocks of screaming children and steady stream of vendors, hawking everything from sunscreen to frozen slush made from Amazon berries, the action is not to be missed.
Theft has long been on a problem on the beach, but the government's recent takeover of some nearby slums — which pushed the drug lords who reigned there out — has improved security throughout the city, including the seaside.
Still, it's best to leave all valuables — cell phone, camera, watch — at home and avoid drawing attention to yourself by dressing like the locals. Rest assured, while they don't cover much up, Brazilian "sunga" or Speedo-style suits for men and "fio dental" string bikinis for women have a magical way of bringing out everyone's best assets, whatever your body type.
No trip to the beach is complete without a stroll down Avenida Visconde de Piraja, Ipanema's main drag — a sort of relaxed Fifth Avenue, where the dress code consists of bikinis, sarongs and flip-flops. Homegrown clothing lines abound, churning out pretty but pricey sundresses, short-shorts, pantsuits for the daring and, naturally, bikinis. Top Brazilian beachwear houses include Lenny, Salinas and Osklen.
If you haven't gotten your fill of snacks on the beach, head to Bibi Sucos, which serves up a dizzying array of freshly squeezed exotic juices — jabuticaba, anyone? — and, with Brazil's dizzily spiraling prices, is among Rio's few remaining inexpensive pleasures. A more sophisticated meal can be had at Market, also on Visconde de Piraja, which serves up tasty, healthy alternatives to the "comida por quilo" self-service buffets that offer up meat in all its imaginable incarnations, paid by the weight.
If you're a Brazilian at heart, with a well-developed carnivorous instinct, no trip to Rio is complete without a visit to a "rodizio," a fixed price restaurant where an endless variety of meats, from filet mignon to chicken hearts, are served off the spit by a parade of waiters. Porcao, which has three Rio locations including one in Ipanema, is a "rodizio" of epic proportions.
To work off the meat overdose, a hike will doubtless be in order, and Rio offers several excellent options.
The world's largest urban forest, Tijuca is home to a host of monkeys, parrots and cute raccoon-like creatures called coatis (cuatis in Portuguese) as well as the Christ statue, perched atop a verdant, 2,300-foot (701-meter) peak. You could take the "bondinho," or little street car, that winds its way to the top.
But if you really want to burn off those extra calories, a better option is a hike to the top of the Tijuca Peak, which is a full 1,000 feet (300 meters) higher and offers unparalleled panoramic views over the city. Take a cab to Alta Boa Vista, where the trail to the top begins. Get an early start, because the park closes at sundown, and the hike can take up to six hours round trip.
A less strenuous way to commune with Rio's unique brand of urban nature is a stroll through the Jardim Botanico, 350 well-manicured acres of flora from Brazil and beyond. Founded in the early 19th century by Portuguese King Joao VI, the botanical gardens include the stunning Orquidario, where hundreds of delicate orchids are on display.
Should one of Rio's spectacular rainstorms force you indoors, you can seek shelter in a museum. Top choices are the MAM modern art museum near the historic downtown, which includes exhibits by top contemporary artists; the Instituto Moreira Salles in Gavea, with its topnotch photography collection; and the Museu de Arte Contemporanea, a space age complex designed in by celebrated Brazilian architect Oscar Neimeyer in Rio's sister-city, Niteroi.
For a stiff dose of Rio nightlife, hit Lapa. Bars serving up Brazilian cane alcohol, "cachaca," tiny clubs with live music and massive, multilevel mega-discos are all concentrated in this historic neighborhood near the city center. Friday nights, this is where the action is, and the crowds are so thick you can barely walk — let alone dance.
Crowds are an inescapable fact of life in Rio during Carnival.
Weeks before the official Feb 18-22 celebrations, "blocos," or block parties that attract up to tens of thousands of revelers start sprouting up across the city. While most blocos are simply an excuse for drunken dancing in the streets, some have themes, like Copacabana's "Blocao" costumed pet parade or "Sargento Pimenta," or Sargent Pepper, with its medley of Beatles hits.
But the crowning jewel of Rio Carnival remains the two-night long competition at the Sambodromo. Thirteen samba schools vie for the top prize: Their elaborate floats, massive percussion sections and troupes of sequin and feather-clad dancers samba their way down the avenue as ticket-paying spectators look on from the bleachers.
And for a bit of post-Carnival relaxation, there's only one place to go: Back to the beach.