Jimmy Fallon getting a ride at Universal Studios in Orlando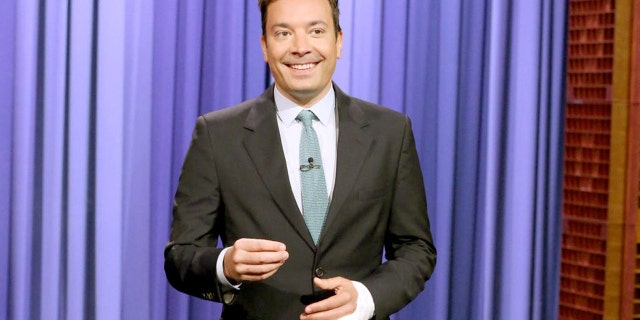 NEWYou can now listen to Fox News articles!
Comedian Jimmy Fallon is going for a ride --and this time it's not to the hospital.
The "Tonight Show" host revealed Tuesday that Universal Orlando Resort will debut a ride in 2017 called "Race Through New York Starring Jimmy Fallon."
"It's scary, it's fun, it's exciting," Fallon said on the show just days after admitting he cut his hand on a bottle of Jagermeister. "Do you know the 'Harry Potter' rides? It's like that, except instead of Harry Potter, it's me. Instead of Hogwarts, it's New York City."
In the ride, "Tonight Show" guests will be transported to Studio 6B (where Fallon does his show) and go on a virtual race against Fallon that features some of New York's iconic sites.
The funny man couldn't reveal too much about the attraction but did throw in a couple of jokes. "Anyway, I wish I could give all the details. I don't know what I'm allowed to say. I can't say anything. They're working on it now. 2017 is when it comes out. Maybe bleep it out. I can't say anything; just bleep it out."
The Universal Studios ride replaces the Twister attraction, which is set to close next week. The final day to experience the tornado-film-inspired experience will be Sunday.
The changes were also announced on Universal Orlando official blog.
"Our team found inspiration in the outrageous celebrity races that have become one of the most popular segments of Jimmy's Tonight Show" Jason Surrell, creative director for Universal Creative, wrote on the company's blog. "The source material already features a wild and crazy ride almost every week! And since Universal Studios Florida has long been famous for placing guests in the middle of their favorite movies and TV shows, we thought it was a perfect fit."
Fallon is no stranger to Universal Orlando fans. The park is owned by NBCUniversal, and Fallon's talk show airs on NBC. In 2014, he recorded some episodes from the resort.
But to Fallon, the best part of the whole thing? "On the way out, there's a gift shop where you can buy a T-shirt for $200. I'm assuming! I'm assuming," he said.