JetBlue passengers' kind gesture for grandmother of Orlando shooting victim goes viral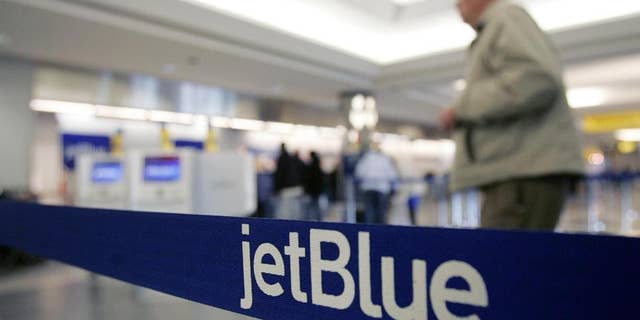 NEWYou can now listen to Fox News articles!
What can you say to a woman whose 20-year-old grandson has been shot dead by a madman? What can you do to help a grieving grandmother as she flies to Orlando to attend his funeral?
You can show compassion. You can say you care.
On Tuesday, Kelly Davis Karas, a JetBlue flight attendant was serving the grandmother of Luis Omar Ocasio-Capo, one of the 49 people who were killed in the terrorist massacre at the Pulse nightclub on Sunday.
"Today my dear friend Melinda and I had the sad privilege of attending to his grandmother on our flight as she made her journey to Orlando to join her family during this unspeakable time," Karas wrote on Facebook.
"Knowing she was making this hard journey alone, JetBlue employees made sure to be at her side every step of the way."
But Karas and Melinda did much more than help the woman to her seat and stay comfortable during the flight.
"I had the idea to pass around a piece of paper to everyone on board and invite them to sign it for this grieving grandmother," she wrote. "I talked it over with Melinda and she started the process from the back of the plane. As we took beverage orders, we whispered a heads up about the plan as we went.
"Halfway through, Melinda called me, 'Kel, I think you should start another paper from the front. Folks are writing PARAGRAPHS.' So I did. Then we started one in the middle. Lastly, running out of time on our hour and fifteen minute flight, we handed out pieces of paper to everyone still waiting."
When the plane landed, there was much more than a single sheet of paper with a long list of signatures. "Instead," Karas wrote, "we had page after page after page after page of long messages offering condolences, peace, love and support."
And then, after Karas announced on the intercom, "JetBlue stands with Orlando," and asked for a moment of silence in the grandson's memory, something even more amazing happened.
"As we deplaned, EVERY SINGLE PERSON STOPPED TO OFFER HER THEIR CONDOLENCES," she wrote. "Some just said they were sorry, some touched her hand, some hugged her, some cried with her. But every single person stopped to speak to her, and not a single person was impatient at the slower deplaning process….
"I will never forget today. #Orlandoproud"
JetBlue spokeswoman Morgan Johnston confirmed to CNN that the heartwarming story is real: "We can confirm that these are our crewmembers, and that the story appears to be an accurate account of one of our flights from yesterday morning."
Karas Facebook post has since been shared over 77,000 times.