In Egypt's Red Sea resort, it's 'Russian season' all year round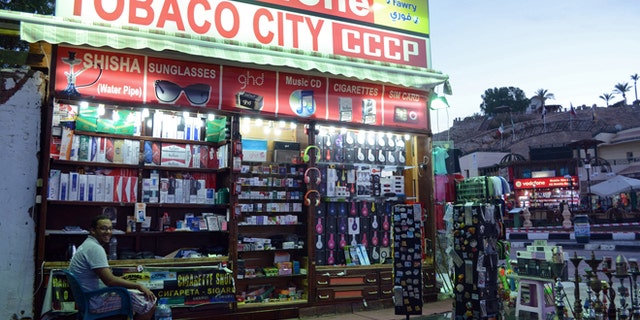 NEWYou can now listen to Fox News articles!
SHARM EL-SHEIKH, Egypt – "Davai! Spasibo!" cry the restaurant touts along the main strip in Egypt's Sharm el-Sheikh resort, a mecca of Oriental kitsch where "let's go" and "thanks!" no longer pull the same weight as their Russian equivalents. Some hawkers even go so far as to evoke the last name of Russia's strongman president, shouting "Putin!" at people walking by.
As Egypt's tourism sector slowly recovers from years of political tumult that left the economy battered, Russians have emerged as the dominant group on its Red Sea beaches. And it was here that over 200 of them had their final getaway before perishing on the way home in Saturday's airline disaster.
Menus, advertisements, club flyers, and souvenir shops all feature prominent Russian language signage, with one store, ironically across from the Americana-standard Hard Rock Cafe, bearing in large letters "CCCP," the Cyrillic acronym for the Soviet Union.
Ekaterina Ivanova, 34, a scientist researching nanoparticles from St. Petersburg, Russia, the destination of the downed Russian plane, arrived after a day of delays. She said the aircraft she was initially supposed to take to Egypt was the very one that crashed.
"My mother begged me to cancel the trip, but we were waiting all day and dreaming of the sea for so long so we went anyway," she said after a dip in the bay and lunch with her friend, engineer Sergei Igolkin, also of St. Petersburg.
"This place is wonderful for the weather and because it's close for us," compared to holiday destinations like India with more expensive long-haul flights, Ivanova said — adding that this was her sixth trip to the resort town since she began coming as a student.
Roughly three million Russian tourists came to Egypt in 2014 — nearly a third of all visitors — with most heading to the resorts in the southern Sinai Peninsula or its opposite mainland coast, far off from an insurgency being fought by Islamic militants against the army further north.
While Sharm el-Sheikh, the most developed of the resort areas, draws many British, Germans and Gulf Arabs, Russians have left a particular mark, and Egyptian proprietors have adapted.
"You have to speak Russian here, they're most of our customers and they don't necessarily speak English," said Mustapha Abdel-Hakim, 26, who has been working in Sharm el-Sheikh for six years.
"They come for diving, snorkeling, and of course, the parties ... We love Russia and make many friends and connections with them," he said in front of his cafe, called "La Rose" but which he pronounced "La Rousse" — Arabic for Russian.
Nearby souvenir shop vendor Raymond Michael said the winter months are particularly prized by the Russians, seeking to escape cold winters of the north, but that "Russian season" was now all year round.
"They are all over Sharm, they buy all sorts of souvenirs, King Tut statues and carved wooden objects but especially Arabic water pipes — this is number one for the Russians," he said.
On the strip in the central Naama Bay, the party starts after midnight, after a lull when families retreat home to surrender the night to 20-somethings seeking a high-octane good time. On Saturday, the day of the crash, the show went on, with many of the hundreds roaming the main drag dripping fake blood and sporting macabre costumes for Halloween.
That segment, a lucrative market with disposable income for clubbing nights that last till sunrise, is an essential element to Red Sea tourism.
Adly el-Mestekawy, a former software engineer turned nightclub prince who helped pioneer the area from barren desert in the 1980s into the bustling resort of today, said he wanted to make it into a destination for young adults to enjoy themselves. Russians make up some 60 percent of guests these days, he said.
"I created entertainment in Sharm to be an international clubbing destination and here we are 20 years later," he said, describing himself as the "Sheikh of Sharm" from inside his club, Pacha — smack in the middle of the main pedestrian thoroughfare.
"We have sunshine all year and open-air parties all year, what's not to love," he said during the Halloween festivities, where acrobats swung from the ceilings and most guests wore elaborate costumes as electronic music boomed across a packed dancefloor.
For the moment, the impact of Saturday's crash, which killed all 224 people on board, is far from being felt in Sharm el-Sheikh. Egyptian authorities have said the pilot had radioed and said the aircraft was experiencing technical problems, and a multinational team of experts has been dispatched to Egypt to investigate the crash. On Sunday Russia's top aviation official on the scene said it appeared the plane had broken up in midair at high altitude.
Hesitation by tourists so far has focused on the airline, Metrojet, not Egypt in general, with Russian state media reporting that some tourists were seeking to cancel package tours that used the carrier.
Still, two major European airlines, as well as Qatar Airways and Dubai-based Emirates, the Middle East's biggest carrier, announced they would stop flying over the area for safety reasons. Egyptian authorities say it is too early to tell what impact, if any, the crash will have on tourism.
When asked, tourists, Russian and otherwise, expressed sorrow over the tragedy, seen as a terrible accident.
"It's very sad, I had some people from the flight who were potential clients who cancelled at the last moment, and I never got to meet them," said Muscovite Anna Vishneskaya, 29, a photographer who lives in Sharm el-Sheikh, shooting weddings, tourism and fashion here.
"Everyone is sad here about this story, it's obvious. There are no words to describe it."