Hurricane Sandy wreaks havoc on cruise schedules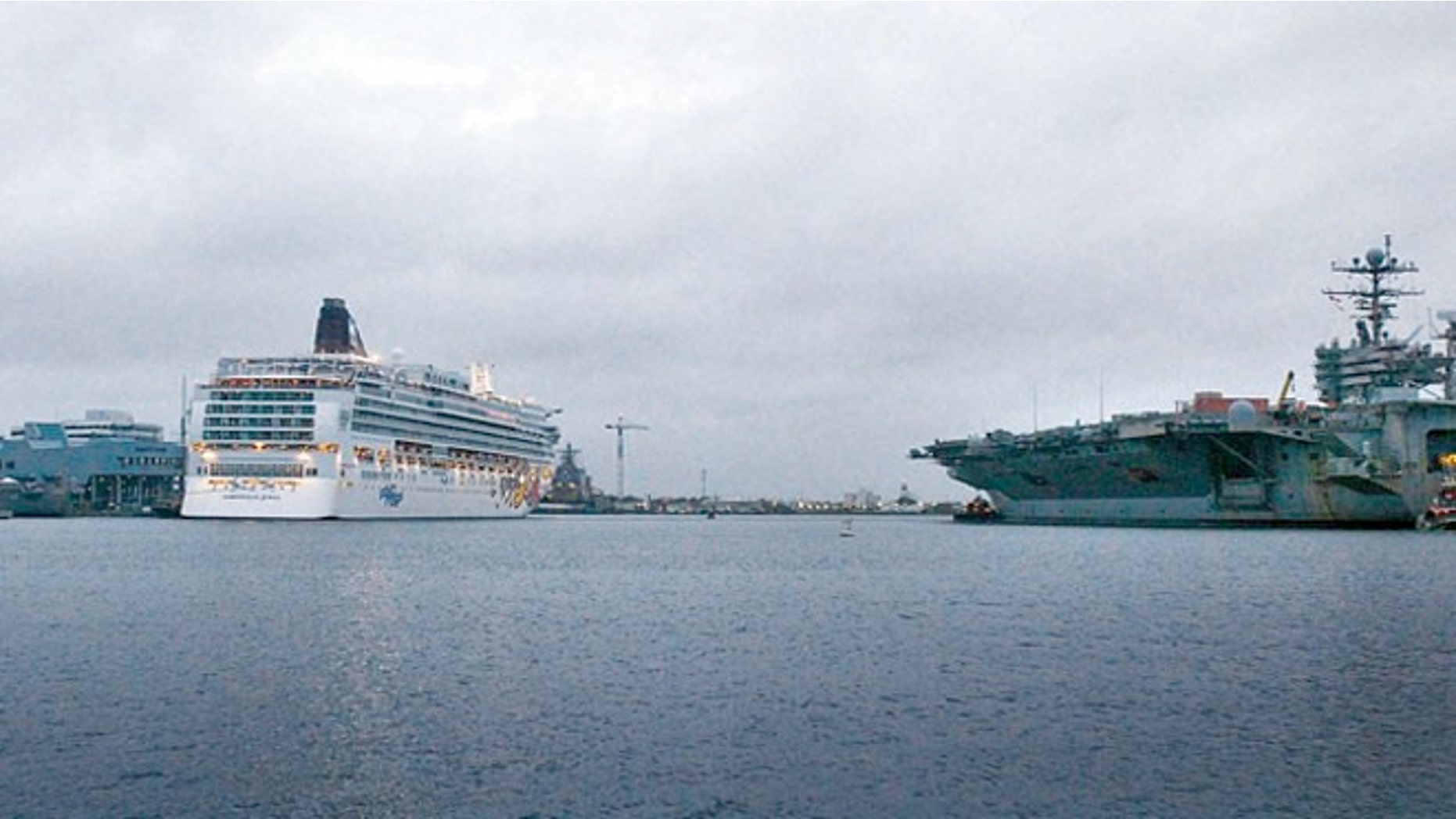 Hurricane Season brings a number of storms every year, and while the cruise lines always need to react, most hurricanes are tightly-knit, slow-moving storms with somewhat predictable paths, making them fairly easy to avoid in most cases. At most, the guest will get a different itinerary than expected but one that is as safe and calm as any normal cruise.
But Sandy has been a particular challenge for the cruise lines because of its due north trajectory just adjacent to the East Coast port cities of Miami, Ft. Lauderdale and Port Canaveral in Florida, Charleston, S.C., Baltimore, Md. and New York City. Sandy was also an unusually wide storm, taking in adjacent storm systems which added to the after-effect of the storm.
As we all know now, the hurricane itself is only part of the story. The surge of seawater which follows the storm and floods the lowlands; carrying away sand and tearing down structures is also always a factor. Another factor with Sandy is the thousands of flights that were canceled in anticipation of the storm. Most likely many cruise passengers missed their ships due to last minute flight cancelations.
Unfortunately, if your cruise is affected by a hurricane in any way you are at the mercy of the cruise line. You do not have any right to cancel the cruise or demand a refund. Your only option is to buy "cancel for any reason" trip insurance when you book the cruise. Even traditional trip insurance probably will not cover your hurricane canceled cruise since it falls under the "acts of God" category.
Damage to Private islands

Several cruise lines have their own "private islands" which they use to give passengers a day at the beach without any distractions. Almost all of the private islands are small Bahamian Cays with little more than scrub bushed and sandy beaches, but they are popular with the guests.
Sounding the direst message comes from Princess Cruises about its own "Princess Cays," which is actually a private beach resort on the Bahamian island of Elute, 50 miles east of Nassau. "Princess Cays has experienced extensive beach erosion, some downed trees and roof damage. The end of the observation pier was also lost," according to company spokesperson Karen Candy who said that clean up will begin as soon as conditions allow. The next scheduled call there is not until November 11.
Norwegian Cruise Line is reporting that its Great Stirrup Cay sustained some minor damage to structures and landscaping, as well as beach erosion. The island, which had just completed a $30-million upgrade, has been closed down temporarily for quick repairs but the line expects it to reopen in the first week of November. Unfortunately, stops there by three Norwegian ships had to be canceled: Norwegian Jewel, Norwegian Sky and Norwegian Pearl. Fortunately, most of the superstructure added during the upgrade was not affected.
Holland America's private island, Half Moon Cay, is about 100 miles southeast of Nassau and often visited by ships of sister cruise line Carnival. The island "sustained some minor damage," including to a few permanent structures as well as beach erosion and uprooting of some vegetation. Holland America expects to make repairs quickly with minimal impact to normal operations.
Royal Caribbean, canceled two stops at its private island CocoCay. The island is expected to reopen on Wednesday.
Schedule Changes
The storm track of Sandy preyed upon the regions of peak cruise activity, so here is a report of some of the effects it had on the various cruise lines:
Disney Cruises - Fantasy
The cruise ship getting the most attention is Disney Fantasy. CNN reported late on Sunday that the Fantasy was rocked and hammered by Hurricane Sandy's force,and there are a number of "frightening" videos on the Internet allegedly showing amazing destruction of plates and potted plants. One highly touted one shows water sloshing around suggesting the ship was flooded – but in fact the picture is of a shallow wading pool which was filled with a few inches of water.
The Disney Cruise Line said reported that the ship had minor damage on its interior but said that the overall condition of the cruise ship was fine.  Disney provided guests with a 25 percent discount on their cruise.
Carnival pushed several of its cruise sail dates back a day to Sunday, October 29, mostly due to the delay in getting its ships back to its various Florida homeports of Miami, Ft Lauderdale and Port Canaveral. Here is a roundup of the changes Carnival made it cruise schedules:
Carnival Sensation – 10/28/12 Departure Moved Back to 10/29/12 
This scheduled 4 day cruise was changed to a three-day cruise departing on Monday, a day late,.
The revised itinerary is as follows:
Day      Port of Call                               Arrive               Depart
Mon     Port Canaveral, FL                                          3:00PM 
Tues    Nassau, The Bahamas               10:00AM          7:00PM
Wed     Freeport, The Bahamas            8:00AM           5:00PM 
Thurs   Port Canaveral, FL                   8:00AM
As a result of this change, guests will receive:
--One day pro-rated cruise fare refund (processed within the next 2 weeks to original form of payment)
--Gratuities will also be adjusted to reflect the shortened voyage.
Carnival Miracle – Departure moved a day sooner.
Carnival Miracle generally sails 8-day cruises out of New York City. Because the port was closed down on Sunday night Carnival chose to move its scheduled departure to the last minute so the ship could leave. About 1,800 guests did manage to get aboard before the ship set sail, according the company spokesperson Vance Gullicksen. The itinerary added a day and the nine-night schedule is below:
Day      Port of Call                                Arrive               Depart        
Sun      New York, NY                                                   5:00 PM
Mon     Fun Day @ Sea
Tue      Fun Day @ Sea          
Wed     Port Canaveral, FL                   7:00 AM              6:00 PM  
Thu      Nassau, The Bahamas               11:00 AM           8:00 PM
Fri        Fun Day @ Sea
Sat       Grand Turk                               8:00 AM            5:00 PM
Sun      Fun Day @ Sea
Mon     Fun Day @ Sea
Tue      New York, NY                         8:00 AM
Due to the short notice, the delivery of food and beverage supplies that was planned for Monday was rescheduled to receive the provisions at the first port of call (Port Canaveral) on Wednesday.
The strategy was to get out of town long before the storm hit and most likely sail due East to avoid Sandy.  Guests who sailed received complimentary gratuities for the extra day and will be reimbursed for any additional parking expenses at the port.
Carnival  Dream – 10/27/12 Departure Moved Back a Day to 10/28/12
Carnival Dream was a day late in returning to Port Canaveral so the next cruise departed on Sunday, October 28.  The scheduled seven-day cruise was shortened to six days and will vist Cozumel, Belize and Costa Maya.  The call in Isla Roatan was canceled.
As a result of this change, guests received:
--One day pro-rated cruise fare refund 
--Refund of the government fees and taxes for Isla Roatan
--Pre-paid shore excursions purchased for Isla Roatan will be automatically refunded 
--Gratuities will also be adjusted to reflect the shortened voyage
Carnival Ecstasy – 10/27/12 Moved Back to 10/28/12
Carnival Ecstasy docked in Port Canaveral on Sunday, October 28, a day late.  The scheduled five-day cruise was shortened to four days visiting Nassau and Freeport.  The line canceled the call in Key West.
As a result of this change, guests received:
--One day pro-rated cruise fare refund 
--Refund of government fees and taxes for Key West
--Pre-paid shore excursions purchased for Key West will be automatically refunded 
--Gratuities will also be adjusted to reflect the shortened voyage
Carnival Glory – 10/28/12 Departure was Canceled 
The Norfolk cruise terminal is located behind a major flood gate which the city closed on Sunday resulting in no access to the cruise terminal. Carnival had no choice but to cancel the 10/28 cruise completely.  Refunds will be processed to the original form of payment within the next 2 weeks.
A new two-day "cruise to nowhere" was scheduled to sail from Baltimore on November 2. The price starts at $99 per person.
Carnival Pride –10/28 Departure  Canceled
The U.S. Coast Guard closed down Chesapeake Bay traffic for an indefinite period on Sunday.  The departure of Carnival Pride from Baltimore was canceled and it was not certain when the restriction would be lifted.
Guests were provided with a full refund (within two weeks to the form of payment) and a 25 percent future cruise discount.  Parking expenses were refunded as they left the parking facility.  Carnival is providing $30 per person for dinner this evening.
Right now we do not yet have statistic on how many people got the change in plans in time. It is well known that many flights were cancelled well ahead of the arrival of Sandy, so it is possible those ships are sailing far less than full.
Norwegian Cruise Lines Sandy Changes 
Norwegian Cruise Line is reporting that its Norwegian Gem, which regularly uses New York City as its home port, could not return to New York on Monday as scheduled and that it still cannot return to New York Wednesday.
"At this time, Norwegian Gem is calling in Boston to take on provisions, fuel and give guests the opportunity to go ashore. The ship will depart Boston this afternoon to set sail toward New York where the ship will continue to remain at sea until the Port of New York reopens," they said in a release.
Princess Hurricane Sandy Updates
Princess had to change many of the itineraries of cruises sailing this week, but has no changes for upcoming Princess cruises.
Emerald Princess, sailed from Quebec City on October 27, and laid up in the small town of Port Saguenay on the St Lawrence Seaway to escape rough seas on October 28. The calls in Bar Harbor, (Maine) for October 31, Boston for November 1 and Newport, Rhode Island for November 2 were all canceled. The ship has added a stop in Corner Brook (October 30). The call on Halifax (Canada) is delayed by one day to November 1. The ship will resume its originally scheduled itinerary November 3 with a visit to New York City.
Ruby Princess departed Fort Lauderdale on October 28 for a six-night cruise, but bypassed Princess Cay, the line's private island on October 29 to spend an extra day at sea. In fact, many of the various private islands report some damage to the infrastructure.
Caribbean Princess skipped its Monday visit to Bermuda and hurried to dock in Boston on Sunday, and is scheduled to remain there until further notice. 

Royal Caribbean Hurricane Sandy Update 
Enchantment of the Seas left Baltimore Friday for a five-night Bermuda cruise, but was not able to make its scheduled stop in King's Wharf, Bermuda.  The ship remained at sea in order to remain in the calmest water it could find.
As of Tuesday, the latest update from Royal Caribbean indicates the line has not altered the boarding time or itinerary of any ship that departs from Baltimore, Maryland or New Jersey this Thursday, Friday or Sunday. 

However, the line does encourage guests sailing on Brilliance of the Seas, Enchantment of the Seas, and Explorer of the Seas to monitor its website for any additional updates.