Hundreds of passengers stranded for days at London's Gatwick airport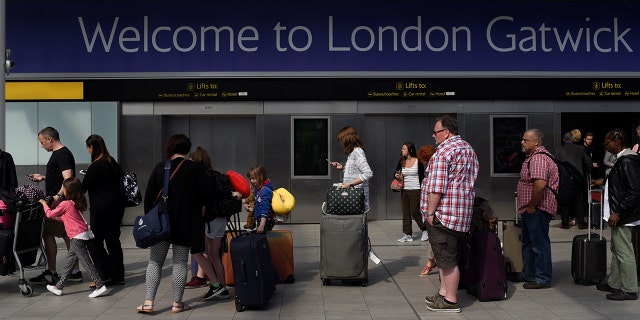 NEWYou can now listen to Fox News articles!
As many as 800 passengers were stranded at London's Gatwick Airport for five days due to their airline's "technical issues."
Nigerian airline Med-View canceled its Dec. 22 flight from Gatwick to Lagos and may not be able to re-accommodate some passengers until the new year.
Police were called to the airport terminal on Thursday after frustrated passengers broke out in chaos upon learning they might not be able to fly home until 2018.
Med-View said that it had organized two relief flights from Gatwick to Lagos, however a third flight could not operate because of "passenger behavior" at the airport.
More from Travel + Leisure
"Disappointingly, due to the unruly behavior of some Nigerian passengers, the Border Force had to intervene to support the operations for crowd control purposes," the airline said in a statement.
According to the airline, the three flights would have allowed 700 passengers to fly to Lagos and "normalized the situation."
The Dec. 22 flight left the gate with 300 passengers onboard but returned "as a precautionary measure taken by the Pilot-in-Command in line with Aviation Standard and Recommended Practices," according to the airline. The aircraft was grounded until a maintenance team could complete an investigation, which was delayed by the Christmas holiday.
While waiting for inspection on the Boeing 777 (one of Med-View's three aircraft), the airline canceled flights. Med-View's two other aircraft, a 737 and a 767, are still in service.
"Due to a lack of available aircraft, a significant number of Med-view passengers have not flown out as expected and are currently still at the airport," Gatwick Airport said in a statement. "Gatwick would like to apologize on the airline's behalf. Airport staff are also assisting these passengers where possible and will continue to work with the airline and other authorities to ensure that Medview honors its commitments to their passengers."
An additional 700 passengers are stranded in Lagos waiting for the return flight to London.