How to Avoid Paying Rental Car Extras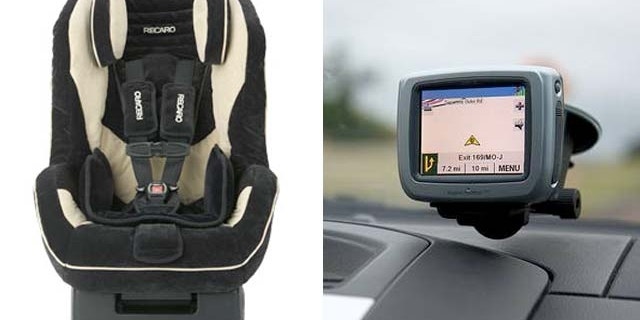 You've scored a great deal on your car rental by checking discount codes and diligently comparing rates. Don't pat yourself on the back just yet though. As many people find out at the rental counter, getting a good rate may be only half the battle.
Are you traveling with small children? If so, you may need to rent car seats. Not familiar with the local area? A GPS navigation system might be important.
These add-ons could make your really good deal a deal breaker. In some cases, these charges may even end up costing more than the time and mileage charges for the rental itself.
Here are a few strategies to avoid or minimize the cost of rental options:
Child Seats
The obvious solution is to bring your car seat with you. But if this isn't an option there is a way to get one at no charge.
All the major rental companies offer child seats for rent at their locations. It's a great source of revenue for them, because they can rent a $100 child seat hundreds and hundreds of times for $10-$15 per day. It doesn't take a math whiz to figure out that this is a high margin item for them.
Most people don't know that AAA members get one free car seat when renting from Hertz. Hertz is the only company that currently works with AAA, and you must book using the AAA discount code (1805452) at Hertz.com or other booking sites like AutoSlash.com. On a one-week rental, this can add up to over $80 in savings.
Even if the Hertz rate is higher than other companies (AAA discount code can bring the cost down significantly), the savings on the car seat alone may more than make up for the difference.
GPS Navigation Systems
Paper maps are quickly becoming a thing of the past for many people. The convenience and efficiency of GPS-based navigation systems make them a compelling add-on when traveling in unfamiliar areas.
The rental companies are more than happy to cater to their customer base by proving portable units for rent. Costs range from $9 to $15 per day. In some cases you can find coupons on the rental company websites that will offer a free day or two of GPS rental.
If you're a member of BJ's or Costco, you can often find coupons there as well. Currently Costco is showing an offer for Budget which gets you up to 30% off, a free GPS Rental and $30 off your rental on top of that. Not too shabby. They offer a similar deal for Avis, but instead of free, the GPS cost is $2.99/day.
You can skip the rental company completely and go out on your own. One option is to buy a portable GPS unit and carrying it with you. They can be found on sites like Amazon for less than $80. They're small enough to fit into a carry-on bag, and you get the benefit of being able to use it on your own vehicle, as well, back home.
Also smartphones like an iPhone, Android-based device or a newer Blackberry, are GPS-capable. Run an app that gives you turn-by-turn directions and voice guidance features. Mapquest has one that offers all these features. There are also apps provided by 3rd parties as well as the carriers like Verizon and T-Mobile. Often these apps offer a free trial, so you may be able to test it out on your next rental and avoid the cost completely from the rental company.
Always Negotiate
You can also sometimes negotiate at the counter for a discounted rate or to waive the fee entirely. Your chances of succeeding go up considerably if you're taking another add-on. For example, if you're planning on taking the additional insurance offered by the car rental company and you'd like GPS as well, see if they'll throw in the GPS for free or give you a discount if you take the insurance. Most rental agents work on commission, so they're often willing to sweeten the deal if you'll take one or more add-on items. If you don't ask, you don't get.
Be Strategic
The key to getting a good deal when options are involved is to think about your rental strategically. Calculate the total cost with options when comparing rates across companies. If you save $20 on the base rental cost with Company A, but end up paying $50 in options where you could have gotten that option included with Company B, you've actually lost money. You don't want to be penny wise and pound foolish.
Jonathan Weinberg is the founder and CEO of AutoSlash.com, a website that automatically applies discounts, and re-books your rental if rates drop.